New York City
How COVID-19 has highlighted housing issues
Understanding the tenants' rights movement.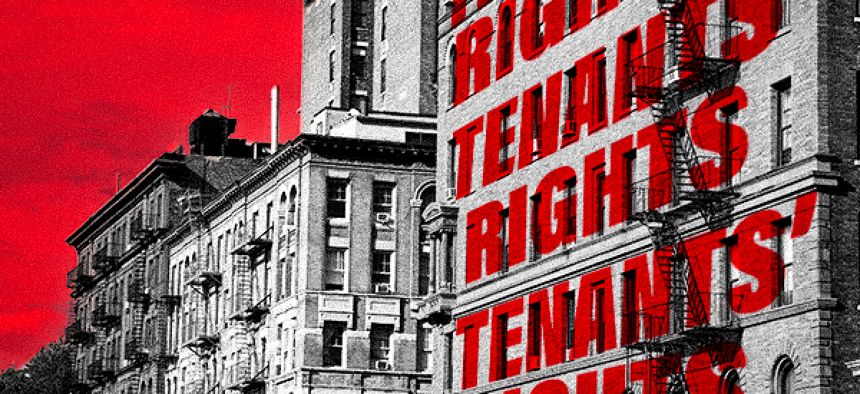 Evictions have been on hold for a year. Now what?
When March begins, it will be one year since the first case of COVID-19 was detected in New York and turned the state on its head.
Businesses were closed, tourists canceled their trips to the Big Apple and the state's economy ground to a halt. This left many of the state's residents jobless and unable to pay their rent. Tenants' rights advocates quickly mobilized and called on the state to enact an eviction moratorium (passed!) and to create a relief fund for public and subsidized housing (not yet created).
In mid-March last year, the state's housing court suspended all eviction proceedings for 90 days. Soon after, Gov. Andrew Cuomo announced that no one in the state could be evicted until June 20. And in April, the Tenant Safe Harbor Act, sponsored by state Sen. Brad Hoylman and Assembly Member Jeffrey Dinowitz, was passed to ensure that tenants who experienced coronavirus-related financial hardship could not be evicted throughout the course of the pandemic. The suspension of eviction proceedings was renewed through the end of 2020 as the virus showed no sign of dissipating.
During the state Legislature's special session at the end of 2020, a sweeping eviction moratorium was passed to prevent evictions as well as foreclosures due to COVID-19 related economic hardships until May 1, 2021. However, those protections are not automatically provided to tenants. Individuals must submit a "Declaration of Hardship," either to their landlord or to the housing court in their borough if there's already a court proceeding in progress. However, many undocumented immigrants living in New York may not be able to gain access to such hardship programs, as they may not have documentation required, such as proof of income.
Eviction freezes have allowed tenants who are unable to pay their rent to continue living in their homes, however, there remains an expectation that they will have to pay off what they owe once the moratorium has been lifted or face the possibility of an eviction. Housing advocates have been calling attention to the lack of clarity over what will happen once the moratorium ends and warn that there will be an enormous wave of evictions. "The kind of massive evictions that we could be looking at given the number of people who have not been able to pay their rent is pretty horrifying," Judith Goldiner, head of Legal Aid Society's civil law reform unit, told The New York Times in December.
Now, advocates are hoping to have various proposals passed at the state level to ensure that tenants continue to remain protected from eviction and accumulating rental debt.
By the numbers
COVID-19's impact on jobs and housing
A micro-explainer
How do evictions work?
Evictions can happen for a number of reasons in New York, including violating a lease agreement and not paying rent. However, before an eviction can happen, landlords need to terminate the tenant's lease by providing them with a written notice explaining why they want to do so and providing them with a deadline for when they want to end their lease. Should this prove unsuccessful, landlords must then file an eviction lawsuit to have a tenant physically removed from their home. It is illegal for any landlord to remove a tenant until after they have won their eviction lawsuit, no matter the circumstance.
Housing advocates have also been highlighting how those most at risk of losing their homes are Black and Latino tenants. Even before the pandemic began, in New York City Latinos were the most likely group to be threatened with an eviction, followed by Black, white and Asian renters. And majority-Black and majority-Latino areas experienced the highest rates of evictions between 2017 and 2019.
Evictions are cited as causes for mental health issues and financial instability. Data has indicated that those who face eviction are also much more likely to face mental health struggles and end up experiencing homelessness. Evictions can also have a serious impact on a child's mental well-being and academic aptitude.
Rent relief, tenant protections and vouchers
The legislation being requested by housing advocates
Where is the affordable housing?
NYC's homelessness crisis
Despite the ambitious affordable housing plan that New York City Mayor Bill de Blasio unveiled in 2014, many housing advocates have criticized the mayor for not adequately factoring homelessness into his plan. The de Blasio administration has financed the construction or preservation of 165,590 housing units across the city that were meant to be more affordable, but housing experts said those units remain out of the price range of many New Yorkers. In a report by the Community Service Society, which analyzed Department of Housing Preservation and Development data, only 35% of units built by nonprofit developers between 2014 and 2018 were intended for extremely low-income New Yorkers. The current lack of affordable housing for low-income residents has been tied to the rise in homelessness across the five boroughs.
Housing rights advocates are hoping that an influx of permanent housing affordable to low-income New Yorkers could help diffuse the current crisis, as sending individuals to homeless shelters makes it more difficult for them to secure permanent housing. "The vacancy rate for apartments for the lowest income New Yorkers is below 1%, so the likelihood of finding a comparable unit even if you had the money is low," Shelly Nortz, deputy executive director for policy at the Coalition for the Homeless, told Politico New York in June. "They don't have savings to rely on, they don't have that cushion."
Powered By
NEXT STORY: New York political figures infected by the coronavirus