Campaigns & Elections
Mark Gjonaj will not run for reelection to New York City Council
The Bronx Democrat was facing a difficult reelection battle.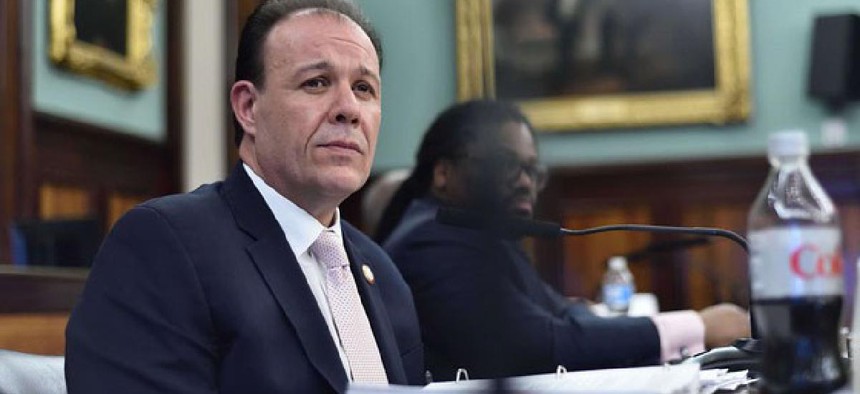 Facing a tough reelection battle, New York City Council Member Mark Gjonaj plans to announce this week that he will not be running after all, and will plan to leave office when his term ends at the end of the year. 
In a public statement shared exclusively with City & State, the Bronx Democrat pointed to his own moderate political leanings as a reason for his departure. "I have re-evaluate my ability to continue delivering tangible progress for the people I serve," he wrote. "The current political climate is not favorable to a centrist ideology that my constituency, community and I embrace."
Gjonaj, who chairs the Committee on Small Business, is one of the more conservative members of the 51-seat City Council. He joined with Republicans and other more conservative members in 2020 to vote against adopting the city budget because they opposed the funding cuts to the New York City Police Department. Gjonaj's three-and-a-half years on the Council have also been marked by some unflattering headlines. The New York Post reported in 2020 that the Bronx district attorney was investigating Gjonaj's office regarding the possible commingling of campaign funds with a nonprofit. And the Post reported in 2019 that the Council's Committee on Standards and Ethics had referred its own investigation into Gjonaj to the New York City Conflicts of Interest Board. The probe was reportedly over whether Gjonaj steered government contracts to campaign donors. No charges or discipline have been announced in either case.
Gjonaj has denied all wrongdoing, and has attributed some of the negative coverage – such as stories of Gjonaj accepting contributions from alleged affiliates of the Gambino crime family – to anti-Albanian racism that cast him as a mobster himself.
"As a proud Albanian-American and son of immigrant parents, I am not a stranger to being the subject of ethnic stereotypes and tropes," Gjonaj wrote in his statement announcing his decision not to run. "As a minority ethnicity that has been subjected to ethnic cleansing, communist tyranny, foreign influence and occupation, and continued discrimination and prejudice, I have been genuinely surprised at the pervasiveness in which ethnic smears have been used as tools in an attempt to damage both myself and my community… I will not allow myself to be used as a weapon to divide the district or be used to tarnish a community or ethnicity."
Gjonaj, a real estate broker, was first elected to the state Assembly in 2012, becoming the first Albanian-American elected to office in New York state. He served for five years, and when he was elected to the City Council in 2017, he became the first Albanian-American elected to a New York City office. He's a hero to many in the Bronx's growing Albanian community, and his campaign posters can be seen in homes and Albanian businesses that are miles outside the boundaries of his district. Gjonaj represents District 13 in the East Bronx which includes historically white, middle-class neighborhoods of single-family homes such as Morris Park, Country Club and City Island. 
But those relatively conservative voters are being replaced by newer immigrant groups. Between 2000 and 2010 the district went from 54% to 39.7% non-Hispanic white, and the Latino population in the district surged to 39.3% of residents. The 2020 census will undoubtedly show the district is now plurality Hispanic. 
Gjonaj spent $1.09 million to win the Democratic primary in 2017 – more than any Council candidate had spent in the city's history – and took 38% of the vote. Marjorie Velázquez, the runner-up, spent about $212,000 and took 34%. A third candidate, John Doyle, spent about $184,000 and took 19% of the vote. 
Velázquez is running for the District 13 seat again in 2021 and has earned the kind of support that most candidates challenging incumbents could only dream of. Major unions such as DC37, CWA District 1 and the Hotel Trades Council have endorsed her campaign, as well as progressive organizations including the Working Families Party and the New York Immigration Coalition's political arm, NYIC Action. While sitting Council members rarely endorse challengers to their own colleagues, at least four Council members, including Diana Ayala, have endorsed the more progressive Velázquez over the more moderate Gjonaj. 
Gjonaj had been raising lots of money, bringing in more than $500,000 in private contributions for his reelection battle, but he had also been spending at a high rate. With more than five months to go until the June 22 Democratic primary, Gjonaj reported having just $128,492 in his campaign account and $90,000 in outstanding personal loans to his own campaign. After Velázquez received public matching funds on Tuesday, she reported having $186,143 – more money than Gjonaj.
Gjonaj is just the latest Council member who has decided not to run for reelection in 2021, despite being eligible for a second full term. Barry Grodenchik of Queens and Rubén Díaz Sr. of the Bronx have also declined to run. Council Member Bill Perkins of Manhattan has not made an announcement, but is also not expected to run for reelection. 
Editor's note: This story has been updated with more recent campaign expenditure figures.