Campaigns & Elections
Special City Council election in diverse Bronx district
Ranked choice voting will decide who wins among six candidates vying to fill the City Council District 11 seat.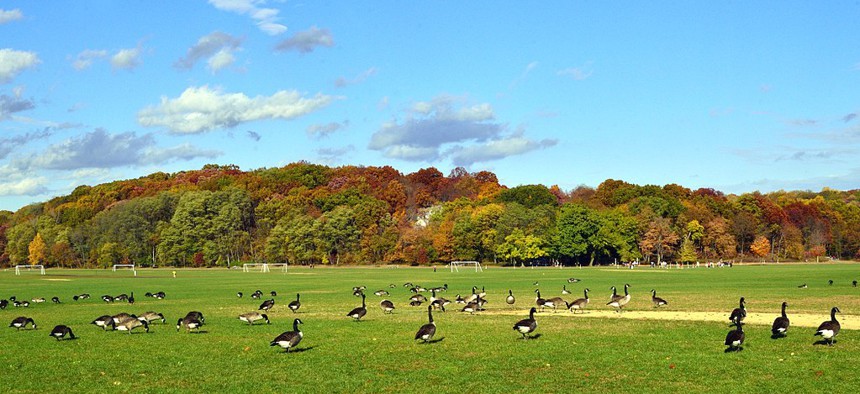 With the June primaries still months away, special elections continue to fill recently vacated seats on the New York City Council. Among them, the District 11 City Council seat is to be decided by ranked-choice-voting during a special election on March 23. The contest, triggered by former Councilmember Andrew Cohen's resignation in December, after he was elected to be a judge in Bronx Supreme Court a month earlier, will decide who represents a district where a diverse group of residents are almost polar opposites when it comes to incomes.
Six candidates are vying for the open seat. The winner of the non-partisan special contest will still have to run again in the June primary with a party designation, and then once more in the November general election. 
The district's unique makeup is made up of both low-income residents -- the majority people of color in areas like Wakefield, Bedford Park and Kingsbridge in the Bronx, and higher-income, white New Yorkers living in the Fieldston, Riverdale and Spuyten Duyvil sections of the borough. The district is 38.9% white, 18.1% Black, and 33.1% of Hispanic origin. But the neighborhoods vary wildly: Wakefield is about 70% Black, and Fieldston is almost 60% white. And while median household income in the Bronx clocks in at around $38,000, it's close to double that in Riverdale.
As candidates compete to appeal to residents across the socioeconomic spectrum, here are some fast facts about the contenders, in alphabetical order.
Carlton Berkley
Born: Harlem
Home: Back and forth between Wakefield and Harlem
Current job: Owns DCW Investigations and Security. He's also made some previous unsuccessful runs for office — twice for City Council in District 9 and 16, and once for Assembly under the self-created People 4 Chuck Party.
Previous jobs: College Assistant at John Jay College, served 20 years with the New York Police Department.
Fundraising: $7,705, according to most recent filings. 
Endorsements: None known at press time.
Major policy proposals: Berkley doesn't have a website, but he told the Riverdale Press he's not a proponent of defunding the police — instead, he's for large cuts to NYPD's budget and lowering crime rates by investing money into communities. He supports calculating rent on a family's income, along with rent relief or cancellation for small businesses. He also wants to address transportation issues for Riverdale's senior citizens.
Eric Dinowitz
Born: Northwest Bronx
Home: Northwest Bronx
Current job: Special education teacher for 13 years, Chair of the Aging Committee on Community Board 8
Previous jobs: Former chapter leader in the United Federation of Teachers
Fundraising: $65,156.
Endorsements: United Federation of Teachers, Ben Franklin Club, Bronx Borough President Ruben Díaz Jr., Congressman Adriano Espaillat, U.S. Congressman Ritchie Torres, State Sen. Jamaal T. Bailey, New York City Central Labor Council AFL-CIO, New York City District Council 37. 
Major policy proposals: According to his website, he supports rent stabilization, expanding the Senior Citizen Rent Increase Exemption, blocking purges of voters by Borough Boards of Elections, prohibiting anyone convicted of corruption from ever holding office again, and closing Rikers Island. Dinowitz, son of Assemblyman Jeffrey Dinowitz, wants to remove NYPD from classrooms and increase social workers and support services in schools, along with having increased accessibility in public transit and creating a Climate Caucus in the City Council. He's also against Airbnb expansion. 
Jessica Haller
Born: Upper West Side
Home: Riverdale
Current job: Vice Chair of the Board of Hazon, board member of the Riverdale Nature Preservancy, and an advisory board member of Eden Village Camp
Previous jobs: Worked for MasterCard
Fundraising: $77,821
Endorsements: Former New York Attorney General Oliver Koppell, Women for the Win, Jewish Climate Action Network New York, North Bronx Racial Justice, Open New York, Vote Mama, Bronx Climate Justice North, NO IDC NY, former mayoral candidate Ruth Messinger.
Major policy proposals: According to her website, Haller wants to improve air quality "to reduce disproportionate impacts on BIPOC (Black and indigenous people of color) and low income communities," establish a Food Justice Committee on the City Council, support the New York Health Care Act, increase access to public transit, and make public education more equitable. She's also looking to legalize Accessory Dwelling Units, withdraw from the 1033 program to demilitarize NYPD, and ban fossil fuel infrastructure.
Mino Lora
Born: Santo Domingo, Dominican Republic
Home: Spuyten Duyvil
Current job: Executive Director of the People's Theatre Project, member of the New York Immigrant Coalition and Northern Manhattan Agenda councils
Previous jobs: Founder of the People's Theatre Project
Fundraising: $32,667
Endorsements: The Jewish Vote, Working Families Party, Citizen Action! of New York, NYIC Action, NO IDC NYC, Councilman Jimmy Van Bremer.
Major policy proposals: According to her website, she will promote civic engagement by immigrants, making sure arts funding reaches communities of color, increasing teacher wages, de-segregating city schools, and universal healthcare. Lora wants to shift billions from the NYPD budget and reinvest in communities, address climate change, and increase accessibility to public transit. 
Daniel Padernacht 
Born: Bronx
Home: Bronx
Current job: Works at his own law practice, and serves as chair of the Traffic and Transportation Committee and vice chair of the Land Use Committee on Community Board 8.
Previous jobs: Chair of the Board on Community Board 8, part of a project team creating affordable housing in the Bronx.
Fundraising: $39,986
Endorsements: Former Assemblyman Michael Blake, former City Council candidate Dionel Then
Major policy proposals: According to his website, Padernacht wants to develop affordable housing and support homeless populations, provide tax credits for long-term leases, support female and minority owned small businesses, increase special needs programs, advocate for trade high schools, increase monthly allowances for EBT holders, and advocate against political dynasties. His policies web tab also includes that he stands with Israel and the Black Lives Matter movement.
Kevin Pazmino
Home: Riverdale
Current job: Freelance videographer
Fundraising: None
Endorsements: None known at press time.
Major policy proposals: Kevin Pazmino doesn't have a campaign website, but the Riverdale Press reported that he generally leans more conservative.
Powered By
NEXT STORY: How will the Legislature revoke Cuomo's emergency powers?