Letitia James
3 things to know about the lawyers investigating Cuomo's sexual harassment allegations
These investigators know how to deal with high-profile cases – and corruption in Albany.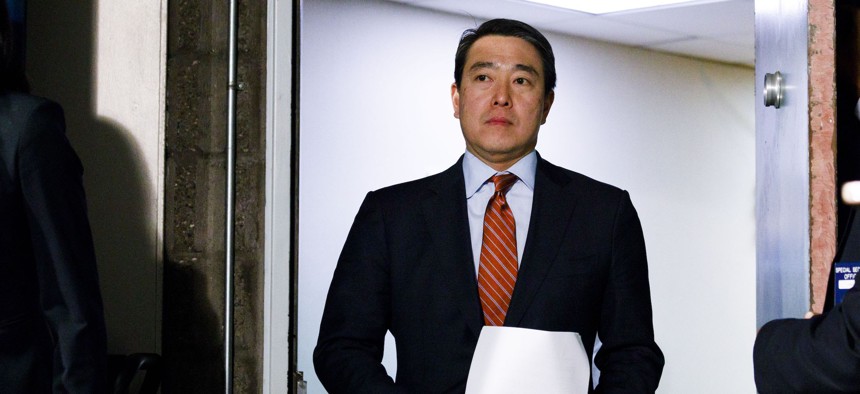 By now it's a well-worn refrain among allies of Gov. Andrew Cuomo who want to buy time: Wait for the results of the attorney general's investigation. But while Attorney General Letitia James is overseeing the investigation into sexual harassment accusations against Cuomo, much of the heavy lifting will be done by two lawyers she appointed: Joon Kim and Anne Clark. The two will report to James weekly and eventually release a public report on their findings, though the exact timeline remains unclear. There's a lot at stake in this investigation, especially given that the governor and many other lawmakers are desperate to put off any repercussions until after the report comes out. Here's what you need to know about the two attorneys who will be behind the headlines.
Kim is no stranger to New York corruption
Joon Kim has held several leadership positions at the U.S. District Court for the Southern District of New York – including acting U.S. attorney after his predecessor, Preet Bharara, was pushed out by former President Donald Trump. The office investigated several corruption related cases in Albany during Kim's time there, including that of Joseph Percoco, one of Cuomo's longtime aides. Percoco was eventually convicted of soliciting and accepting bribes from executives at companies doing business with the state in 2018, once Geoffrey Berman took the helm at Southern District. 
That's not the only time the office's investigations intersected with the Cuomo administration during Kim's time there. Kim also served as chief counsel for Bharara when the U.S. attorney's office investigated possible interference in Cuomo's decision to disband the state anti-corruption panel, the Moreland Commission. News reports indicated that the governor and his aides pressured commission members and interfered when the commission looked into groups that were politically close to him. That probe eventually found "insufficient evidence to prove a federal crime."
Kim also played a role in investigating New York City Mayor Bill de Blasio's fundraising, including accusations that donations were exchanged for favors by the mayor. The investigation ultimately did not lead to any federal charges. "A federal prosecutor's job is to look at the facts and the law, and determine whether there's evidence that is admissible in court, sufficient to prove guilt of a federal crime beyond a reasonable doubt," he told New York Magazine about the decision. "Prosecutors don't ask and we do not answer the questions: Is this conduct appropriate? Was this conduct ethical?"
Just before Kim departed from serving as acting U.S. attorney, the office also was in the process of retrying corruption cases against former Assembly Speaker Sheldon Silver and former state Senate Majority Leader Dean Skelos. "We won't fail to bring a case just because it's a difficult one," Kim told the New York Times at the time. 
Kim has since served as a partner at the international law firm Cleary Gottlieb, with a focus on internal investigations and regulatory enforcement. 
Clark brings expertise in sexual harassment and employment law
Anne Clark worked on the sexual harassment case that helped determine the definition of a "hostile work environment." The 1991 case was brought forward by a female shipyard welder that argued the pornographic pictures pinned up of nude and partially nude women around the shipyard amounted to sexual harassment. The judge ruled in her favor, making it the first decision to determine that the pictures, in and of themselves, constituted harassment. 
Clark brings decades of experience on employment law issues as a partner at the New York City-based labor law firm Vladeck, Raskin & Clark, P.C. One of her previous clients sued former New Jersey state Assembly Speaker Garabed "Chuck" Haytaian, alleging that he kissed and groped her repeatedly while working for the Assembly in the 1990s. Haytaian denied the allegations, and the state eventually settled the case, paying the woman $175,000. 
Clark also recently represented Demos Parneros, former chief executive of Barnes & Noble, who accused the book store company of breach of contract for firing him in 2018. The company countersued, arguing that the firing was justified because of sexual harassment claims brought forward by an employee, which Parneros denied. He and Barnes & Noble decided to end litigation in October 2020. 
Before joining Vladeck, Raskin & Clark about 30 years ago, Clark served as a staff attorney at NOW Legal Defense and Education Fund, a legal advocacy organization for women now known as Legal Momentum. 
At least one accuser approved of the appointments
Debra Katz, who is representing Charlotte Bennett, one of the women alleging sexual harassment, approved of the attorney general's decision to appoint Kim and Clark. 
"We are encouraged by the experience and background of the attorneys who will be investigating Charlotte's claims and expect the investigation will extend to the claims of the other women who we know to be out there," Katz said in a statement, according to Gannett Albany. 
Bharara, Kim's friend and former boss, also praised James' selections. Several lawmakers – including at least one calling on the governor to resign – responded positively to the appointments as well. "I continue to commend @NewYorkStateAG for doing her job and naming an eminently capable and independent team to get to the bottom of these allegations," state Sen. Gustavo Rivera wrote on Twitter, while also reiterating his call for the governor to either resign or be impeached. Lt. Gov. Kathy Hochul, who would replace Cuomo if he exited office, also voiced support for James' picks. "I am confident that everyone's voice will be heard and taken seriously."
Powered By
NEXT STORY: Cuomo still controls the state response to COVID-19