Andrew Cuomo
Cuomo administration faces more cover-up allegations
New reports say administration officials altered the state's report on the spread of COVID-19 in nursing homes.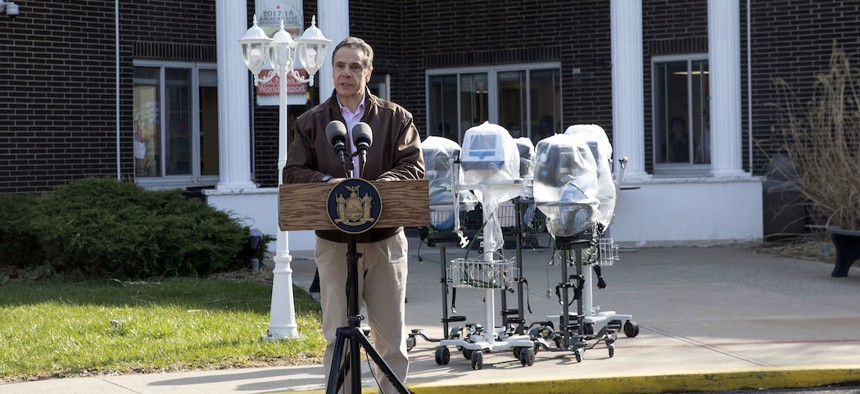 After a decade in office, one might think that Gov. Andrew Cuomo had learned one of the great truisms of American politics: the cover-up is worse than the crime. But after a long few weeks of heightened scrutiny of its handling of COVID-19 in nursing homes, the Cuomo administration is facing new allegations of covering up data amid the controversy. If that truism hadn't sunk in before, it sure is now.
On Thursday night, The Wall Street Journal and The New York Times reported that last June, top advisors to the governor rewrote a report from state health officials on COVID-19 in nursing homes to exclude the complete number of deaths of nursing home residents. It's just the latest allegation that the Cuomo administration's handling of the pandemic in nursing homes has been fraught with attempts to cover up the true scope of COVID-19 deaths in those facilities. 
Last July, the state Department of Health issued a report finding that the high number of deaths from COVID-19 in nursing homes could be largely attributed to asymptomatic staff and visitors spreading the virus, and that a state directive from March that directed nursing homes to accept residents positive for COVID-19 returning from hospitals was not a significant contributor. The July report came in response to increased scrutiny of that March 25 order. The report said that at that point, 6,432 nursing home residents had died from COVID-19.
But as the Times and the Journal reported this week, an earlier draft of that report included a higher death toll – reaching nearly 10,000 deaths of nursing home residents – because it counted not only deaths of residents that occurred in those residences, but also in hospitals. When that draft report reached Cuomo's top advisors, the Journal reported, they requested that that higher number be cut down to only include deaths of residents that actually occurred in nursing home facilities. Until earlier this year, the Cuomo administration published only in-residence fatalities in its tally of nursing home deaths.
In response to a request for comment on the latest reports, a spokesperson for the governor directed City & State to written statements saying that the number of out of facility deaths was ultimately excluded from the July report because they couldn't confirm the accuracy of that data. "The out of facility data was omitted after (the Department of Health) could not confirm it had been adequately verified – this did not change the conclusion of the report, which was and is that the March 25 order was 'not a driver of nursing home infections or fatalities," Beth Garvey, special counsel and senior advisor to Cuomo, said in a statement.
These aren't the first cover-up allegations the Cuomo administration has faced amid the nursing home controversy. Last month, Melissa DeRosa, one of Cuomo's top aides, told state lawmakers that the reason the administration didn't release a fuller account of COVID-19 deaths in nursing homes was out of fear that the data would be used against them in a politically motivated investigation by then-President Donald Trump's Department of Justice. That explanation didn't mollify state lawmakers, who criticized the Cuomo administration for leaving them in the dark. 

These newest cover-up allegations come as the state Legislature moves forward with plans to revoke Cuomo's expanded emergency powers, and as the governor continues to face calls to resign over both the nursing home controversy and allegations of sexual harassment. Even more moderate Democrats in the state Legislature are quickly running out of patience with Cuomo. "Let's be clear: if any State employee knowingly whitewashed an official report to cover up the deaths of New Yorkers, that is unacceptable and unethical, at best," state Sen. Todd Kaminsky tweeted on Friday morning. "We need to get answers now, and this whole thing reeks."