Andrew Cuomo
Cuomo confronts accusations and a new vaccine comes to New York
Rounding up the week's political news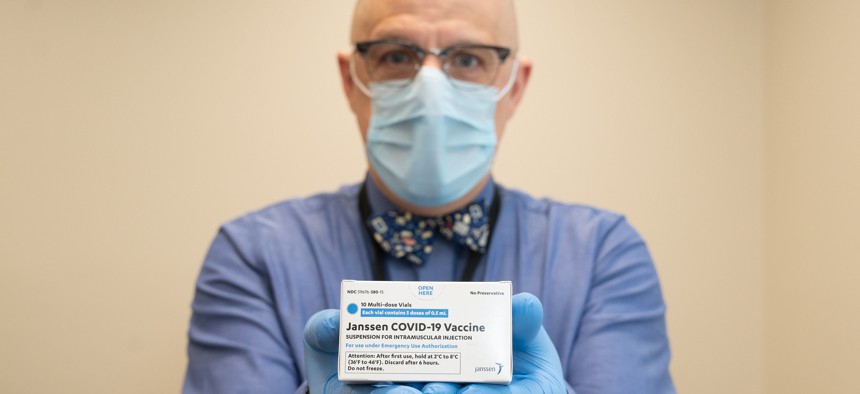 It's a pandemiversary. Yes, the start of March marked the first anniversary of the first detected case of COVID-19 in New York state. It's hard to imagine that it's been a whole year since the (official) start of New York's pandemic. We finally were able to wrap our heads around the fact that 2020 came to an end, now we're forced to confront that it's once again March. But with more vaccines on the way, this long nightmare will soon hopefully come to an end, and we don't have to reckon with a second anniversary in 2022. Things likely won't be returning to pre-pandemic conditions anytime soon, but by next March, hopefully we'll be able to safely return to the world. But the pandemiversary was overshadowed by other news this week. Keep reading for more on that.
Cuomo confronts the public 
After several days without a public appearance following sexual harassment allegations and amid growing calls for his resignation, Gov. Andrew Cuomo finally took questions from reporters. He said he would not resign, but offered an apology for any actions that made anyone uncomfortable, saying that it was never his intention. Cuomo added that he often greets people with hugs or kisses, and said that he never touched any inappropriately. He was accused of harassment by two former staffers – Lindsey Boylan and Charlotte Bennett – and of making an unwanted advance on a third woman, Anna Ruch, at a wedding. Boylan alleged that Cuomo kissed her on the lips without her consent (a claim Cuomo's office denied) and Bennett said that Cuomo asked inappropriate questions about her personal life, including whether she would have sex with an older man. Bennett, who was 25 at the time, interpreted this as the governor trying to gauge whether she would sleep with him. Ruch, meanwhile, said that within moments of meeting her for the first time, Cuomo placed his hands on her lower back, cupped her face and kissed her on the cheek. The governor asked that people withhold their judgment until after an independent investigation that state Attorney General Letitia James is spearheading. Initially, Cuomo said that a former federal judge of his choosing would be in charge of reviewing the allegations, but after James and others rejected that proposal, he officially referred the matter to the attorney general's office. Cuomo's mea culpa was panned by lawmakers and his accusers, as calls for his resignation continued to grow. But at least for now, a majority of voters in the state don't think he should resign, according to a new Quinnipiac University poll, though his approval ratings continue a downward trend after hitting record highs during the pandemic.
A rolling back of emergency powers
But that wasn't it for Cuomo this week. State legislative leaders also reached a deal on legislation to roll back the governor's expanded emergency powers that the Legislature gave him at the start of the pandemic. The bill would immediately repeal the temporary powers, which granted the governor to make any directive in a state of emergency, and would allow his existing directives to continue for 30 more days. Any further extensions or modifications would have to be approved by the Legislature, and any executive order extended past those 30 days would have to be explicitly related to the pandemic. Cuomo framed the deal differently, instead calling it an extension of his powers and acknowledging that he would give the Legislature proper notification. The legislation is not a clean repeal as some lawmakers had wanted, and Republicans criticized the deal for still giving Cuomo too much power.
More on nursing home cover-ups
The hits just kept coming this week for Cuomo. The Wall Street Journal and The New York Times both independently reported that members of his administration rewrote parts of a July report on COVID-19 nursing home deaths to reduce the number of nursing home deaths by about 35% from the initial version. The report, put together by officials in the state Health Department, originally included deaths of nursing home residents who died in hospitals or otherwise outside of their adult-care facilities. The administration now says more than 15,000 nursing home residents died of COVID-19, and the tally is much higher than neighboring states. Despite wariness from public health officials who had authored the report and felt confident about the numbers to include them, close Cuomo aides including Melissa DeRosa, Linda Lacewell and Jim Malatras edited it out, according to reports. Cuomo's chief counsel Beth Garvey said in a statement the changes did not affect the conclusion of the report – that a controversial March directive for nursing homes to accept recovering COVID-19 patients in nursing homes did not drive deaths in those facilities. She added that the deaths outside nursing homes were removed because members of Cuomo's COVID-19 task force could not verify them against hospital records.
New vaccine approved 
The third COVID-19 vaccine, this one from Johnson & Johnson, received federal approval, spelling good news for the prospect of quickly vaccinating the public. In fact, President Joe Biden announced he expects all adults (the vaccines are not approved for teens and children) to have access to a vaccine by the end of May. That's two months sooner than his original promise of the end of July. The Johnson & Johnson vaccine is also different from the Pfizer and Moderna vaccines in that it's a single dose and easier to store, which health officials hope will enable them to do at-home vaccinations. New York City is setting up a program to get the shot to homebound seniors, starting first in Co-Op City in the Bronx and Brighton Beach in Brooklyn. Cuomo also announced that three state-run sites would begin offering the Johnson & Johnson vaccine overnight, turning the Javits Center in Manhattan, Yankee Stadium in the Bronx and the New York State Fairgrounds near Syracuse into 24-hour vaccination sites.