Campaigns & Elections
In the mayoral race, progressives place their trust in RCV
And more coverage of key 2021 races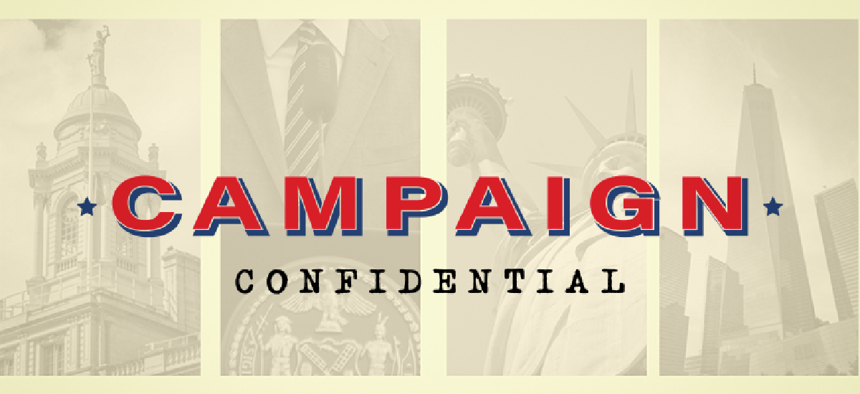 Three eggs, three baskets
Less than three months before the New York City mayoral primary, the city's progressive left has declined to coalesce behind a single contender. Some of the most influential organizations, like the Working Families Party, haven't endorsed yet, and some of the biggest individual players, like Rep. Alexandria Ocasio-Cortez, might not endorse at all. But looking at the endorsements that have come so far, three candidates have emerged as progressive favorites: New York City Comptroller Scott Stringer, former nonprofit leader Dianne Morales, and former counsel to Mayor Bill de Blasio, Maya Wiley. And movement leaders are putting their faith in ranked-choice voting, hoping the divided support actually becomes an asset. 
"Supporting multiple candidates, having them all do semi-well, take away votes from the ones you don't want to win I think is an actual strategy," said Linda Sarsour, a Brooklyn-based activist who is influential in the progressive movement. "It may seem like it's not a strategy, but I actually feel like people are being a lot more strategic than they're getting credit for."
Does RCV mean progressives don't have to put electability first? Read more here.
By the Numbers
18
The age of comptroller candidate Alex Pan, who has filed petitions to run in the Democratic primary despite living in Ohio while attending Denison University. (Yes, Corey Johnson isn't the only collegiate comptroller candidate.) Pan is from Ozone Park, Queens, and graduated from Pace High School in Manhattan last year. And yes, Pan recognizes the absurdity: "It would be crazy for an 18-year-old who has (the stock trading app) Robinhood to instantly be the fiduciary of a $240 billion pension fund," he told City & State. Pan isn't the only teenage candidate. High school student and 18-year-old Republican Alex Amoroso has submitted petitions in Council District 23 in Queens. And while 18-year-old Seth Breland had filed to run in that district too, he has since suspended his campaign – possibly out of embarrassment, after his mom did an interview for him.
"She gets stuff done"
Kathryn Garcia doesn't do photo ops standing on a mountain of road salt because she used that salt over years of leading New York City's snowstorm response as sanitation commissioner. In the latest entry in an ongoing series on mayoral candidates' professional lives before the campaign, City & State's Annie McDonoough writes about Garcia's many roles in city government, digging into why "'she gets stuff done' is an oft-repeated endorsement."
Is Iscol cool?
Zach Iscol, who was running for mayor before he started running for comptroller, might not make either ballot due to a petitioning snafu – his submitted petitions didn't list Democratic Party at the top, so the Board of Elections kicked him to the defect list. Iscol's lawyer, Leo Glickman, sent a letter arguing his candidate's case to the BOE, and Iscol's campaign manager Sam Rivers is "100% confident" he'll make the primary ballot. Time will tell – petitions can be a fickle game, and Iscol has another problem: his petitions were challenged by Edmond Pryor, an attorney who represents the Hells Angels and also has ties to the Bronx Democratic Party. But both the Bronx Dems and their endorsed candidate, Brian Benjamin, said they had absolutely nothing to do with it.
All the other high-profile Democratic mayoral and comptroller candidates have avoided challenges, meaning you can expect all the big names to make the June ballot. But mayoral candidates like Barbara Kavovit and Ira Seidman may have to argue their way on, after objections were filed against them. And Republicans are seeing red after Fernando Mateo supporters challenged the petitions of all his mayoral opponents, including Curtis Sliwa. Hearings start April 13.
Update: The New York City Board of Elections removed Iscol from its noncompliance list on April 1. The board said it made a clerical error in issuing its original notice.
Survivor: Staten Island
Four of the five Democrats in the Staten Island borough president race pledged to not challenge petitions – but not the county party's pick, Mark Murphy. So when someone challenged the petitions of Cesar Vargas, a Latino candidate who used to be an undocumented immigrant, he accused the Staten Island Democratic Party of targeting his campaign in an effort to silence the racially diverse signatories of his petitions. After Vargas complained outside the office of the party boss, Assembly Member Michael Cusick, that evening, three other candidates in the race, including Murphy, had their petitions challenged by the same objector, leading Vargas and another campaign to speculate that the party is behind a larger conspiracy to cover its tracks. Staten Island Democratic Party Executive Director James Clinton insists the party didn't authorize the challenge, which officially came from a Westerleigh resident named Vanessa Gallelli, and said Vargas was probably challenged first because he filed his petitions first.
Party crashers
In a proud tradition stretching from state Sen. Simcha Felder in 2020 to Mayor Ed Koch in 1981 and beyond, City Council Member Kalman Yeger will appear on both the Democratic and Republican lines for the 44th Council District in Brooklyn in November. And the Conversative Party too, for good measure. Yeger was the Democratic pick in 2017 to avoid a primary, but he did have to fight off a spirited challenge from former Assembly Member Dov Hikind's son in the general. Council Member Bob Holden, a fellow conservative Democrat, knows about spirited challenges – he lost the Democratic primary in 2017 against former Council Member Elizabeth Crowley, but then took the Republican ballot line from a placeholder who lived outside of the district and beat Crowley in the general. Now, the Queens Daily Eagle reports that history might be repeating itself. Holden's running in the Democratic primary against progressive Juan Ardila. But the Republican nominee John Spataro lives outside the central Queens district, and there's speculation he's just a placeholder for Holden. All parties involved deny it, and to be fair, it's not like Holden hides his politics – he's already accepted the Conservative Party line for November.
Endorsement Watch
Assembly Member Vivian Cook – who is technically the chair of the Queens Democratic County Committee – endorsed Ray McGuire for mayor … Local Union No. 3 IBEW is backing Scott Stringer … District Council 37 teased a slate of endorsements a couple weeks ago and now they're official, with the union supporting Eric Adams for mayor, Corey Johnson for comptroller and Khari Edwards for Brooklyn borough president, among others … would-be mayor and Bronx Borough President Ruben Diaz Jr. endorsed would-be mayor Corey Johnson for comptroller … Rep. Alexandria Ocasio-Cortez andAssembly Member Ron Kim endorsed Brad Lander for comptroller … and City Council Member I. Daneek Miller endorsed Brian Benjamin for comptroller … Reps. Adriano Espaillat and Nydia Velázquez endorsed Tali Farhadian Weinstein for Manhattan district attorney … and Rep. Jamaal Bowman endorsed Tahanie Aboushi for Manhattan DA … former Rep. Charlie Rangel is backing Mark Levine for Manhattan borough president … the United Federation of Teachers is backing Brad Hoylman for Manhattan borough president and Vanessa Gibson for Bronx borough president … the UFT and 1199SEIU are both endorsing Stacy Lynch in District 7 in Manhattan … Rep. Grace Meng endorsed Lynn Schulman in City Council District 29 in Queens … Council Member Carlina Rivera added to her council endorsement list, backing Tiffany Cabán in District 22 and Shekar Krishnan in District 25 in Queens … City Council Member Justin Brannan endorsed Sandra Ung in District 20 in Queens … and LiUNA-NY endorsed Victoria Cambranes in Council District 33 in Brooklyn – the first union to not endorse Lincoln Restler in that race.
Poll Sight
Political junkies – like, the people reading this right now – really don't support Andrew Yang for mayor. That's one takeaway from an unscientific City & State/Honan Strategy Group online survey of 367 people targeted through City & State's emails like Campaign Confidential and First Read. Out of the leading mayoral candidates, the smallest proportion of City & State readers – just 6% – said they were planning to vote for Yang, who has no experience in local politics and who himself has never voted for mayor. The biggest group of readers, 18%, said they'd vote for Scott Stringer, the candidate with the longest tenure in local politics. But that theory might not explain everything – Ray McGuire, who has also never worked in local politics, came in second, with 11%. Check out the full poll, and see who City & State readers think will win the race, here.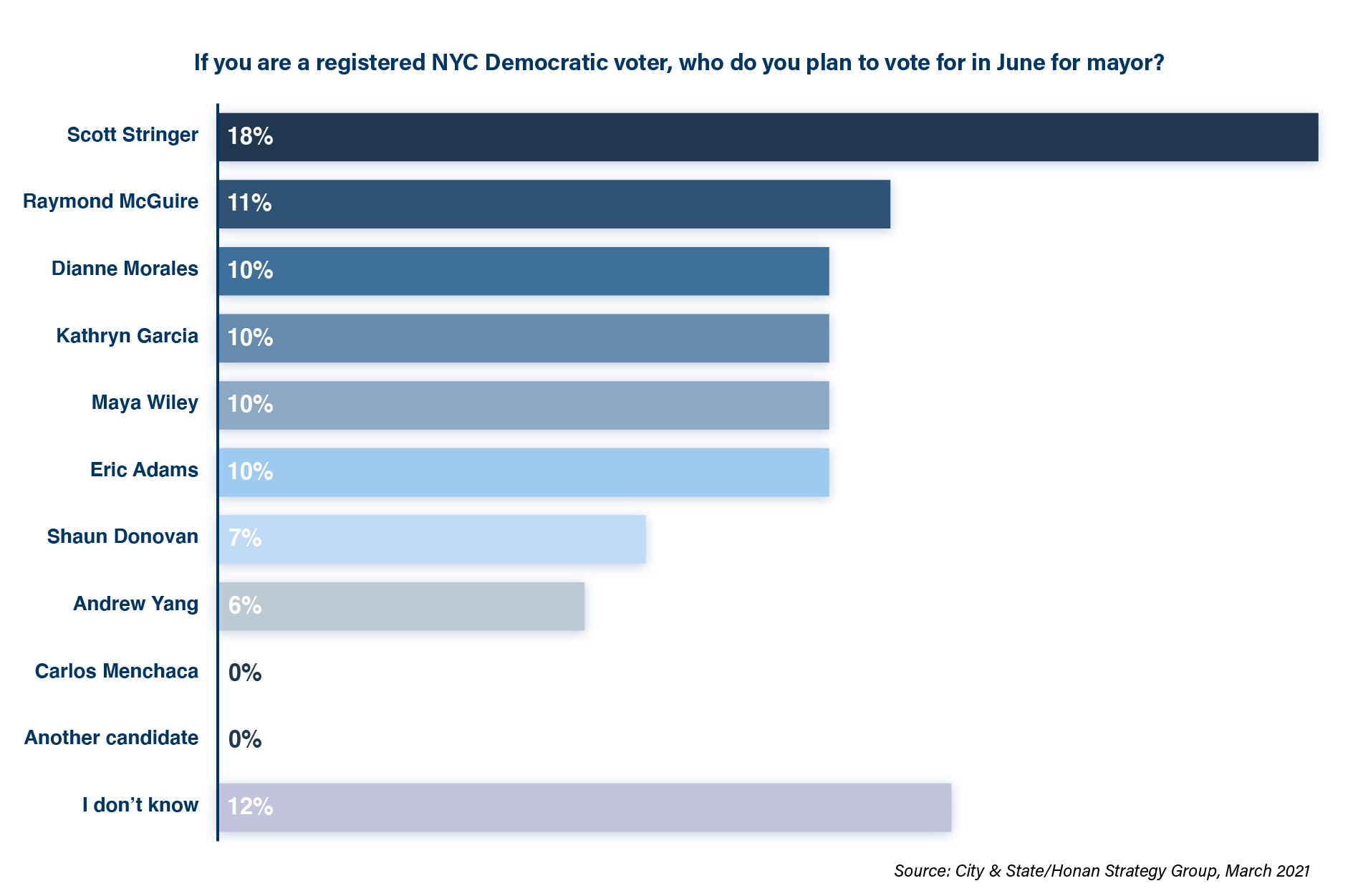 Staffing Up
Katie Baker of Muckraker Strategies has joined Lindsey Boylan's Manhattan borough president campaign as communications director … Ross Wallenstein has joined David Weprin's comptroller campaign as communications director … and George Espinal, who recently served as Elisa Crespo's field director in the Council District 15 special election in the Bronx, has joined Chi Ossé's campaign in Council District 36 in Brooklyn as field director.
Got tips? Email JColtin@CityandStateNY.com or SKashiwagi@CityandStateNY.com or send a DM to @JCColtin or @SydneyKashiwagi
District Data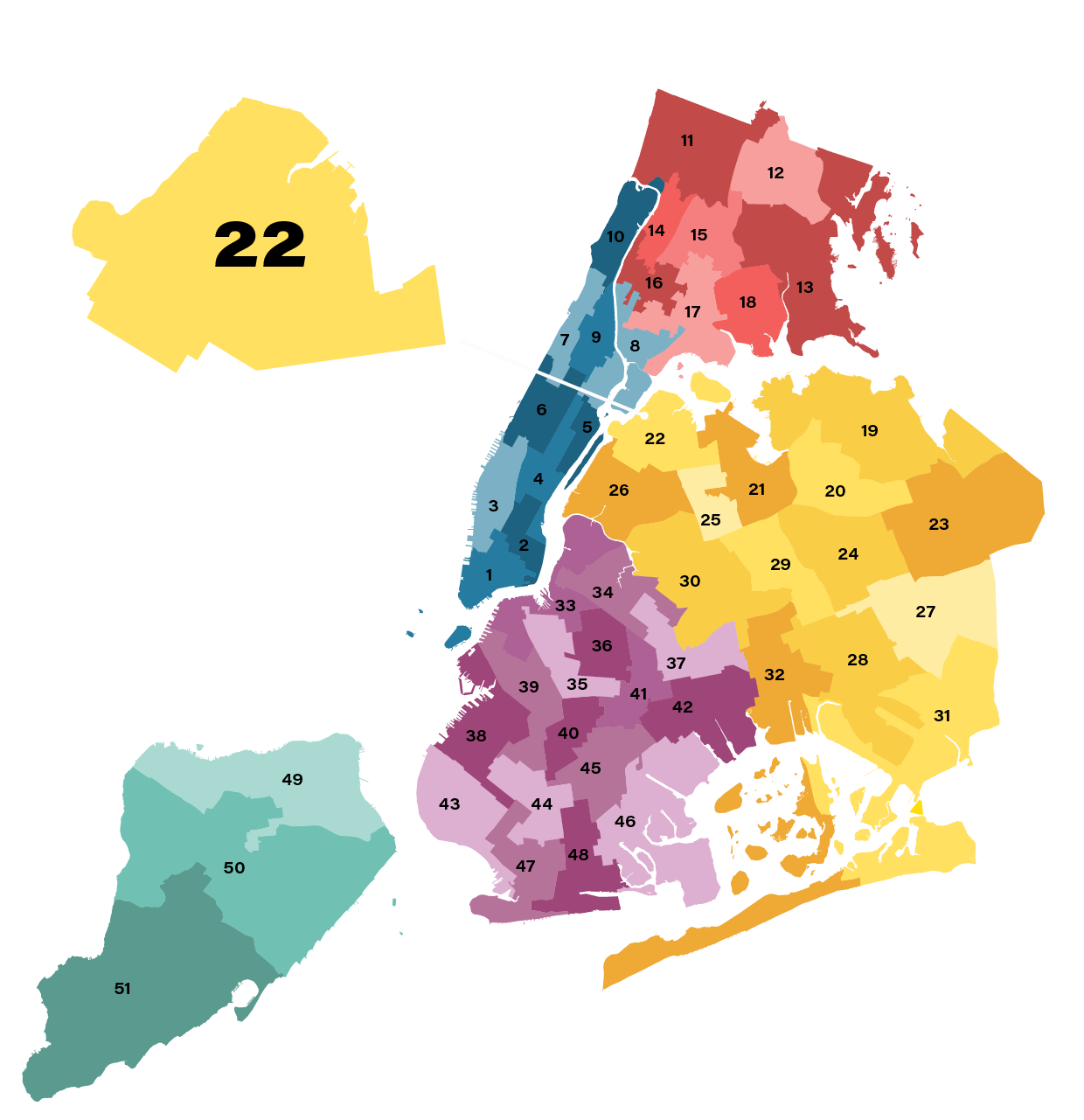 City Council District 22 in western Queens, covering neighborhoods including Astoria, Jackson Heights and East Elmhurst
Current council member: Costa Constantinides, since 2014, who's term-limited at the end of this year, and is planning to resign and take a nonprofit job on April 9.
2010 census demographics: 51.6% white, 24.7% Hispanic, 13.1% Asian, 7.5% Black
Housing: 77.8% renter-occupied, 22.2% owner-occupied
2013 primary election results: Constantinides: 55.7%, John Ciafone: 22.4%, Constantinos Prentzas: 21.9%
2017 primary election results: Constantinides uncontested
Who's running: Leonardo Bullaro, John Ciafone, Tiffany Cabán, Catherina Gioino, Evie Hantzopoulos and Nicholas Velkov. Cabán is a juggernaut who has raised the most money, has every endorsement you'd want, and who won this district by 57 percentage points when she ran for Queens district attorney in 2019. Her entry into the race led three former candidates to drop out and endorse her. Hantzopoulos, a nonprofit executive, is well connected in the district, and both her and Bullaro, who has worked at a series of charter schools as the city Department of Education, have raised the maximum amount of public matching funds. Whoever wins the primary will likely face Republican Felicia Kalan and Green Party candidate Edwin DeJesus in the general, but a Democrat is all but guaranteed victory.
Twitter Posting 
Does COVID have you missing the experience of a candidate unexpectedly harshing the vibes of a block party? Join Clubhouse.