Campaigns & Elections
Kathryn Garcia, New York City's go-to fixer
Supporters say the former Sanitation commissioner's record prepared to be mayor, but do voters care?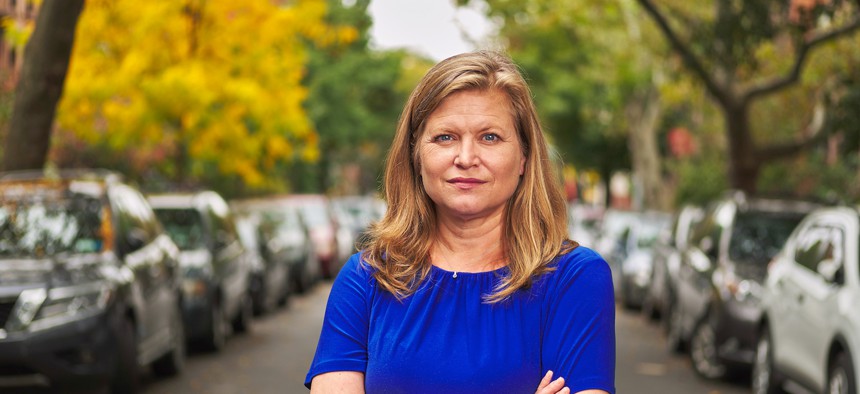 Last week, New York City mayoral candidate Andrew Yang held a press conference at a salt shed in Manhattan, where road salt used by the Department of Sanitation is stored, to call for the department's budget to be restored after cutbacks during the COVID-19 pandemic. While there, in an apparent faux pas, Yang took a photo standing on top of the mounds of salt, writing in a tweet, "Visiting the salt mines of New York City." It didn't take long for Kathryn Garcia, one of Yang's opponents in the Democratic primary and the former commissioner of Sanitation, to tweet her own photo at that particular salt shed, with a matter-of-fact reply befitting someone who has gotten their hands dirty. "Been there. Done that," Garcia wrote. Yang was criticized online for standing on top of a mound of salt – a safety risk – while Garcia had resisted the urge to use the salt as a jungle gym in the press conference photo she tweeted.
The dueling photo ops put a fine point on the contrast between Garcia and Yang and the other primary candidates who lack her years of experience in public service. Garcia lacks the name recognition and fundraising prowess of Yang or other frontrunners in the primary, but her long career in city government gives her an intimate knowledge of the nuts and bolts of how the city works. "I have been doing many of the roles that the mayor's office is required to do," Garcia told City & State in a recent interview. 
Garcia developed a reputation as a go-to fixer, called upon to tackle challenges like lead exposure in children and delivering meals during the COVID-19 pandemic, in addition to holding down top positions in the New York City Department of Environmental Protection and the Department of Sanitation. Garcia's tenure in those roles has been marked by some concrete achievements that both labor and progressive activists applaud, such as spearheading sustainability initiatives and helping to reform the city's inefficient commercial waste collection system. But some of those achievements have yet to be implemented, thanks to delays caused by the pandemic, meaning New Yorkers may not be able to see the results in time for the election. 
Translating Garcia's record to electoral momentum has proven difficult. Garcia has lagged in polls, and raised just shy of $600,000 in private funds, a sizable chunk of which came from city employees, while frontrunners including Yang and Brooklyn Borough President Eric Adams, have raised millions. 
Garcia served as commissioner of the New York City Sanitation Department from 2014 to last fall, when she joined the Democratic primary race for mayor, marking her first foray into politics as a candidate. Sanitation is also where Garcia began her career in city government, working as an intern there in the early 1990s. Apart from a few positions in the nonprofit and private sectors, Garcia has largely stayed in city government. Her first high-profile position came under former Mayor Michael Bloomberg, serving as chief operating officer of the Department of Environmental Protection. In that role, she oversaw the three main branches of the department: the Bureau of Water Supply, the Bureau of Water and Sewer operations, and the Bureau of Wastewater Treatment. Managing the department's roughly 6,000 employees, Garcia displayed some of the qualities that win her admiration among rank-and-file city employees. "Even back when her and I worked at DEP, her and I would be out, three o'clock in the morning, no matter what was going on," said James Roberts, the former deputy commissioner for Water and Sewer Operations at DEP, mentioning water main breaks and chlorine release incidents as just a few of the crises Garcia would regularly appear on the scene to help address.
Overseeing operations meant having a hand in both the nitty gritty and strategic vision of the department, said Cas Holloway, the former commissioner of DEP. Holloway noted that he wasn't endorsing any candidates in the race, but speaking to Garcia's work in government. Foreshadowing an analytics-driven approach future colleagues would cite when describing her leadership, Garcia developed and managed H20Stat, a performance-metrics program like the NYPD's CompStat, that the city credited with decreasing DEP's response time to 311 complaints. 
But the role that's come to define Garcia's career most is Sanitation commissioner. The Department of Sanitation handles more than just trash collection, but being responsible for New York City's garbage is a hefty duty on its own. "Sanitation is the type of job where they walk out the door every day and make a judgment about whether or not you're doing a good job," Garcia said. "They see with their own eyes, did you plow the snow? Did you pick up my garbage? Does my street look clean?"
But for the past year, sidewalks dominated by mountains of trash bags and overflowing bins spilling out into the curb would seem to suggest that the judgment New Yorkers are making about the Department of Sanitation isn't a positive one. Noticeable increases in trash piling up in the last year can likely be attributed to more than $100 million in cuts to the department's budget over the summer, due to financial pressures caused by the pandemic. While Garcia spoke out against those cutbacks, there's a risk to her campaign that New Yorkers will attribute a dirtier city to the candidate who recently ran the relevant department.
Colleagues, environmental advocates and labor leaders all said that Garcia was not only a competent and well-respected leader – "she gets stuff done" is an oft-repeated endorsement – but she also championed new programs at the department and helped pass major legislation.
Two of the most significant accomplishments Garcia had a hand in were the passage of the city's waste equity law in 2018 and the commercial waste zones law in 2019, said Council Member Antonio Reynoso, who chairs the Committee on Sanitation and Solid Waste Management. The first targeted the fact that the majority of the city's waste was being dumped at waste transfer stations in low-income neighborhoods, and prohibited the creation of new waste transfer stations in neighborhoods that already handle 10% or more of the city's trash. Reynoso said Garcia was instrumental in getting the private sanitation industry to come around to the idea of waste equity, which it had previously fought against. "Once Kathryn and (New York City Council Speaker) Corey Johnson came out together, supporting waste equity, the conversation with the private sanitation industry changed completely," Reynoso said. "They saw that this was going to happen" and tried to negotiate on the terms, rather than blocking it altogether. Reynoso said he is not endorsing any candidate in the Democratic primary for mayor.
The second law targeted one of the city's longstanding inefficiencies in garbage collection: the collection of commercial waste, a bloated and inefficient process which involves dozens of private companies carting trash on circuitous routes around the city. The 2019 City Council bill created 20 waste zones, relegating a limited number of private carters to each zone, with the aim of slashing truck traffic and greenhouse gas emissions. The implementation of commercial waste zones, however, has been delayed by the pandemic, and the procurement process to determine which private carters will participate is just now beginning. 
Advocates said that Garcia's no-nonsense leadership and good relationships with employees, advocates and industry alike helped turn these ideas into actual policy. "Both of those things had been, in concept, batted around for years," said Melissa Iachán, senior supervising counsel in the environmental justice program at the advocacy and legal services organization New York Lawyers for the Public Interest, of the two laws. "But they never would have grown legs and been able to be turned from sort of lofty, ambitious progressive policy ideals into law, which is law on the books of New York City, without Kathryn's pragmatism and leadership."
Environmental advocates said Garcia also helped moved the needle on sustainability initiatives, overseeing the city's curbside organic waste collection program – composting food scraps and yard waste – though the program is still only voluntary. Garcia has pushed for mandating the program citywide, but has been met with hesitancy from the de Blasio administration, and pandemic budget cuts led to program's suspension, with just a minimal amount of composting services restored. 
Endorsements from the city's sanitation unions also demonstrate the goodwill Garcia has won among sanitation workers. "She was the breath of fresh air that we needed," said Ignazio Azzara, president of the Uniformed Sanitation Chiefs Association. "She came in, she was innovative, she was proactive, she thought outside the box." Azzara credited Garcia with rewriting the department's snow removal plan, and ensuring new equipment and trucks were purchased. 
That's not to say snow removal has been flawless over Garcia's six years of leading the department. Garcia faced criticism from the City Council for the city's bungled response to a 2018 storm, and trouble with clearing bike lanes of snow, though she's said she pushed for the purchasing of smaller vehicles that plow bike lanes.
While Garcia has been critical of the de Blasio administration during her campaign to replace him, she was often the mayor's go-to person to tackle crises. She was appointed the senior advisor for citywide lead prevention in 2018, and developed a plan to screen every apartment in the city for lead exposure. De Blasio called on her again in 2019 to take over as interim chair of the New York City Housing Authority for a few months, where she was also tasked with fighting lead exposure in children. 
Garcia's campaign website says that new protocols she implemented led to a 21% reduction in childhood lead poisoning in 2019, but some advocates and lawyers in lead poisoning cases hesitated to attribute the declines entirely to her work. "I think a lot of people can take credit for this, from organizers on the ground, and parents who've spoken up," said Matthew Chachere, staff attorney at the legal services nonprofit Northern Manhattan Improvement Corporation, who helped draft the city's 2004 lead ordinance. "I will give her credit that she listened, and I think she did go back to the agencies and the mayor and said, 'We need to do a better job here, and here's things we can do.' And I give her credit for that." 
In the early days of the pandemic last spring, de Blasio called on Garcia to lead the city's 
delivery of meals to seniors and other homebound New Yorkers and facilitate grab-and-go meals. "Like with any new program, there were stumbling blocks, where there were food deliveries going to our seniors that were not nutritious, or were not full meals," said Wayne Ho, chief executive officer of the Chinese-American Planning Council, which worked on meal deliveries with Garcia. "(But) Kathryn responded quickly, and personally reached out to me to make sure we can find the proper vendors to do culturally appropriate meals for our seniors." (Ho noted that he wasn't endorsing Garcia's campaign, only speaking to her performance as food distribution czar.) 
Garcia notes that not having a strong fundraising operation already in place is a disadvantage of being a first-time candidate. But some of her former colleagues and supporters said that while this may be Garcia's first campaign, she's well versed in the political skills required of a mayor. James Roberts, the former deputy commissioner for water and sewer operations at DEP, mentioned Garcia's experience working on the budget with the City Council and mayor's office as just one example. "You can't have any of the jobs that any of us have and not have political experience," he said. 
This article is part of our For The Record series, examining the leading mayoral contenders' professional records. You can read the rest of the series here.
Powered By
NEXT STORY: What is New York's vaccine passport app?