New York City
Stringer, Levine co-endorse for mayor and Manhattan BP
Stringer works to consolidate support on Manhattan's West Side.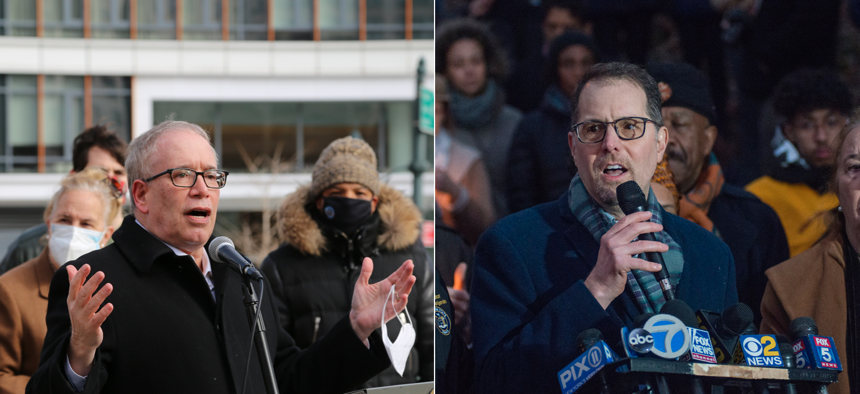 New York City Comptroller Scott Stringer, who served as Manhattan borough president from 2006 through 2013, is endorsing Mark Levine to be Manhattan's next borough president. And Levine, an influential City Council member on Manhattan's West Side, is endorsing Stringer to be the city's next mayor, hoping to shore up his support in one of the city's most vote-rich districts. The co-endorsement, reported exclusively by City & State, isn't exactly a surprise. The progressive politicians are politically aligned and they endorsed each other in their respective competitive 2013 races. The candidates' teams share a number of personal connections as well. Levine supported Stringer's campaign manager, Micah Lasher, when he ran for state Senate in 2016. Stringer's communications director, Tyrone Stevens, was previously Levine's comms director, and Levine is a close ally of Rep. Adriano Espaillat, who endorsed Stringer way back in October 2020.
Levine, who has earned attention for chairing the Health Committee during the coronavirus pandemic, is hoping to cement his status as a leading contender in the race to succeed Manhattan Borough President Gale Brewer, who is term-limited at the end of this year. Levine has picked up major endorsements, including from Espaillat and the New York City Central Labor Council. He has also raised the most money in the race and has the most cash on hand. But other candidates aren't far behind in fundraising, including state Sen. Brad Hoylman and City Council Member Ben Kallos.
Stringer grew up in Washington Heights, then represented part of the Upper West Side in the Assembly before becoming Manhattan borough president. Levine represents a district that spans the two neighborhoods along the borough's West Side – one of the areas that Stringer is hoping in particular to run up the score against his leading rivals in the mayoral race. While recent polls haven't been kind to Stringer – a poll released Wednesday by Fontas Advisors and Core Decision Analytics put him in fourth place – he has a whopping $6.85 million in his campaign account, making him second among all candidates. And thanks in part to his long career in politics, Stringer seems to have a clear lead on the field in terms of major endorsements – Levine being just the latest example.