Police Brutality
Chauvin guilty on all counts
New York lawmakers react after a jury convicted the former Minneapolis police officer of murdering George Floyd.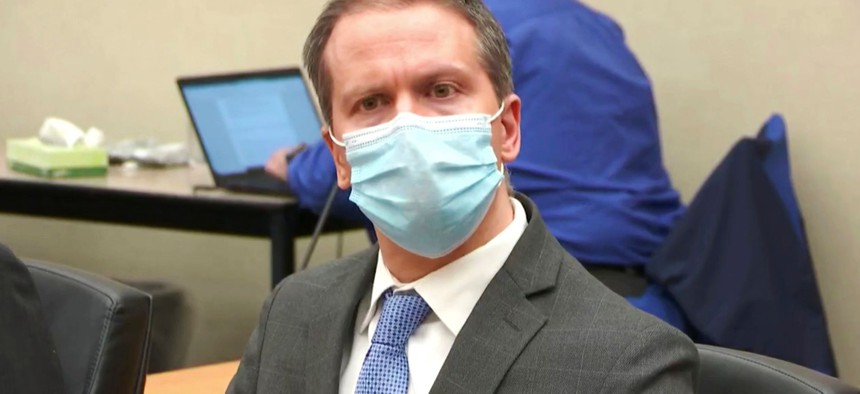 Jurors found former Minneapolis police officer Derek Chauvin guilty on all counts in the murder of George Floyd, a Black man whose death set off nationwide protests over institutional racism and set in motion reforms aimed at reshaping law enforcement.  
The most serious conviction, second-degree murder, carries a maximum sentence of 40 years. Jurors also convicted Chauvin of the lesser charges of third-degree murder and second-degree manslaughter. The convictions make Chauvin the first white officer in Minnesota to be criminally prosecuted in the death of a Black person.
In an incident caught on video, Chauvin pressed his knee on Floyd's neck for nine-and-a-half minutes until he died while arresting the father of five for allegedly trying to pass a phony $20 bill. During those nearly 10 minutes, Floyd repeatedly said he couldn't breath, reminiscent of the last words of Eric Garner, who was killed by police in 2014 in New York City. 
Floyd's death in May last year sparked a spring and summer of protests against police brutality across the nation, including in New York. Protests in New York City were met with heavy police presence and led to multiple arrests as well as new accusations of police brutality. Videos emerged of police pushing people to the ground, pepper spraying a protester after removing his mask and driving cars into groups of demonstrators. The organization Human Rights Watch concluded that the New York City Police Department violated protesters' human rights at a June protest in the Bronx where officers allegedly engaged in a practice known as "kettling" that prevented demonstrators from dispersing before engaging in mass arrests. A report from the New York City Department of Investigation concluded that officers used excessive force in their response to protests in the wake of Floyd's death.
The protests and outrage over Floyd's death, and the deaths of other Black civilians at the hands of police last year, led to a renewed commitment to police reform federally and in New York. At the state level, lawmakers approved a package of police reform bills last summer, perhaps most notably of which was a repeal of the law that shielded police disciplinary records from the public. In New York City, lawmakers passed a law that criminalized police use of chokeholds. Since then, the city more recently approved a partial repeal of qualified immunity, which will make it easier for alleged victims of police brutality to sue officers in civil court.
The entire country has been on edge, awaiting a verdict in the George Floyd case. With the final ruling, police reform advocates and Black Lives Matter activists are expressing a sense of relief and even somber celebration upon learning of the guilty verdicts. Rallies continuing to call for more reforms are expected across the nation. Here's how New York lawmakers reacted.
Statewide officials 
Gov. Andrew Cuomo – "The verdicts delivered today were a powerful statement of accountability. But while I'm grateful that the jury returned this verdict, accountability is not the same as justice. Our charge now is to channel this moment to make real, positive, and long-overdue change happen."
Lt. Gov. Kathy Hochul – "The jury reminded our country and the world that, yes, #BlackLivesMatter … Today's guilty verdicts don't heal years of systemic injustice, but it's a step in the right direction. Sending my thoughts to George Floyd's family and community and praying for their wellbeing."
State Attorney General Letitia James – "Almost one year ago, the Floyd family and communities across this nation were torn apart by the murder of George Floyd. Today, there is finally accountability for this atrocious crime that stole the life of a father, brother, son, and friend. I pray that the Floyd family finds some semblance of justice and peace for this horribly unjust act. While true justice will never be served as long as Black men and women are subjected to such inequality, today, we are one step closer to the fairer system we all deserve."
State Comptroller Thomas DiNapoli – "George Floyd's killing was a watershed moment in American history. For over a year, we've seen people of all colors + creeds speaking in unison: Injustice anywhere is a threat to justice everywhere. And there is still much to be done to achieve true equality + justice for all."
U.S. Senate
U.S. Sen. Chuck Schumer – "I'm thankful for George Floyd's family that justice was served. America was forever changed by the video of Derek Chauvin killing George Floyd. However, a guilty verdict doesn't mean the persistent problem of police misconduct is solved. We'll keep working for meaningful change."
U.S. Sen. Kirsten Gillibrand – "This verdict brings some small measure of justice to George Floyd's family, but nothing can ease their pain or return him to them. We must pass the George Floyd Justice in Policing Act and fight to dismantle the systemic racism that led to the deaths of too many Black Americans."
House of Representatives
Rep. Hakeem Jeffries – "In the aftermath of the killing of George Floyd, people of good will throughout America spoke up, stood up and showed up to demand justice. The jury has spoken and delivered a just verdict by convicting Derek Chauvin of murder. It's now time for America to come together, elevate the principle of equal protection under the law and continue this country's march toward a more perfect union."
Rep. Kathleen Rice – "Today's verdict confirms what we all knew to be true. I commend George Floyd's family for their strength during this process and their continued dedication to the cause of justice. Now we must continue to fight to deliver justice for all Black Americans."
Rep. Nydia Velázquez – "Justice was delivered today. For George Floyd, for his family, and for Black communities across America. This is a significant step in holding police officers accountable, but more needs to be done."
Rep. Mondaire Jones – "But let me be clear, this verdict is not full justice, for in a just world, George Floyd would still be alive."
Rep. Yvette Clarke – "Derek Chauvin was given the due process which he denied George Floyd and he must serve his sentence. He was convicted, and found Guilty. All three counts. While this is a solemn day, this is also a proud day for America. Black Lives Still, and Always WILL, Matter."
Rep. Jamaal Bowman – "We've known Chauvin was guilty since the second we saw him murder George Floyd on film – but we also know of the racism inherent in our carceral and policing systems. This verdict doesn't change that racism, or the work ahead needed to transform those systems to serve us."
Rep. Adriano Espaillat – "A black man needed to be murdered on camera for law enforcement to be held accountable. Nothing will give George Floyd his life back. There can't be justice for one until there's justice for all. We have so much more work to do."
Rep. Jerry Nadler – "Today, justice was served in Minneapolis. George Floyd's death at the hands of Derek Chauvin was a horrific act of violence and a shocking abuse of power … This decision – the right and just decision – cannot allow us to grow complacent in the crucial endeavor to overhaul American policing."
Rep. Tom Suozzi – "Justice served. #GeorgeFloyd"
Rep. Brian Higgins – "Today, we have justice for George Floyd. Thinking of his family today as they continue to grieve. Long overdue progress in the fight for equal justice under the law continues."
Rep. Gregory Meeks – "While justice was served by this verdict, that does not absolve Congress of its duty to pass meaningful police accountability legislation."
Rep. Carolyn Maloney – "Today the justice system worked, it hasn't always, but it's important to remember that no court can make George Floyd's family whole again."
Rep. Grace Meng – "I hope this guilty verdict brings some peace to George Floyd's family – but I know that nothing will bring him back to them. Today is not the end of our fight. Justice will be served when Black and brown mothers no longer fear police violence every time their kids step outside."
Rep. Sean Patrick Maloney – "Today, America watched as Derek Chauvin was held accountable for the murder of George Floyd. This ruling is a critical first step towards justice. We have an opening to fix this broken system, and we must stay the course. Now is the time for meaningful legal reforms that will deliver transformational change and enduring justice for Black Americans. We must begin by making the George Floyd Justice in Policing Act the law of the land."
Rep. Alexandria Ocasio-Cortez – "That a family had to lose a son, brother and father; that a teenage girl had to film and post a murder, that millions across the country had to organize and march just for George Floyd to be seen and valued is not justice. And this verdict is not a substitute for policy change."
State Senate
State Senate Majority Leader Andrea Stewart-Cousins – "While I'm heartened by this verdict and believe it's an important step towards accountability, we must remember that this verdict is not true justice. True justice would mean that George Floyd would have walked away from that encounter alive."
State Sen. Michael Gianaris – "Justice has been too fleeting in our society but today, it was realized in this case. More work still to do"
State Sen. Samra Brouk – "Sometimes justice can be served."
State Sen. Jamaal Bailey – "Justice has been served."
State Sen. Julia Salazar – "Guilty. Guilty. Guilty."
State Sen. Alessandra Biaggi – "Rest in Peace, George Floyd."
State Sen. Liz Krueger – "Today's verdict is a small measure of accountability in a system that far too often falls short. I hope it brings some relief to the family of George Floyd. Now we must continue the work of dismantling systemic racism, not just in criminal justice, but in all facets of society."
State Sen. John Mannion – "The murder of George Floyd released a wave of powerful emotions across the country. I hope that this conviction brings closure to his family and healing to our communities."
State Sen. Zellnor Myrie – ".@NYPDShea will you call on your cops to be peaceful tonight?"
State Sen. Brian Benjamin – "Guilty on all counts. This is a victory, but true justice would be George Floyd standing with us today."
State Sen. James Sanders Jr. – "This is the first time in my lifetime that I have seen a white police officer convicted of killing a black man. I think justice has been served to a degree. … I think that today we have seen a strike against the racism that exists in our country particularly as it relates to law enforcement and black and brown people. However, we must continue to fight. The battle is not over. This is one small victory."
State Sen. Gustavo Rivera – "George Floyd was unjustly murdered by Derek Chauvin. I commend the decision taken by the jury in declaring him guilty on all three counts for violently taking Mr. Floyd's life. While this decision will not bring Mr. Floyd back to life, I hope that his family and loved ones find some solace after a traumatic year."
State Sen. Diane Savino – "The jury has done (its) job, and delivered accountability for George Floyd. But, the pain inflicted by Chauvin is deep and will not heal easily. Justice will be delivered when we no longer have these cases."
Assembly
Assembly Speaker Carl Heastie – "George Floyd's death was a tragedy. It was a crime the entire world It was a crime the entire world witnessed on video over the course of nine minutes and 29 seconds. That Derek Chauvin was found guilty on all counts is important and it is right. But I also know that we must continue to challenged the system that enabled his murder in the first place. … My heart goes out to George Floyd's friends and family. I hope this brings them a sense of justice, and they can find strength and peace."
Assembly Member Rodneyse Bichotte Hermelyn – "Now we can begin to heal as a country. We are celebrating this step on the road to justice from Minneapolis to Brooklyn & beyond. I am continuing to pray for the Floyd family as they mourn."
Assembly Member Harvey Epstein – "GUILTY! GUILTY! GUILTY!"
Assembly Member Yuh-Line Niou – "This isn't justice. Will never be justice...This is accountability. We need accountability."
Assembly Member Catalina Cruz – "And then there are days when the law doesn't completely ignore our humanity. #JusticeForGeorgeFloyd"
Assembly Member Carmen De La Rosa – "Guilty on all three counts! Rest in eternal peace George Floyd— we will never forget!"
Assembly Member N. Nick Perry – "I applaud the verdict. But justice will never be served until everyone in America is treated with the human dignity they deserve, regardless of race. #GeorgeFloydverdict"
Assembly Member Chantel Jackson – "Thank you Jesus! I can hear the Bronx all the way in Albany! #GeorgeFloydTrial"
Assembly Member Jeffrey Dinowitz – "Justice at last."
Assembly Member Latoya Joyner – "Today delivered a verdict … Tomorrow brings forth the opportunity to continue the fight for reformation, accountability and justice. Our hearts are forever with the family of George Floyd."
Assembly Member Jessica González-Rojas – "Accountability. Justice is a world where our loved ones can walk out of our homes and get back to us safely. That's what we're fighting for."
Others
New York City Mayor Bill de Blasio – "In June we watched in horror as Derek Chauvin took the life of George Floyd. The reality of racism in this nation finally hit a boiling point, the pain of more than 400 years of injustice. Today, justice was served. Make no mistake, today's verdict is not the end. This is the beginning, as we continue to create real reforms in policing and make a safer country for all Americans. I urge peace and calm tonight as we begin the work of achieving further progress."
New York City first lady Chirlane McCray – "Justice prevailed today with the guilty verdicts in the Derek Chauvin case. Chauvin's actions sullied an entire profession and enraged people of good will around the world. Chauvin's knee on George Floyd's neck was a horrifyingly apt metaphor for racial oppression. This is only the beginning of our country's reckoning with systemic racism. This trial is more than the judgement of Derek Chauvin and only one fight in a long, long battle against inequity and injustice. Our humanity was never on trial. Black Lives Matter. They mattered yesterday. They matter today. They will matter tomorrow."
New York City Public Advocate Jumaane Williams – "So while I'm relieved the jury reached the right decision, that Derek Chauvin will face consequences, I'm not celebrating. It's hard to truly breathe a sigh of relief when George Floyd cannot. Derek Chauvin is guilty, but George Floyd is dead. …. I'm glad for today's verdict, but I'm not okay. Still, and likely for a long time, as the Black community waits for the justice and equity promised but never delivered. And I'll continue to join the protests that will undoubtedly fill the streets, because we are not okay, and too many people, systems, institutions are okay with that."
New York City mayoral candidate Andrew Yang – "For nine minutes and twenty-nine seconds last summer, our nation watched in horror as George Floyd's life was taken from him in an unconscionable act of police brutality. … We have a long way to go. We must all remember that today's verdict is the first step towards healing in our communities, not the accomplishment of deep and lasting reform to police culture."
Brooklyn Borough President and New York City mayoral candidate Eric Adams – "Justice was served in Minneapolis today – but the fight against injustice everywhere continues. We cannot have equality and true public safety without police accountability and a criminal justice system that treats everyone the same regardless of skin color or background. Police departments across the country are infected by racism and only serious reforms that bring diversity, transparency and humanity to policing will prevent the death of the next George Floyd."
New York City Comptroller and mayoral candidate Scott Stringer – "Make no mistake: no outcome today could change the fact that our system remains deeply broken across the country. … And so while today's verdict is commendable, our fight for justice is far from over. That includes right here in New York, where time and again political leaders have promised reform but delivered nothing but excuses."
New York City mayoral candidate Maya Wiley – "Today, George Floyd received some of the justice in death that he was not given in life. … This verdict is a moment of justice for the nation – what we do next is up to us."
New York City mayoral candidate Kathryn Garcia – "There has been justice for far too few. True justice would mean that George Floyd would be alive today. But, may today's verdict bring peace and closure to George Floyd, his family and his loved ones. No matter the verdict, nothing will ever erase George Floyd's unjust murder or ease the loss for his family. I hope that today's verdict makes clear what has always been true: Black Lives Matter."
New York City mayoral candidate Dianne Morales – "Moments ago, Derek Chauvin was convicted for the murder of George Floyd. I only hope that this verdict brings George Floyd's family some peace. There isn't accountability, justice, or anything else in this verdict. The system and conditions that led to George Floyd's murder still exist and we are no safer today than we were yesterday. … Make no mistake about it: Activists, advocates, and Black and Brown communities know that we must continue this fight. We will continue to show up for Black Lives, and it's why I'm steadfast in my commitment to Defund the NYPD and to finally fund our communities. Now is the time to dismiss the myth that police equals safety."
New York City mayoral candidate Shaun Donovan – "George Floyd should still be alive today. Period. And tragically, nothing that was achieved today will undo that unbelievable and irreversible harm his murderer, Derek Chauvin, imparted on him, his family, and the Black community at large. I hope this verdict gives some small measure of healing to George Floyd's family and friends. The moral arc of the universe is indeed long, and today's verdict helped us bend it a little closer to justice, but we are a long way away from living in a country that fully lives up to our founding promise of life and liberty."
New York City mayoral candidate Ray McGuire – "Today, justice was served. Our family and community have a hole that will never be filled and our nation will continue to grieve because while some justice is available today in the case of George Floyd's murder, his family, and the countless Black and brown people killed by police may never receive the same opportunity. … Let us all stand and pray with the family of George Floyd and celebrate not the verdict but George's life and memory."
Queens Borough President Donovan Richards – "Although today's decision is just and welcomed, there is no cause for celebration today. No verdict will reunite George Floyd's children with their father or his siblings with their brother. There is no ruling that will soothe the anguish George's family feels every day, knowing his final 9 minutes and 29 seconds were spent gasping for air beneath the knee of a police officer for the entire world to see."
Manhattan District Attorney Cy Vance – "The guilty verdict in the murder trial of police officer Derek Chauvin delivers a powerful message to our nation – and the world – affirming the intrinsic value of George Floyd's life while repudiating the barbaric actions of his killer and the excessive use of force by police in general."
Manhattan district attorney candidate Lucy Lang – "Today's verdict provides a glimmer of hope that our judicial system can deliver some measure of accountability to those who carry a shield and use it to perpetrate devastating violence against people of color, particularly Black people, in this country."
Manhattan district attorney candidate Eliza Orlins – "Derek Chauvin was found guilty today, but that won't bring back George Floyd. It won't bring back Daunte Wright, who was killed by a police officer just miles away from the Minneapolis courthouse where Chauvin was tried, or Adam Toledo, the 13-year-old child with his hands raised who was killed by a police officer in Chicago."
Manhattan district attorney candidate Tahanie Aboushi – "The brutal murder of George Floyd by officer Chauvin was a public display of exactly what our criminal justice system was designed to do – to oppress, dehumanize, and inflict violence on people of color. While one case won't prevent more murders at the hands of police, this verdict gives us hope that even those with a badge will be held accountable. We cannot lose sight of the fact that for people of color, this kind of justice is the exception, not the rule – and that there is no amount of prison time for Chauvin that can make up for the years stolen from George Floyd and his family."
Manhattan district attorney candidate Dan Quart – "George Floyd should be alive today and the guilty verdict does not change that fact, nor does it completely heal the pain Mr. Floyd's family and thousands of others are feeling. This verdict is just the beginning. It's an important step in holding police accountable, but there is no joy or justice in the loss of a life. Today's verdict reaffirmed what millions of us knew to be true: that Derek Chauvin murdered George Floyd. But we all waited anxiously to see whether a jury would do the right thing, revealing again just how deeply broken our system is."
Manhattan district attorney candidate Liz Crotty – "Justice was at last served today with the conviction of former police officer Derek Chauvin. The evidence was simply overwhelming that Chauvin, through the use of unjustifiable force, was guilty of murdering George Floyd. The verdict demonstrates once again that no one is above the law. My fervent prayer is that George Floyd's family can find some solace in this judgement."
Nassau County Executive Laura Curran – "Today's guilty verdicts in the Derek Chauvin case are an important step for justice in our nation. The tragic murder of George Floyd rightfully spurred both outrage and action – including historic police reform here in Nassau County. Nassau County will continue to focus on building trust between police and the communities we serve, so that every resident knows they are both respected and protected."
Suffolk County Executive Steve Bellone – "An important milestone was reached today in the guilty verdict of Derek Chauvin. While justice for George Floyd will never fully be achieved, the jury today gave us hope that a more just world is possible. We must use this opportunity to redouble our efforts to fight for racial equality."
Albany Mayor Kathy Sheehan – "This verdict, while important, does not mean the work for racial justice is any less urgent. Throughout this trial, people of color continued to die at the hands of police. We must continue to reform policing in Albany and across the country."
– with reporting by Annie McDonough, Jasmine Sheena and Amanda Luz Henning Santiago