Albany Agenda
Cuomo staffers leaving the Executive Chamber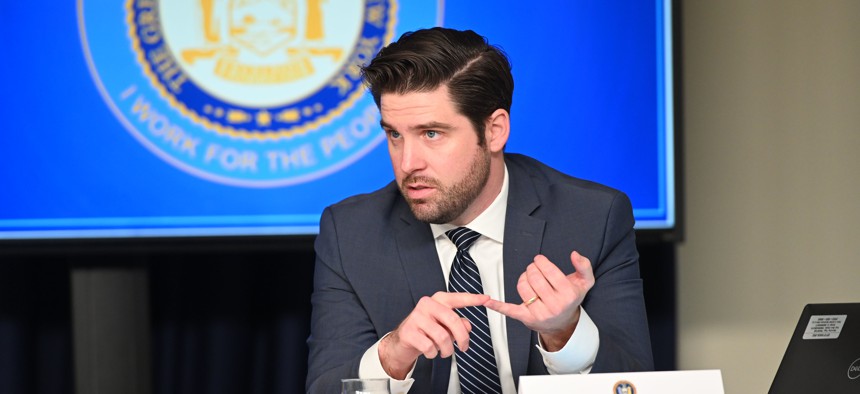 Governor Andrew Cuomo is showing no signs of leaving office anytime soon, but the same cannot be said for top aides who have left his inner circle in recent weeks amid a growing litany of scandals. 
The most recent departure to come to public attention concerns Max Orenstein, who served as director of creative in the Executive Chamber from Dec. 2018 until this month. His LinkedIn profile shows he now has a full-time communications gig with a Manhattan synagogue.
Orenstein is part of a growing list of gubernatorial staffers who have left the administration since bombshell revelations of Cuomo's handling of COVID-19 in nursing homes and alleged sexual misconduct surfacted in February. Some have said it is just a coincidence that they left the governor's office while he continues fighting for his political life. Others have leaned on time-worn explanations like the need to spend more time with their loved ones. The rest just said nothing at all publicly.
Here is a round up of all the gubernatorial staffers who have left since February. 
Max Orenstein
The former creative director for the governor was likely busy over the past year helping the governor realize his various artistic efforts, which include a book, poster and a 3D "COVID Mountain." Repping the B'nai Jeshurun synagogue as its director of communications might be drama-free by comparison.
Laura Edidin
The governor hired the former Brooklyn prosecutor as his chief special counsel for ethics, risk and compliance to some fanfare back in 2019. Her exact role in advising the governor on controversial issues like a $4 million book deal remains unclear though her title suggests that she was in the thick of top gubernatorial decision-making. She has not said why she left weeks ago, but an April 5 email sent to gubernatorial staffers announced the hiring of her replacement. 
Jack Sterne
A former spokesperson for Empire State Development, a state-run agency promoting economic growth, Sterne came to the governor's office early in the pandemic to help with the influx of press inquiries on unemployment issues in particular. His departure for an unannounced position in the private sector became public April 9. 
Christopher O'Brien
Four years in Cuomo World appear to have come to an end now that the deputy secretary for transportation told colleagues in late March that he is moving on after nearly a year and a half on the Second Floor. His exact reasons for leaving the administration remain unclear, and his LinkedIn page still lists him as working for the governor. 
Caitlin Girouard
The former spokesperson said she accepted a job offer on January 26, prior to most Cuomo revelations, though her departure from the administration became public in early March. After years representing elected officials like Cuomo, Rep. Sean Patrick Maloney and U.S. Sen. Amy Klobuchar, Girouard is transitioning to the private sector. 
Erin Hammond
Spending more time with family members is the cliché way to make a political exit, but the former interim policy adviser is sticking to that story. It is plausible that 14 years of serving the executive branch in state government would make someone want to spend more time with their loved ones. 
Will Burns
Law school is reportedly the next stop for the former press aide, who has hinted that he will continue working for the governor in some capacity in the future. This comes after another former boss, Gareth Rhodes, (whose 2018 congressional campaign Burns worked for) announced that he was resigning from the governor's COVID-19 task force.
Kumiki Gibson
A new position in the nonprofit sector was the stated reason why the former counsel and senior adviser to the governor announced March 8 that she was leaving the administration in early March. Apparently, she informed the administration of her plans right around the time that a fateful Feb. 10 meeting occurred between administration officials and legislators about COVID-19 in nursing homes.
Gareth Rhodes
After serving as a key member of the governor's inner circle during the pandemic, Rhodes announced March 3 that he was returning to his day job as a deputy superintendent and special counsel at the Department of Financial Services. He has said the timing was just right considering progress against COVID-19. The announcement came just days after reports surfaced of Cuomo inappropriately touching a female guest at Rhodes' 2019 wedding.