New York State
Pot legalized but the budget is late
Rounding up the week's political news.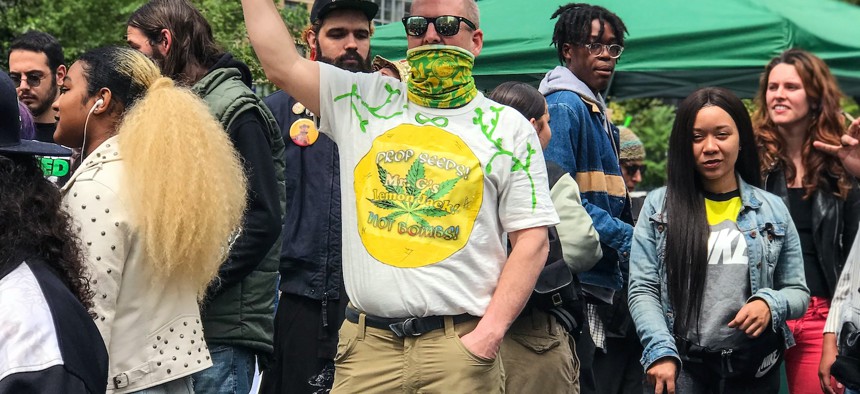 It was another busy week in New York. The Biden administration gave the state a green light to conduct an environmental assessment for congestion pricing in a major step forward for the plan. Gov. Andrew Cuomo signed landmark legislation to limit the use of solitary confinement. New York City mayoral candidate Dianne Morales said she would no longer participate in Zoom forums. And that doesn't even get into the big week in the state Capitol. But in classic Albany tradition, getting one thing done sometimes comes at the cost of another.
Keep reading for the details.
Recreational marijuana legalized 
After years of advocacy and several deals that fell apart in 2019 and 2020, New York has legalized recreational marjuana. Although retail sales are still a year or more away, many aspects of the bill took effect immediately, including making the possession of small amounts of marijuana legal. Automatic expungement for past marijuana-related offenses that are no longer crimes also began immediately. Among the last sticking points in the negotiations were over impaired driving. The final deal involved extra money for police departments to train and hire drug recognition experts, and setting up a study that would examine devices to detect marijuana impairment on the road. Currently, no technology has been approved to perform fast and accurate tests, like a Breathalyzer, to determine whether someone is impaired. Under the new law, people cannot smoke and drive, and it's illegal to drive after having ingested marijuana. But Republicans said the legislation did not adequately address their concerns around impaired driving, which they cited when voting "no" on the legalization. Road safety considerations were also brought up by a handful of Democrats who voted against the measure.
Cuomo's book deal and a new accuser
The bad press just doesn't stop for Gov. Andrew Cuomo. It started off with yet another woman accusing him of inappropriate behavior. Sherry Vill said she met the governor when he visited the Rochester area in 2017 to inspect local flooding. One of the houses that he visited was hers. Vill accused Cuomo of two unwanted kisses on the cheek, one of which was caught in a picture, that left her feeling uncomfortable. New information also emerged about Cuomo's controversial book about his leadership during the coronavirus pandemic. According to The New York Times, Cuomo got a book deal that exceeded $4 million. Aides to the governor assisted him in writing the book, which may have been a violation of state ethics laws, including Secretary to the Governor Melissa DeRosa helping edit one of the drafts and low-level staffers delivering printed pages to the Executive Mansion. The governor's office said any staffers who worked on the book volunteered. The state ethics commission approved Cuomo to write the book, but said that no state resources could be used in the writing or promotion of the book. He seemed to violate this and other parts of the approval.
A late budget in New York 
The end of New York's fiscal year came and went without a new budget getting passed. Lawmakers had an April 1 deadline to get the budget done, but only passed one of the 10 budget bills by that date. Only three of the bills were even introduced before April 1. Late budgets are nothing new in New York – years ago they wouldn't pass until well into the summer. Cuomo prides himself on passing on-time budgets, but they are sometimes approved a couple days late. Several sticking points exist in negotiations between Cuomo and legislative leaders, including a fund for workers who have not been eligible for COVID-19 aid, new taxes on the wealthy and school funding. Recent reporting revealed that Cuomo wants $1.3 billion in bonds for his controversial redevelopment plan of Penn Station and the surrounding area.
Powered By
NEXT STORY: Progressive lawmakers take the War Room overnight