New York City
What does the NYC Campaign Finance Board do?
Audits, public matching funds and more!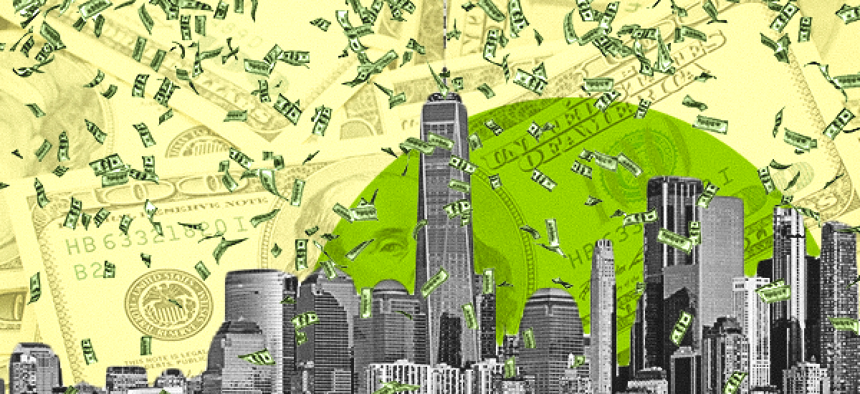 It's election season in New York City and that means a lot of eager candidates, from mayoral hopefuls to prospective City Council members, are looking to rake in campaign contributions!
It takes a lot of dough to fund elections, especially in the city. In 2017, City & State estimated that it took about $244,000 to win a City Council seat. Those mailers you've been getting from candidates ain't free, you know.
Unlike the rest of the state, the city has some strict campaign finance laws, detailed in the Campaign Finance Act, which are designed to minimize corruption. The New York City Campaign Finance Board is responsible for enforcing the laws in the act, which apply to every candidate running for office in the city, including for mayor, public advocate, borough president and City Council. Think of the CFB as something akin to the Federal Election Commission but on a city level.
The board audits every candidate's campaign finances throughout the election cycle to make sure that they are compliant with the act, reviewing their campaign contributions and spending. According to the act, all city candidates are prohibited from accepting donations from corporations, partnerships, political committees not registered with the board, or anonymous individuals.
Candidates are required to disclose all of their fundraising information to the board on days that are known as "filing days." And as we get closer to certain elections, candidates are mandated to disclose their donations on a daily basis leading up to Election Day. And because the board is all about transparency, it publicly discloses all campaign donations that have been made on its website.
The board also facilitates the city's optional public matching funds program, which is available to candidates running for any elected office in the city. In order to qualify for the program, a candidate must receive small donations from city residents and meet the board's minimum donation and donor requirements, be willing to share detailed reports on how their public funds were spent and continue to abide by the board's spending and contribution limits throughout their campaign. Contributions coming from outside of the city are not eligible for matching funds.
Currently, the board has two public matching funds options, "A" and "B." The newer "A" program provides participants with the highest matching rate of $8-to-$1, while the "B" program has a matching rate of $6-to-$1 but allows for larger individual contributions. Candidates for different races are each allocated a maximum amount of funding and are required to stay under the board's spending limits. For example, during a general election year a mayoral candidate participating in the program is not allowed to spend over $7,286,000. Funds for the program come from the city's general fund and if a candidate has leftover public funds then that money is returned.
Regardless of whether or not a candidate is participating in the public matching funds program, they still have to stick to the contribution limits laid out by the board. For instance, a City Council candidate who is participating in "A" program can't accept more than $1,000 from an individual donor, while a candidate in the "B" program can't accept more than $2,850 per donor.
After the election, the board continues to analyze campaign filings to make sure that the city's campaign finance laws were followed. It will fine any candidates who violated the board's rules. This is why you often see campaign finance violation stories emerging years after an election.
Aside from its financial monitoring responsibilities, the board also sets up debates for citywide offices. It also analyzes information about voter turnout and voter engagement.
By the numbers
Minimum requirements for public matching funds
In order to qualify for public matching funds, candidates running in any city election must exceed a minimum amount of money raised and a minimum number of donors. It might seem as though the two requirements are tied to one another but they are actually two separate qualifications. However, these numbers differ depending on the office.
City Council candidates must raise at least $5,000 and have a minimum of 75 donors from the district in which they're running. 
Borough president candidate minimums are based on the size of the borough, and candidates must raise a minimum that ranges from $10,000 to $50,094,depending on the borough, and have at least 100 donors from the borough.
Public advocate and comptroller candidates must raise at least $125,000 and have a minimum of 500 contributors.
Mayoral candidates must raise at least $250,000 and have a minimum of 1,000 contributors.
Mini history lesson
How the CFB came to be
The New York City Campaign Finance Board was created in 1988 with the passage of the Campaign Finance Act by the New York City Council.
The Campaign Finance Act was part of a series of ethics reforms spearheaded by Mayor Ed Koch during the late 1980s after several high-profile corruption scandals.
One of the most notable instances of corruption occurred in 1986, when Queens Borough President Donald Manes was "implicated in taking payoffs to fix contracts with the Parking Violations Bureau," according to the Manhattan Institute's City Journal.
The act also established the matching funds program to try and get candidates to raise small contributions from regular New Yorkers, rather than from corporations or other political entities hoping to use the local government for their own gain. It also aims to make elections fairer by providing candidates with resources they might not have otherwise. Interestingly, David Dinkins was the first mayoral candidate to receive public matching funds in 1989.
Fineable offenses
Campaign financing no-nos
If a city candidate violates any of the Campaign Finance Board's rules, it's likely that they'll face some sort of penalty, typically a fine. Things that frequently get candidates in trouble include violating campaign spending rules, violating donor rules or failing to report their finances properly.
Spending violations typically occur when a candidate spends any of their public matching funds on anything that isn't a "qualified expenditure." A qualified expense includes anything campaign-related, and personal expenses are not allowed. Candidates are also prohibited from going over the spending limit, which is unique to each seat.
When it comes to donor violations, candidates tend to get in trouble for accepting money from prohibited donors, not properly reporting where donations came from or not abiding by the board's "doing business" protocol. If a candidate receives a contribution from a donor whose company has a contract with the city, they must disclose it. If they receive an over-the-limit contribution from a donor with ties to the city they must either give back the excess money or prove to the board that the donor applied to the Mayor's Office of Contract Services to no longer be in the "doing business" database. Money from donors with city contracts don't qualify for matching funds unless that person deregisters from the "doing business" database.
Sleuthing made easy
How to look up campaign donations
If you've never been on the Campaign Finance Board's website before, you may find yourself a little intimidated by all it has to offer. If you're interested in seeing how money is being distributed to candidates, it's worth exploring.
You can search any candidate or donor on the board's website by using its Follow the Money database. The website also has a handy mapping feature that allows you to see where money is coming from in the city for whatever race you're interested in.
While this information is mostly helpful to reporters, like us here at City & State, there's no reason why you can't take a look if you're curious about a candidate's fundraising.
– With reporting from Isabel Beebe
Powered By
NEXT STORY: Looking at how well education combats Holocaust misinformation