Campaigns & Elections
A crowded field of candidates aims to represent the North Shore
And plenty of them have a solid shot at potentially winning.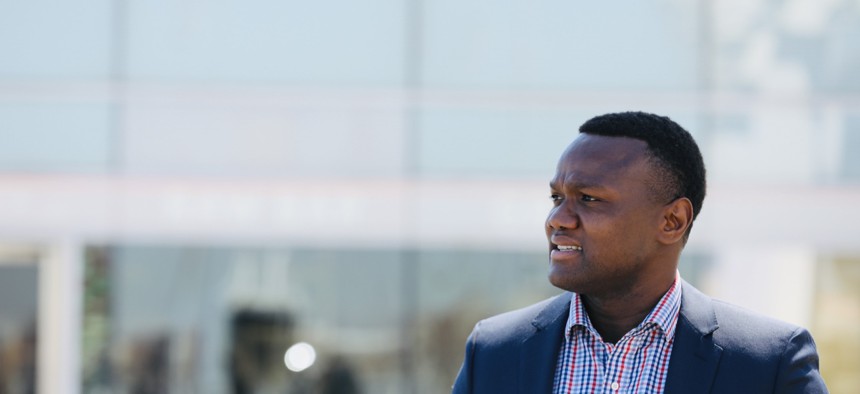 Council Member Deborah Rose made history as the first Black lawmaker elected to office on Staten Island. About 12 years later, a crowded slate of predominantly Black candidates are hoping to fill her shoes.
Around 10 Democratic candidates will appear on the June ballot in the race to represent District 49, which spans the diverse North Shore of Staten Island. And a clear frontrunner hasn't emerged, with several of the top candidates fundraising a comparable amount, drawing in notable endorsements and bringing in varied backgrounds in government, education and nonprofits.
Amoy Barnes, who currently runs a center for college access for the city Department of Education, has attracted the greatest amount of private dollars and number of endorsements so far. Having pulled in more than $75,000 from donors, Barnes has gained the support of the Working Families Party, UFT, 32BJ SEIU and several elected officials from across the city, including Council Member Diana Ayala and state Sen. John Liu.
One candidate who previously ran against Rose in 2017, Kamillah Hanks, has raised close to $55,000 in private funds. Hanks, the founder of the Historic Tappen Park Community Partnership, has gotten support from politicians on Staten Island: State Sen. Diane Savino and Assembly Member Charles Fall, who has ranked her number one. 
And other candidates who have raised notable amounts of funding and gotten backing from a range of unions and political action committees are: Ranti Ogunleye, a director at the JCC Cornerstone Gerard Carter Center; Kelvin Richards, a public defender with the Legal Aid Society; and Michael Schnall, who most recently served as vice president for government relations and community investment at New York Road Runners.
Also on this year's ballot are some candidates with ties to Council Member Rose. Selina Grey, who has run Rose's re-election campaigns, has gotten the most significant benefit from that connection as the one candidate to receive her endorsement. Teacher Troy McGhie works as Rose's community liaison and David Hernandez, who has only raised $6,735 so far, has been her director of constituent services. The other candidates running are John McBeth, a member of Community Board 1, and Jason Price, who has chaired the Staten Island Neighborhood Advisory board. 
The North Shore district remains particularly unique, given how racially, ethnically and economically diverse it is compared with the rest of the borough. Data from the 2010 census shows that the district's population was 38% white, while Hispanic and Black residents respectively made up 29% and 23% of the area. Immigrants from Liberia, Mexico, Russia and numerous other countries make-up communities across the North Shore. The economic disparities are also apparent throughout the district as well. "You can go across the street and see a million dollar home and go up the block and then we have NYCHA homes," Grey said.
The race for the 49th district hasn't seen much ideological strife between the many candidates, and plenty have found common ground on certain issues. For example, Barnes, Grey, Hernandez, McGhie and Ogunleye along with Council Member Rose all appeared at a May 22 rally opposing plans for a 100-men shelter in Stapleton. Most listed similar top priorities if they were elected to office, namely addressing quality of life, improving transit options and increasing the availability of affordable housing. 
The candidates also mostly expressed praise for Rose's record in the Council, particularly given her history-making victory as the first African American elected official to be voted into office on Staten Island. "I hope that what I can do is just to make sure that her legacy lives on," Barnes said. "Because people need to always remember that to get to this point where I, as a young woman of color and immigrant, am running for office, it's because Councilwoman Debi Rose didn't stop trying to run for office." Even Hanks, who challenged her in 2017, had great praise for Rose. "Having ran against her – I lost – and then having years to digest and unpack that, and then doing it again – I have a tremendous amount of respect for her," she said.
What each candidate is hoping will help them stand out from the pack is their record on helping the North Shore. Several have experience in government to lean on. Barnes has previously worked in constituent services for Sen. Savino and has served as Staten Island Borough Director in the mayor's office. Schnall used to work as a city Parks Department staffer and financial analyst in the City Council, and touts his relationships to those involved in city government. 
Others have pointed to their work in the community. Hanks, for example, was honored by the Staten Island Advance for creating a new training program for young adults at her nonprofit that focused on making face shields early on in the COVID-19 pandemic. Richards pointed to petitions he has spearheaded to improve the North Shore, including one in 2014 that aimed to improve the conditions of a playground in Stapleton. One unique approach Ogunleye took to show his dedication to residents of the 49th district, was having his campaign launch a new educational program to teach people about beekeeping, which he has said he will continue regardless of the election's outcome.
Grey expressed skepticism about some candidates' proof of their commitment to the district. "A lot of the candidates, when they talk about (how) they've done the work in the community, it was usually their jobs." Aside from her campaign work, Grey said much of her involvement coordinating meetings with local elected officials and working with the Staten Island NAACP as an executive board member has been done on a volunteer basis.
For Richard Flanagan, a political science professor at the College of Staten Island, what stands out about the race in the 49th district is how crowded the field is and how many "quality" candidates with civic roots in the area are running. And with the added variable of ranked choice voting, he said the winner of the race seems particularly impossible to predict. 
"A lot of the races are more like two-horse races, maybe three," he said. "This is really a five- or six-horse race."