Campaigns & Elections
Adams thought he had Orthodox support locked up. Enter Yang.
Borough Park has become a battleground in the mayoral race.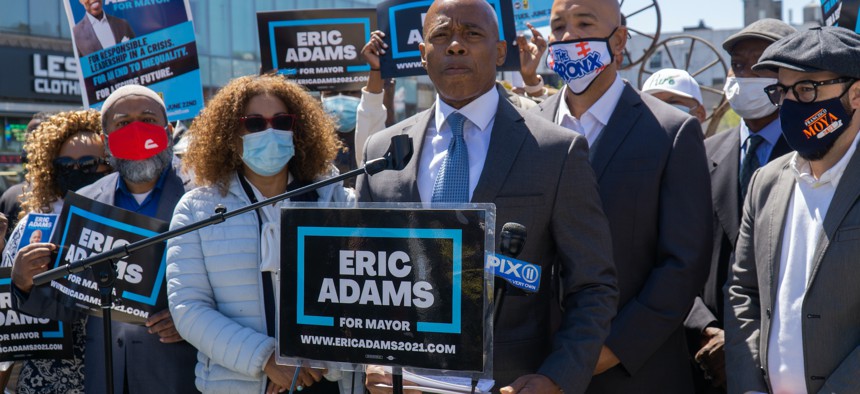 Support in the Orthodox Jewish and Hasidic communities was Eric Adams' to lose. Here was a candidate for New York City mayor that had existing relationships – representing a large Hasidic community in Crown Heights for seven years in the state Senate and representing all of Brooklyn as borough president for another seven. And Adams' generally moderate political stances were broadly in sync with the Orthodox and ultra-Orthodox voters who are among the most conservative members of the Democratic coalition.
However it's not Adams, but Andrew Yang, a newcomer to local politics and a late addition to the mayoral race, who has been winning key endorsements, support and attention. On Wednesday, Borough Park Assembly Member Simcha Eichenstein and City Council Member Kalman Yeger endorsed Yang. That followed the endorsement of Yang last week by Borough Park United, a coalition of Hasidic sects in Borough Park and, in March, an endorsement from Orthodox Jewish Assembly Member Daniel Rosenthal, who represents Kew Gardens Hills.
The outpouring of support has Adams on his heels, scrambling to win support in Orthodox communities that he thought he had won over months ago. Following Yang's Borough Park United endorsement, supporters of Adams placed a story in the Hasidic press insisting that Adams had "full-hearted support" in Orthodox communities. But the story may have overstated that support – some of the leaders named told Hamodia that, although they like Adams, they have not endorsed him. Endorsements in the community aren't always clear cut, and Menashe Shapiro, a consultant who works for Adams told City & State that the vote is far from locked up. "Eric's relationships with the Orthodox community's leadership and voters are long and deep, and he has spent decades denouncing hate and antisemitic incidents when others were afraid to speak out," he said. "This is a politically astute community that makes their decisions at the ballot box, and we are campaigning hard for each and every vote."
But insiders say that Adams' team was feeling a lot more confident before Yang joined the race. "The Adams campaign is flipping out, because they thought they had this locked up," said a Hasidic source, who asked for anonymity to discuss sensitive political matters. Adams' original competition for the Orthodox vote was Scott Stringer, who is Jewish and has yearslong relationships in some Orthodox communities from his decades in elected office. But Stringer's embrace of progressive politics and record of endorsing progressive insurgents alienated him from many more conservative communities. And recently, his consistent appearance in the polls below Yang and Adams hasn't done to help him with Orthodox leaders who may not have been inclined to support him anyway. Stringer earned the endorsement of former Assembly Member Phil Goldfeder, who is an Orthodox Jew, but insiders see him as unlikely to win major endorsements in other Orthodox communities. Still, one Stringer supporter, consultant Ezra Friedlander, thinks that individual voters will break for Stringer. "In several weeks from now, when people start paying closer attention to the race, and they understand how uniquely qualified Scott Stringer is," he said. "He will receive a very nice vote in all communities, including the Orthodox Jewish/Hasidic."
Support in Hasidic and Orthodox communities is sought after because members often vote in a bloc. Results from the 2020 presidential election show precincts in South Williamsburg, Borough Park and Far Rockaway where Donald Trump won with as much as 98% of the vote. But that's not always the case – while Bill Thompson won many precincts in Hasidic Williamsburg in the 2013 mayoral primary with 50% to 65% of the vote, Bill de Blasio ran a not-so-distant second. And in the 48th Assembly District, covering the heavily Orthodox neighborhoods of Borough Park and Midwood, de Blasio won with 38% of the vote and Thompson came in second with 32%.
So why Yang? Adams may have created an opening for another candidate by disappointing some in Orthodox community when, in an interview with Hamodia, he declined to say that the government should not mandate a curriculum for religious schools. (Adams tried to clean things up soon after by visiting – and publicly praising – a yeshiva that the city had investigated and cited for not providing an adequate secular education.) But more than anything, Yang's success so far in Orthodox communities seems to be the result of an aggressive and concerted effort to win their support. When it came to local issues, Yang was a blank slate, and he quickly adopted – and stuck with – political positions that pleased the community. Yang has continually stressed deference to the community when it comes to yeshiva education, he's supported assigning more cops in the wake of hate crimes and he has spoken harshly of the Boycott, Divest and Sanctions movement against Israel. But he's also shown up continually in communities and met with leaders, often with his Jewish liaison, David Schwartz, a Democratic district leader in Borough Park who emphasized that Yang has been working hard since he joined the race in January. "Andrew recognizes the quality of our community," he said. "He sees us as partners in the coalition he's building."
More than anything, Orthodox leaders like Yeger said they don't feel taken for granted with Yang. "Andrew seriously made efforts in our community to talk, to learn, which I found refreshing," he said.
Powered By
NEXT STORY: Stefanik ascendance shows increasing Trumpiness of New York GOP