Campaigns & Elections
Could crime tip the scales of the mayoral race?
Voters have responded positively to Eric Adams and Andrew Yang, who both oppose defunding the police.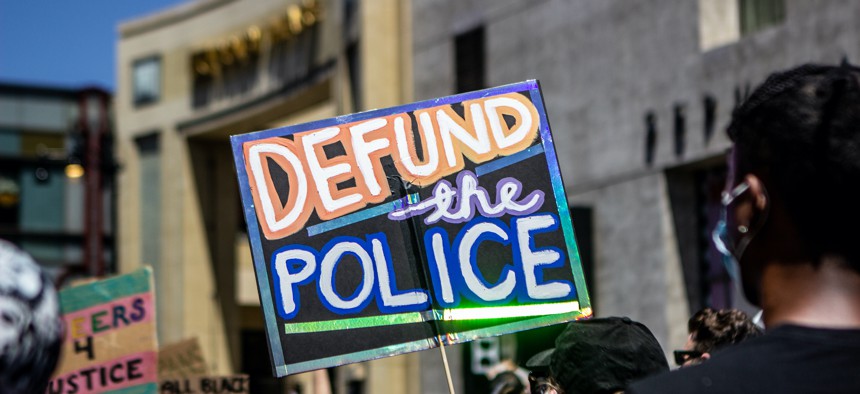 Last summer, calls from progressives to "defund the police" in New York City following the murder of George Floyd caused the New York City Council to vote on shifting $1 billion from the NYPD's budget and played a role in the fizzling of New York City Council Speaker Corey Johnson's bid for mayor and last year's loss by former Staten Island Rep. Max Rose.
But one year later, on the heels of a high-profile shooting in Times Square and as the city grapples with an uptick in violent crime, shootings and anti-Asian hate crimes, calls to defund the police have largely gone quiet. And some believe that this surge in certain crimes could tip the scales of the June 22 Democratic primary for mayor and clear the way for a more moderate candidate to prevail as more New Yorkers go back to their offices and the subways.
"I think Times Square has solidified crime as one of the two principal issues in the campaign," said Richard Aborn, president of the Citizens Crime Commission, speaking of the May 8 shooting in Times Square that injured two women and a 4-year-old girl. "I think people's anxiety levels were already rising, and rising rapidly. Times Square solidified that concern because it gets back to the sense of randomness, that you're not safe anywhere."
The question of how candidates would tackle crime and public safety was the first policy question the eight leading Democratic candidates were asked during their first televised debate last week. Recent polling has also shown that crime and violence were among New Yorkers' top concerns in April.
Eric Adams, Andrew Yang and Ray McGuire each held press conferences at Times Square following the shooting. And later that week, Maya Wiley, Shaun Donovan and Kathryn Garcia unveiled their plans to tackle policing and public safety.
The shift stands in contrast to last summer's racial justice protests that prompted calls to defund the police. Several candidates, including Scott Stringer, Maya Wiley and Dianne Morales, initially embraced these calls and their positions have become more complicated now that some New Yorkers don't necessarily want to defund the police with certain crimes on the rise.
"There's a clear majority that says we need to reform, but on the other side, there's not a majority to support defunding the police, and in fact, in a crime wave, there's a strong sense of wanting proactive community policing," said longtime Democratic political strategist Bruce Gyory, who believes that Adams and Yang in particular are appealing to that "sweet spot" of "in the middle" voters who are largely comprised of Hispanics, Asians and older Black New Yorkers.
"I think events like (Times Square) with an upsurge in crime is not advancing the political standing of those who were tagged as 'defunding the police' and that's the political mistake," Gyory said. "When you say 'defund the police,' it conveys something to people and it runs smack dab into the opposition of the majority who want proactive community policing."
Adams took a narrow lead in a new PIX11, NewsNation, Emerson College poll released this week. He received 17.5% of New Yorkers' first-place votes, followed by Yang, who received 15.4%. The poll also found that New Yorkers were opposed to defunding the police.
"I definitely think the more progressive candidates are going to have to find a way to articulate the two messages that one, increases in crime are real, and two, you can also defund the police and figure out ways to keep people safe," said Fordham University political science professor Christina Greer.
Outlining a tough-on-crime approach could help candidates win more moderate-leaning voters, said a longtime New York City Republican political operative who requested anonymity to speak freely about the race to not jeopardize their current position. "Fear is what drives people to the polls and New York City is in a great deal of fear right now," the operative said, who pointed out that Adams' background as a cop makes him appeal more to moderate-leaning voters over Yang.
"What Eric Adams did was he realized everybody was fighting over the left – the far left end of the ticket – and so he moved to the center, and I think he's going to pick up a lot of Staten Island Democrats, a lot of them are going to pay attention and I think he's going to (get) a lot of portions of Queens," the operative said.
The tough-on-crime approach may already be showing signs of resonating in moderate Democratic districts like Staten Island, where calls to defund the police played a significant role in the downfall of former Rep. Max Rose, who lost to Republican Rep. Nicole Malliotakis in November, following her vicious attack ads against him after he participated in a peaceful march alongside anti-racism protesters carrying signs that read "Defund the NYPD."
Democratic Assembly Member Michael Cusick, who heads Staten Island's Democratic Party, endorsed Yang just days after the first debate in which Yang said: "Defund the police is the wrong approach for New York City."
In his endorsement, Cusick pointed to Yang's ability to strike "the right balance on public safety" and being able to realize "the importance of the NYPD as we tackle an increase in crime across all of New York. He is the right leader to bring our city back stronger and safer."