Campaigns & Elections
"Donald Trump will certainly chime in" if this happens
And more coverage of key 2021 races.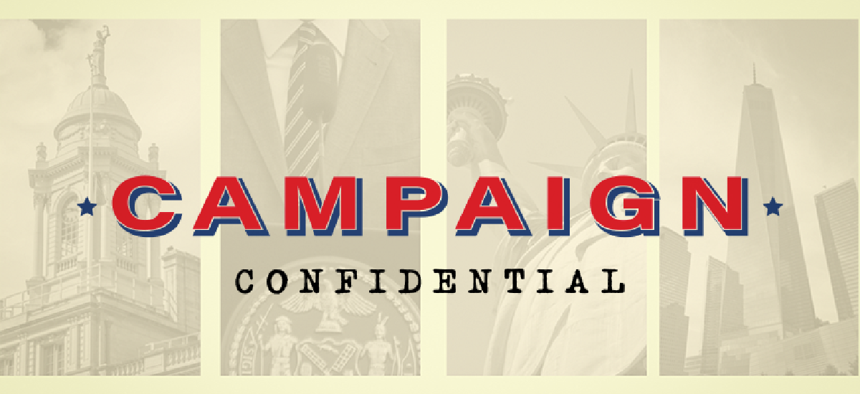 Did a friend, colleague or rival forward you this email? Make sure you get Campaign Confidential in your inbox next week by subscribing here.
If you ain't first …
In the 2001 New York City primary, which was delayed after the 9/11 terrorist attacks, then-Bronx Borough President Fernando Ferrer won 36% of the vote in the mayoral race – the most of anyone in the field. But he didn't break 40%, so under a 1972 law, he was forced into a runoff with the second-place candidate, Mark Green, who topped Ferrer in that election two weeks later.
Twenty years later, we have a new system, ranked-choice voting with an instant runoff. But a poll in the Democratic mayoral primary released this week raised the specter of a 2001 redux. What if the candidate with the most first-place votes doesn't end up winning the primary? The Manhattan Institute poll, conducted by Public Opinion Strategies, showed Andrew Yang with 22% of the first-place votes and Eric Adams with 21%. But when the poll played out, respondents ranked choices in an instant runoff, Adams won the race, beating Yang 52% to 48%.
That scenario, where a candidate "comes from behind" to win, is relatively rare in RCV. Experts will tell you the candidate with the most first-place votes wins the vast majority of the time – 96% or so since 2004. That tracks with publicly released polling too, since of the handful of RCV polls released before this one have shown the candidate who won the first round of voting also won in the end. But candidates that don't win the first round can win overall if they get enough lower-ranked votes – with the 2010 Oakland mayoral election as just one example.
Which candidates wouldn't say whether they'd accept the RCV election results? And will Donald Trump weigh in? Read more here.
By the numbers
43
The number of days before the June 22 primary that The New York Times endorsed Kathryn Garcia (or 33 days before early voting starts on June 12). And she got the Daily News with 38 days to go (or 28 until early voting). That's a luxury that 2013 endorsement champion Christine Quinn told City & State wished she would have had when she ran. Quinn received the News' endorsement 20 days before the primary. The Times came two days later and the New York Post with just 15 days to go. "I'm very proud of the fact that I got the Daily News and The New York Times. I remember wishing I had gotten the Times earlier because we could have used it more," Quinn said. And the former council speaker, now a nonprofit executive, thinks the papers could be "that little oomph that (Garcia's) campaign needs." But will Quinn, who considered a run herself, endorse? She's "not sure."
Bowman regrets it, sometimes. Does anyone else?
Rep. Jamaal Bowman said he took his lead from women who had experienced sexual assault themselves in rescinding his endorsement of mayoral candidate Scott Stringer last month. But he told a Northwest Bronx Indivisible meeting Sunday, "I sometimes regret it, because I wasn't more patient and didn't ask more questions and didn't call for other things." As an endorser, Bowman's been in a similar situation before – he "paused" his endorsement of Massachusetts congressional candidate Alex Morse last year amid accusations of inappropriate sexual relationships, and went on to reiterate his support days later after the claims turned out to be manufactured. But other former Stringer supporters reached by Campaign Confidential expressed no regrets for rescinding their endorsements – with three saying that their decision was less about Jean Kim's allegation than Stringer's refusal to acknowledge that the sexual contact in 2001 may have been unwanted. "His response continues to be the wrong one. He is following the Cuomo playbook," said state Sen. Gustavo Rivera, who has since endorsed Dianne Morales No. 1 and Maya Wiley No. 2. "What the response is saying, for anyone else it has happened to, is you best not come forward … you're going to be called a liar, called opportunistic, called a tool of another campaign."
Endorsement Watch
Make the Road Action endorsed Dianne Morales as its first choice for mayor and Maya Wiley as its second choice … the Committee of Interns and Residents endorsed Morales for mayor … the New York Amsterdam News endorsed for Wiley for mayor and Alvin Bragg for Manhattan district attorney … Laundry, Distribution & Food Service Joint Board endorsed Scott Stringer for mayor … After rescinding its endorsement of Stringer, the Four Freedoms Democratic Club endorsed Kathryn Garcia for mayor … Unite Here Local 100 and Home Healthcare Workers of America endorsed Eric Adams for mayor … The Jewish Press also endorsed Adams for mayor … LiUNA endorsed Corey Johnson for comptroller … Tenants PAC endorsed Johnson as its first choice for comptroller and Brad Lander as its second choice … Rep. Katie Porter of California endorsed Lander for comptroller … state Sen. Jessica Ramos endorsed Tahanie Aboushi for Manhattan district attorney … Rep. Yvette Clarke and the Progressive Democrats Political Association of Central Brooklyn endorsed Khari Edwards for Brooklyn borough president … state Comptroller Thomas DiNapoli endorsed Austin Shafran in Council District 19 in Queens … and, in a Campaign Confidential exclusive, state Sen. Alessandra Biaggi and Assembly Member Yuh-Line Niou are endorsing Brad Hoylman for Manhattan borough president.
Staffing Up
Dianne Morales' mayoral campaign seemingly never stops growing. The latest hires: Krysten Copeland as communications director … Steven Gray as Brooklyn satellite office manager … and Emma Saltzberg as senior copywriter.
Got tips? Email JColtin@CityandStateNY.com or SKashiwagi@CityandStateNY.com or send a DM to @JCColtin or @SydneyKashiwagi
District Data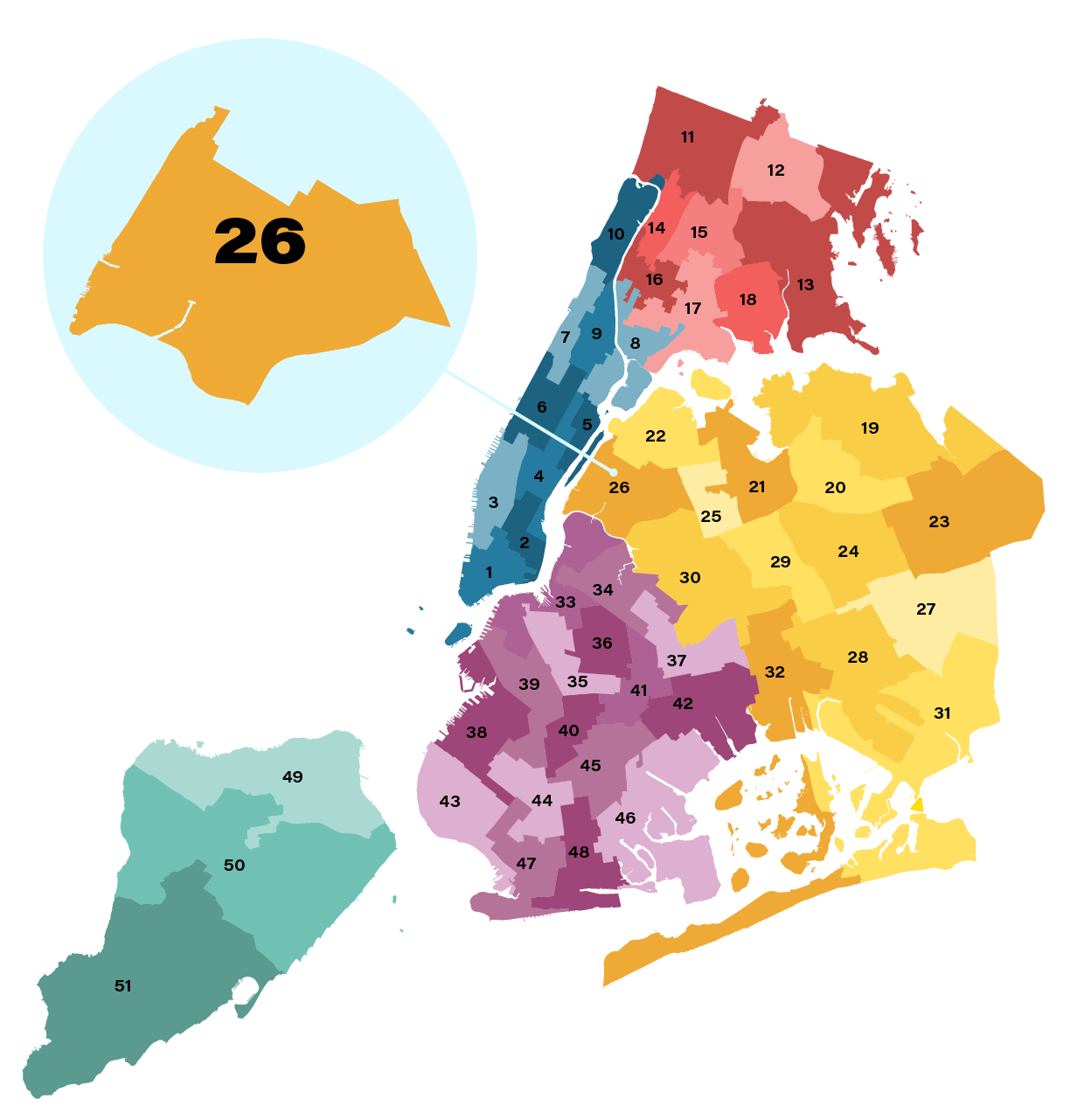 City Council District 26 in Queens covering the neighborhoods of Sunnyside, Woodside and Long Island City
Current council member: Jimmy Van Bramer since 2010, who's term-limited at the end of this year and running for Queens borough president
2010 census demographics: 35.5% Hispanic, 28.3% white, 27.1% Asian and Pacific Islander, 6.2% Black
Housing: 78.7% renter-occupied, 21.3% owner-occupied
2009 Democratic primary election results: Van Bramer: 45.2%, Deirdre Feerick: 36.7%, Brent O'Leary: 16.3%
2017 general election results: Van Bramer: 85%, Marvin Jeffcoat: 14.6%
Who's running: Amit Bagga, Jonathan Bailey, Lorenzo Brea, Julia Forman, Glennis Gomez, Marvin Jeffcoat, Denise Keehan-Smith, Badrun Khan, Hailie Kim, Jesse Laymon, Sultan Maruf, Brent O'Leary, Steven Raga, Emily Sharpe, Julie Won, Ebony Young. This crowded Democratic primary to replace outgoing City Council Member Jimmy Van Bramer has several front-runners who have each landed major endorsements. Amit Bagga has been backed by the Working Families Party, progressives like Cynthia Nixon and state Sen. Jessica Ramos, and has the backing of several labor unions. The Queens Democratic Partyendorsed Ebony Young. Julia Forman has theendorsement of the United Federation of Teachers. And candidates like Brent O'Leary and Jesse Laymon have name recognition in the community. O'Learyran for the seat in 2009and Laymon successfully ran for district leader. "I think Amit is probably the front-runner … but I still think it's anyone's race," said Queens Democratic Party District Leader Émilia Decaudin. "Brent I think would be the other front-runner … and if you had to expand it to a larger number of people, I would say Julie Won, Jesse Laymon." Insiders say Julia Forman and Hailie Kim are also running strong campaigns. One notable endorsement none of the candidates have landed is from Van Bramer. "I haven't wanted to put my thumb on the scale too early, which has annoyed some people at the greenmarket," Van Bramer joked. However, Van Bramer's longtime chief of staff Matt Wallace personally endorsed Bagga. And when Van Bramer held afundraiser for his borough president campaign in his backyard, Bagga and Nixon both attended.
Twitter Posting 
I like Dianne Morales, but the Twitter algorithm thinks MY LIFE is Dianne Morales.
Welcome to City & State's Campaign Confidential newsletter, where senior reporter Jeff Coltin – with help from staff reporter Sydney Kashiwagi – is covering the run-up to New York City's hugely consequential 2021 municipal elections for mayor, City Council and more.
Twice a week, on Wednesdays and Fridays.. Sign up here.
Powered By
NEXT STORY: What if the next mayor finished second?