Campaigns & Elections
John Liu had to come around on Andrew Yang
And more coverage of key 2021 races.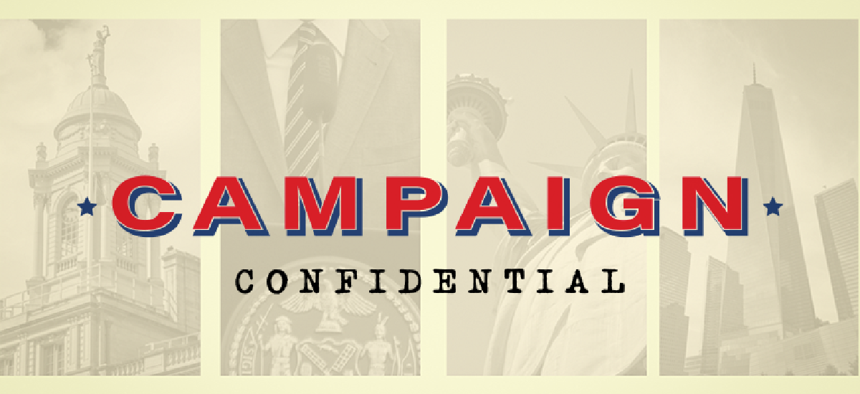 John Liu: The unlikely endorser
Before state Sen. John Liu, a trailblazing Asian American lawmaker, endorsed Andrew Yang as his first choice to be the next mayor of New York City on Monday, it didn't look like Yang was going to be his candidate.
Liu had praised Brooklyn Borough President Eric Adams' outreach in Asian American communities, but when asked about Yang he told The New York Times in March: "I'm going to limit my comments to things I will positively say about specific candidates."
He told City & State in an interview last month that concerns raised by hundreds of progressive Asian American New Yorkers about Yang in a letter were "legitimate" and "not surprising." But Liu conceded that Yang represented "a voice that needs to be both heard and seen," and he was energizing Asian American voters in New York City.
So, some were surprised when Liu endorsed Yang this week. Liu's influence as New York City's first Asian American elected to the City Council, as a former citywide official as comptroller and as a state senator from New York City is likely to boost Yang's candidacy in the city's growing Asian American community. Read more here.
What's going on with the Morales campaign?
Dianne Morales' mayoral campaign fired back at former campaign manager Whitney Hu Wednesday afternoon, after Politico New York reported that Hu had resigned in protest over the campaign's treatment of Black and brown employees. "(Hu) left after the accusations of her own mistreatment and intentional siloing of staff members," Morales campaign spokesperson Krysten Copeland told City & State. "Her resignation was immediately accepted by the campaign." But Hu disagreed with Copeland's characterization. "That is very much not accurate," she said. "I resigned in solidarity with the employees on staff and their demands." The Morales campaign is now in flux with less than a month until Election Day, with the question of who will lead the campaign undecided as of Wednesday afternoon. Campaign staffers held a virtual meeting that lasted more than five hours on Tuesday, while rumors flew about concerns of inappropriate behavior from employees as well as concerns about pay and benefits. The Morales campaign released a statement acknowledging the campaign made unspecified mistakes in its treatment of Black and brown employees that caused "harm," but Copeland declined to elaborate. She would confirm that, in addition to Hu, organizing and relational director Ramses Duke and senior field lead Amanda Van Kessel have left under "a mutual understanding that they could not and should not move forward with the campaign." Duke and Van Kessel did not immediately respond to a request for comment. Creative director Jiar Zeman, who was responsible for the campaign's "gradient" branding, has also left the campaign, a move which Copeland said "was directly attributed to Whitney (Hu)'s lack of leadership." But Zeman disagreed with the campaign blaming Hu. Zeman resigned from the campaign Monday morning, saying, "Though it was unfortunately timed, my departure is solely because I'm pursuing new opportunities."
Lander filings betray pledge
The problem with taking a purity pledge for campaign cash is that you've got to keep it – and some of comptroller candidate Brad Lander's claims don't stand up to scrutiny. His fundraising page says, "He's not taking money from corporate PACs or lobbyists." But Lander has accepted donations this cycle – and never returned them – from a handful of city lobbyists with private clients in 2018, including $400 from Jeffrey Rodus of CMW Strategies, $400 from land use consultant Brenda Levin, $250 from two people connected to Constantinople & Vallone Consulting: Partner Perry Vallone and Lisa Constantinople, the wife of Partner Anthony Constantinople, and $400 from Mitch Korbey of Herrick Feinstein. When Lander was caught stretching the truth on donations before, his campaign told the Queens Eagle that he'd never taken money from "developers or lobbyists with property in his district," but that wasn't true either. Lander accepted $3,000 from Bernard Dillenberger and his wife, Cassandra, in 2016, just three months after Dillenberger's company, Abra Construction, filed to build an industrial building in Lander's district in Gowanus. He also accepted a total of $400 from Jonathan Rose, a developer who's been working on a project in Gowanus for more than a decade. Lander spokesperson Naomi Dann said the lobbyist donations this cycle will be refunded, and that he's already refunded more than $90,000 this cycle to developers, lobbyists and other donors. "He is serious about the pledges he has made to avoid conflicts of interest, and has applied the highest ethics standards to his fundraising of any candidates in this race," she said. That's less precise than Lander's own claim at an April candidate forum that he's "the only candidate" in his race "who's not taking contributions from real estate developers." Corey Johnson – who used to work for a real estate developer – has taken an even more stringent pledge than Lander. Asked for evidence Johnson broke his own rules, Lander's campaign could only provide one example, a $250 donation from an assistant corporate controller at Fisher Brothers, a developer. A Johnson spokesperson said they will return the donation.
Hotel? Do tell
New York City comptroller candidate Brian Benjamin isn't the only one who's saying the city should convert hotels to affordable housing, but he might be the only one able to utilize the city's $250 billion in pension funds. Benjamin was questioned about the plan at a comptroller forum co-hosted by City & State, PIX11 and the 92nd Street Y on Tuesday. More affordable housing sounds good on the campaign trail, but hotel demand was extremely high before the pandemic, and converting hotels to housing is more difficult than you might think. Benjamin's response: Getting homeless people off the streets is good for tourism – and for the people who get housing. And that tourism may not be fully back until 2025 anyway. New hotels will get built, but could be greatly restricted by the new hotel special permit, and Benjamin said, "I'm not worried about tourists having a place to stay when they come here. I am worried about the homeless problem in the city that we cannot seem to fix." Nine of the leading Democrats spoke at the forum, but just a couple shared the name of an opponent they'll rank on their ballot – Brad Lander and Reshma Patel said they'd place each other second.
Endorsement Watch
Rep. Adriano Espaillat, Assembly Member Carmen De La Rosa and City Council Member Diana Ayala – who had rescinded their endorsements of Scott Stringer for mayor – endorsed Eric Adams for mayor … City Council Member Oswald Feliz also endorsed Adams … The Laundry, Distribution & Food Service Joint Board endorsed Adams as its second choice for mayor … Former New York Civil Liberties Union Executive Director Norman Siegel endorsed Adams for mayor … State Sen. John Liu endorsed Andrew Yang for mayor … A coalition of nine Hasidic Jewish sects in Williamsburg, Brooklyn, also endorsed Yang, further locking up the Orthodox Jewish vote … IATSE Local One endorsed Scott Stringer for mayor … City Council Member Fernando Cabrera, who is running for Bronx borough president and Shaun Donovan, who is running for mayor, cross-endorsed each other – however Donovan is Cabrera's No. 2 choice, and he will reportedly be endorsing Adams as his first choice … Churches United for Fair Housing Action endorsed Dianne Morales for mayor … New York Muslim Action Network endorsed Morales for mayor … Tenants PAC co-endorsed Morales and Maya Wiley for mayor … Rep. Katie Porter of California and former Planned Parenthood Federation of America President Cecile Richards endorsed Wiley for mayor … Mayoral candidates Art Chang and Joycelyn Taylorco-endorsed each other, saying they would each rank each other No. 2 … the New York League of Conservation Voters endorsed Kathryn Garcia for mayor and a second slate of candidates, including Corey Johnson for comptroller and Steven Patzer in Council District 47 in Brooklyn … the New York City District Council of Carpenters endorsed Johnson for comptroller … NYCLASS and Voters for Animal Rights endorsed Eliza Orlins for Manhattan district attorney … Former Manhattan Borough President Ruth Messinger endorsed Brad Hoylman for Manhattan borough president … State Sen. Gustavo Rivera endorsed Nathalia Fernández for Bronx borough president … Once and future House District 12 candidate Suraj Patel endorsed Brent O'Leary in Council District 26 in Queens and Elizabeth Adams in District 33 in Brooklyn … No IDC NY endorsed a slate of council candidates, including Joshua Clennon in District 9 in Manhattan and Mino Lora in District 11 in the Bronx … and ServeNY PAC has endorsed Briget Rein in District 39 in Brooklyn and co-endorsed Rita Joseph and Edwin Raymond in District 40 in Brooklyn.
Got tips? Email JColtin@CityandStateNY.com or SKashiwagi@CityandStateNY.com or send a DM to @JCColtin or @SydneyKashiwagi
Poll Sight
Little secret: Wikipedia has the best compilation of polling in the mayoral primary around – including a graph to follow the changes over time. (Yes, regretfully, all the big pollsters are MIA.) And a trend is clear: Kathryn Garcia is gaining ground. Tuesday's PIX11 News/Emerson College poll that showed Garcia in first place was probably an outlier, but the latest Fontas Advisors/Core Decision Analytics Pulse of the Primary poll, conducted between May 15-19, suggests Garcia may be a real contender following endorsements from The New York Times and the Daily News. Including undecided voters leaning toward a candidate, the poll put Eric Adams in first with 18% of likely voters' first choice, Andrew Yang in second with 13% and Garcia in third with 11%. The poll also asked for voters' second preferences, and found that while 54% of Dianne Morales supporters listed Maya Wiley as their second choice, just 17% of Wiley supporters rank Morales second – behind the 18% of Wiley supporters who ranked Adams second. It's a rather small sample size, but it suggests that ranked-choice voting might not be the progressive panacea that some had hoped.
District Data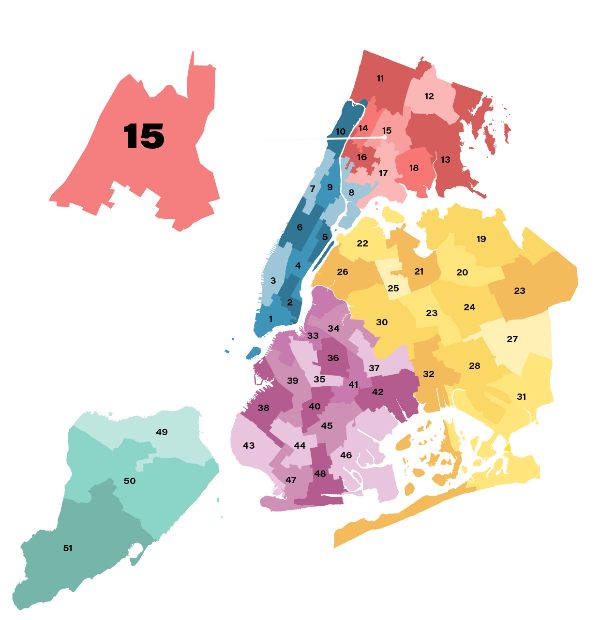 City Council District 15, in the center of the Bronx, covering neighborhoods including Belmont, West Farms and Fordham
Current council member: Oswald Feliz, since April, after winning a special election to replace former Council Member Ritchie Torres, who was elected to the House of Representatives in November 2020
2010 census demographics: 66.3% Hispanic, 24.9% Black, 4.9% white, 2.3% Asian and Pacific Islander
Housing: 93.1% renter-occupied, 6.9% owner-occupied
2013 primary election results: Torres: 36.1%, Joel Rivera: 21.4%, Cynthia Thompkins: 21%, Albert Alvarez: 9%, Raquel Batista: 7.4%, Joel Bauza: 5.1%
2021 special election results (first round of RCV): Oswald Feliz: 26.9%, Ischia Bravo: 20.5%, John Sanchez: 19.8%, Elisa Crespo: 14.9%
Who's running: Kenny Agosto, Troy Blackwell, Ischia Bravo, Bernadette Ferrara, Lilithe Lozano, Oswald Feliz, Latchmi Devi Gopal, Aramis Ocasio and John Sanchez. Feliz won the District 15 special election in March and will serve through the end of the year, but he'll have to win the June primary and the November general election if he wants to hold on to the seat in 2022. The win by Feliz, a tenant lawyer, surprised his fellow candidates who had garnered far more attention and outside support in the runup to the special election, but most of those contenders are back again, including labor-backed candidate Ischia Bravo. One former candidate who declined to run in the June primary is Elisa Crespo, an aide to the Bronx borough president who was attempting to become the first out transgender member of the City Council.
Twitter Posting 
When you run for office, you expect long hours and aching feet, but no one ever prepares you for palm card paper cuts.
Welcome to City & State's Campaign Confidential newsletter, where senior reporter Jeff Coltin – with help from staff reporter Sydney Kashiwagi – is covering the run-up to New York City's hugely consequential 2021 municipal elections for mayor, City Council and more.
Twice a week, on Wednesdays and Fridays. Sign up here.
Powered By
NEXT STORY: John Liu: The unlikely endorser