Campaigns & Elections
John Liu: The unlikely endorser
It didn't look like he would support Andrew Yang for mayor, until he did.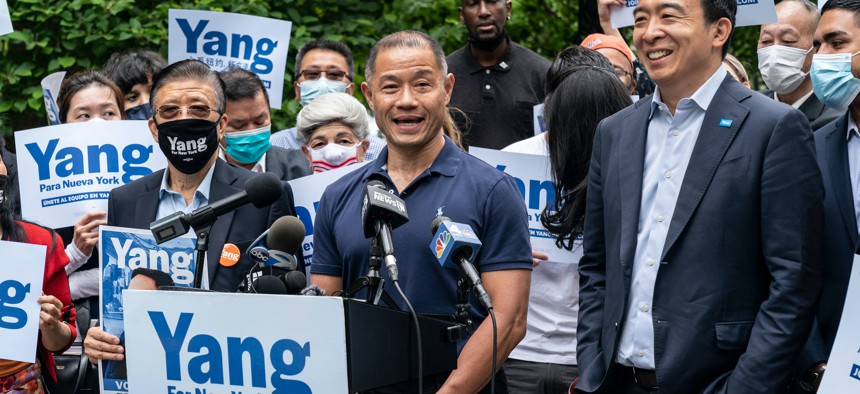 Before state Sen. John Liu, a trailblazing Asian American lawmaker, endorsed Andrew Yang as his first choice to be the next mayor of New York City on Monday, it didn't look like Yang was going to be his candidate.
Liu had praised Brooklyn Borough President Eric Adams' outreach in Asian American communities, but when asked about Yang he told The New York Times in March: "I'm going to limit my comments to things I will positively say about specific candidates."
He told City & State in an interview last month that concerns raised by hundreds of progressive Asian American New Yorkers about Yang in a letter were "legitimate" and "not surprising." But Liu conceded that Yang represented "a voice that needs to be both heard and seen," and he was energizing Asian American voters in New York City.
So, some were surprised when Liu endorsed Yang this week. Liu's influence as New York City's first Asian American elected to the City Council, as a former citywide official as comptroller and as a state senator from New York City is likely to boost Yang's candidacy in the city's growing Asian American community, which is 14% of the city's population.
A source close to Liu said they do not think Yang was the state senator's first choice. But as an Asian American lawmaker – who ran for mayor but finished fourthin the 2013 Democratic primary – he recognized the significance of Yang's candidacy to Asian New Yorkers.
"(Liu) more than anyone else recognizes the historic significanceof this moment as an Asian American in New York City politics because he was seen at one point as a potential mayor of this city and part of that was galvanizing Asian Americans who felt he would help raise the visibility of our community," said the source close to Liu, who spoke on the condition of anonymity to speak freely about Liu's thinking. "Even though he's not in the same position now, I think (Liu) feels the same goal is still there for him to really raise the visibility of our community and – like many Asian Americans – there's some lingering hope that Andrew being mayor may help us as a community to get out of the margins and into the center of New York City politics."
The source said Scott Stringer, who had been the candidate of the progressive left until allegations of sexual abuse prompted progressive lawmakers and the Working Familes Party to rescind their endorsements, may have been Liu's first pick, but said Stringer's downfall as the "progressive champion" has left politicians with no choice but to back Yang or Adams. "It's a rock and a hard place. (Liu) had to make a decision," the source said.
The latest polls had shown Yang and Adams typically battling for first and second place, but Kathryn Garcia topped one recent poll. A poll from mid-May found thatYang polls the strongest among men, young and moderate Democrats and Asian voters. While Adams polls the best among African Americans, conservatives and Brooklynites.
Before Liu, Yang won the endorsement of Asian American Council Member Margaret Chin, New York's most prominent Asian lawmaker, Rep. Grace Meng, and progressive Assembly Member Ron Kim.
But Meng's and Kim's endorsements, in particular, left the state senator no choice but to follow in their footsteps, said Peter Tu, a senior consultant at the Flushing Chinese Business Association, who considers himself a friend of Liu.
"Grace Meng already endorsed Andrew Yang. Ron Kim endorsed Andrew Yang. So if you're John Liu, do you have any choice?" Tu said.
Liu told City & State that he was critical of Yang just as he was of other candidates and that his decision boiled down to three things: Yang's "well-rounded" experience as a born and bred New Yorker and roots in the city he has put down with his wife – "a Flushing girl" – and their two children in the public school system; his success in the presidential race and performing "far better than anybody expected," which included facing tough questions from the media that has shown his "grit and poise;" and last, Liu said his endorsement boiled down to the fact that Yang is a viable Asian American candidate.
"This is a time when the climate is very different now than it was six months ago when he entered the race," Liu said. "The sheer onslaught of anti-Asian hate – it's mind boggling – and there are Asian Americans and New Yorkers who are not Asian Americans who are clearly articulating that, 'Hey, maybe it's time we had an Asian American face and voice in the top levels of government.'"
Zara Nasir, of The People's Plan NYC, who helped organize the critical letter against Yang, said fellow organizers were disappointed in Liu's and Meng's decision to endorse Yang, since they had been seen as progressive lawmakers.
"If you felt conflicted about the representation versus supporting some of these progressives in the race, you could have just stayed out of it," Nasir said. "I think it's disappointing that they are literally going out to bat for Yang."
Kim said that if identity politics was one of the stronger factors in Liu's decision, he would have endorsed Yang early on and not waited four weeks before the June 22 primary to do so.
"The reality of the current situation is that every indicator shows that this is a race between Eric Adams and Andrew Yang," Kim told City & State, noting that progressives candidates like Dianne Morales are simply not registering with voters. "I wouldn't reduce this moment just as identity politics. … I think that's an easy narrative for some people to feel comfortable with."
Powered By
NEXT STORY: Watch the May 25 NYC comptroller forum here