New York City
Morales staffers take up a new cause
And more coverage of key 2021 races.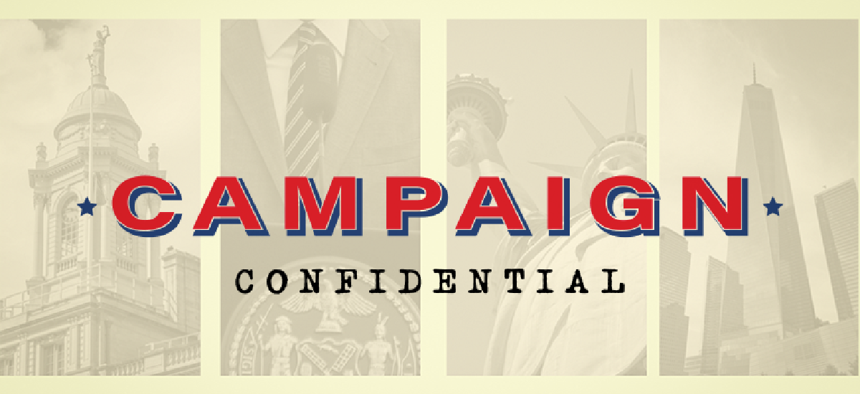 Morales staffers take up a new cause
About 40 Dianne Morales staffers and volunteers marched on the candidate's Midtown office on Friday, publicly turning on the candidate who had tried to carry the progressive banner in the New York City mayoral race. But the foot soldiers of her movement took up a new cause this week – a staff labor union, one formed out of numerous internal complaints regarding pay, benefits and accusations of harassment from fellow staffers. Campaign staff unionizing isn't a problem in itself – comptroller candidate Brad Lander's staff unionized this week, and he held up that fact as proof of his pro-labor progressive bona fides. But the staff union on the Morales campaign has been anything but an asset to the candidate. Morales fired four staffers this week, and union representatives said it was in retaliation for organizing. So the workers who last week were handing out Morales flyers at farmers markets and posting on Twitter today chanted, "What's disgusting? Union busting," and carried signs as simple as "WTF Dianne?!" Olivia Wohlgemuth, a staffer participating in the ongoing work stoppage, famously had custom Converse All-Stars made in the campaign's colors and tagged with "Mayorales." On Friday, she added "union" in duct tape after "Mayorales," signaling support for the staffers' new cause.
Union representatives insisted they still believed in the Morales campaign and weren't trying to torpedo her chances. "We're not here to disband the Morales campaign," said Lauren Liles, a spokesperson for the union. "We are going to continue this work stoppage until our demands are met. We think that's going to hopefully happen swiftly because we need to get out on the ground."
But onetime Morales supporters were shocked by the development. "I've never seen anything like this before, a campaign self-immolating and imploding from within," said a prominent former Morales supporter, who spoke anonymously to discuss an ongoing matter. "Everyone's just depressed. Deflated, depressed. It's a clusterfuck of a year for progressives."
An experienced campaign staffer working on another race this election cycle, who asked for anonymity so as not to speak for the campaign, thought the past week of turmoil reflected poorly on Morales and may have killed her already-thin chance of victory. "It seems like, if there's proof that Dianne Morales can't make it as mayor, it's this," the staffer said.
The Morales campaign didn't respond to a request for comment, but on NY1's "Inside City Hall" on Thursday night called the unionization effort "a beautiful and messy thing" that she fully supported – and denied that the four staffers who were fired had anything to do with the unionization effort. A member of the campaign who is sympathetic to Morales and asked for anonymity to discuss the ongoing controversy said the fired staffers had gone beyond a unionization effort and were attempting to stage a "coup" and had discussions of "seizing campaign assets and (forcing) Dianne to suspend." Liles denied the charge, saying, "There was no goal of suspension. There was absolutely no goal of seizing campaign assets. The goal was to continue and to right the wrongs."
Both the campaign and the union have been tight-lipped on the specifics, declining to name the laid off staffers or even acknowledge if they were in attendance at the march. 
Nia Evans, former policy director of the Morales campaign and a member of the union, suggested that working for the Morales campaign was about more than just getting her in Gracie Mansion – it was about fighting for justice in the city, and they were still doing that, even while protesting their own candidate. "This is the work that we were all hired to do. We were hired to uplift the leadership of Black, brown and queer New Yorkers. Of immigrants, of undocumented folk, of working-class folk. To fight for worker power and worker justice," she said. "We are doing the work that we were hired to do."
By the Numbers
$1,318,757
The amount of cash on hand reported by Manhattan borough president candidate Mark Levine as of the latest statement – more than any other candidate in the race. So much so that opponent Ben Kallos (who has $801,352 left) filed a formal complaint with the Campaign Finance Board accusing his City Council colleague of not reporting certain expenditures, such as mailers and palm cards. "The system only works if campaigns are honest and transparent," Kallos said in a statement. "I don't know if Council Member Levine is hiding his expenditures because there's something wrong with them or if he wants it to inflate how much money he has left to spend, but neither is OK, so we've filed a formal complaint." A spokesperson for a rival campaign agreed that it looked like Levine has held invoices that could reflect an estimated $150,000 in spending, which would give the public an imperfect understanding of Levine's campaign finances. The Levine campaign feels like Kallos is targeting them because Levine's the front-runner, calling his complaint a waste of time. "Everything that is being done is being done in compliance with CFB rules and laws," said Matt Rey, a partner at Red Horse Strategies, who works for Levine. "Why are we spending $7,500 a month with Vito Pitta, who is the best compliance lawyer in the city, if not to dot our i's and cross our t's?"
Republicans disappointed in the party's mayoral debate
If you were wondering who won Wednesday's heated Republican New York City mayoral debate, it was "the Democrats," according to a longtime Republican operative. This person, who has worked on several Republican mayoral campaigns, told Campaign Confidential plainly that it was a "roll your eyes event." Fernando Mateo and Curtis Sliwa lodged insulting attacks during the hourlong debate. Mateo criticized Sliwa for his large number of adopted cats and for being a frequent "subway rider," while Sliwa ripped Mateo for his past support for Mayor Bill de Blasio. "It was basically a food fight," the operative continued, speaking on the condition of anonymity to speak bluntly. "It makes a sad comment about the state of the Republican Party when the debate focused on personal attacks." Brooklyn's former Republican Party Chair, Craig Eaton, a Sliwa supporter, said the debate was a prime example of why the dwindling party shouldn't have primaries and instead unite behind one candidate. "The Republican Party is missing the boat, they're not recognizing that primaries – such as this one – become more divisive and hurt the Republican Party more," Eaton said. Another Republican operative and member of the Staten Island Republican Party, which backed Sliwa, told Campaign Confidential they didn't watch the debate because "why bother?" The operative called the candidates "sacrificial lambs" who have "zero chance" and are a reflection of "how gutted the city party is." Putting it more bluntly, the operative said of the city's Republican Party: "That's the bottom line, there's no real party, there's no real candidates."
Prince beat Yang on the court – and at the ballot box
At one of the more bizarre events in New York City political history, Andrew Yang shot hoops at Tompkins Square Park in the shadow of a security guard while hecklers yelled about cops in the subways and justice in Palestine. Yang's opponent, in the basketball game and on the primary ballot, was Paperboy Prince – who once loved Yang's presidential campaign so much they wrote and performed a rap album with hits like "Yangin." Now, Prince wasn't even sure they'd rank Yang. "I still think he's on the right path with ideas," they said. "It's just making sure that you don't fall in love with power so much that you follow power and not the people." Prince was disappointed that Yang hasn't called for outsider candidates to be included in the debates – since Yang himself knew the feeling from his time on the fringes of the presidential race. But Prince also said Yang was too slow to respond to the Black Lives Matter movement last summer, and focused his campaign too much on young white people. Prince won the shootout. And afterward, pointed to last year's vote count. Sure enough, Prince got 14,120 votes in the Democratic primary against Rep. Nydia Velázquez while Yang – who had suspended his campaign months before – got 13,268 New York City votes in the presidential primary.
Endorsement Watch
Our Revolution endorsed a slate of candidates, including Maya Wiley for mayor, Brad Lander for comptroller and Tahanie Aboushi for Manhattan district attorney … National Institute for Reproductive Health Action Fund co-endorsed Wiley and Kathryn Garcia for mayor … the Rev. Al Sharpton's daughter Ashley Sharpton endorsed Eric Adams for mayor, but the reverend doesn't expect to endorse until June … Doctors Council endorsed Adams for mayor and Corey Johnson for comptroller … the Building & Construction Trades Council of Greater New York endorsed Johnson for comptroller … the Daily News endorsed Tali Farhadian Weinstein for Manhattan district attorney … The New York Times endorsed Alvin Bragg for Manhattan district attorney … entertainer John Legend also endorsed Bragg … Community Voices Heard Power endorsed Ben Kallos for Manhattan borough president … the Hotel Trades Council endorsed Mark Levine for Manhattan borough president … the West Side Democrats endorsed Brad Hoylman for Manhattan borough president … Council Member Justin Brannan and Assembly Member Rodneyse Bichotte Hermelyn endorsed Robert Cornegy for Brooklyn borough president – but nothing yet from the Brooklyn Democratic Party, which Bichotte Hermelyn leads … LiUNA-NY endorsed David Aronov in Council District 29 and Mike Scala in District 32, both in Queens … and 1199SEIU endorsed Lynn Schulman in District 29 in Queens and Ari Kagan in District 47 in Brooklyn … Saul Zabar, the co-owner of Zabar's, endorsed Shaun Abreu in District 7 in Manhattan … and Moumita Ahmed, a candidate in District 24 in Queens, and Michael Hollingsworth, a candidate in District 35 in Brooklyn, cross-endorsed each other.
Staffing Down
Drisana Hughes left as organizing director for Scott Stringer's mayoral campaign and is now deputy campaign manager for Alvin Bragg's Manhattan district attorney campaign … Ifeoma Ike, former senior adviser to Dianne Morales' mayoral campaign, has resigned from the campaign.
Got tips? Email JColtin@CityandStateNY.com or SKashiwagi@CityandStateNY.com or send a DM to @JCColtin or @SydneyKashiwagi
District Data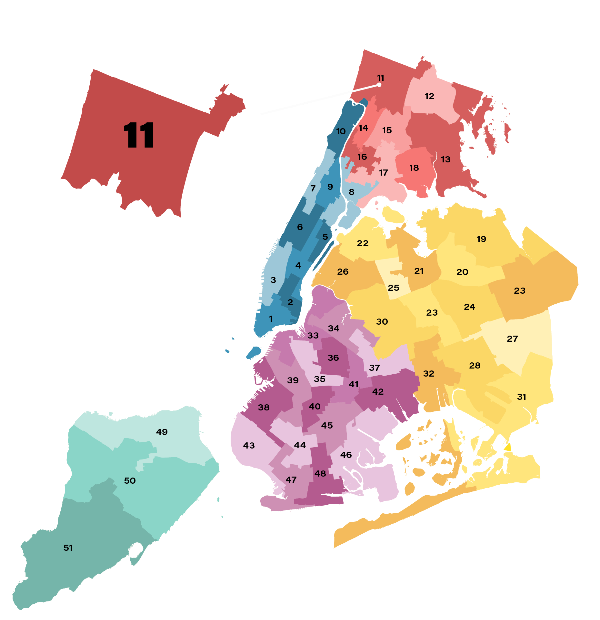 City Council District 11, in the northwest Bronx, covering neighborhoods including Riverdale, Norwood and Woodlawn
Current council member: Eric Dinowitz, since April, after he won a special election to replace Andrew Cohen, who had resigned to become a Supreme Court judge
2010 census demographics: 39.4% Hispanic, 32.8% white, 18.5% Black, 6.7% Asian and Pacific Islander
Housing: 73.1% renter-occupied, 26.9% owner-occupied
2013 primary election results: Andrew Cohen: 68.4%, Clifford Stanton: 31.6%
2021 special election results (first round of RCV): Eric Dinowitz: 46.8%, Mino Lora: 22.6%, Jessica Haller: 14.7%, Daniel Padernacht: 11.8%, Kevin Pazmino: 2.1%, Carlton Berkley: 1.8%
Who's running: Carlton Berkley, Eric Dinowitz, Mino Lora, Abigail Martin, Daniel Padernacht and Marcos Sierra. Once the ranked-choice voting process played out, Dinowitz won the March 23 special election with 63.63% of the vote to Lora's 36.36%. But if he wants to keep the seat in 2022, the former high school special education teacher will have to win again in the June 22 primary and the November general election. Lora, who runs a theater nonprofit, now has the support of elected officials like Rep. Jamaal Bowman and state Sen. Alessandra Biaggi who said Lora is the true progressive, even after it was highlighted that Lora donated to then-state Sen. Marisol Alcantara, a member of the Independent Democratic Conference, in her 2018 race against Robert Jackson. Now an incumbent, Dinowitz maintains strong support from labor unions and the Bronx Democratic Party. Haller, who ran in the special election, has suspended her campaign for the primary, but newcomer Abigail Martin, a children's rights advocate, will make an impact too. She's the best funded candidate in the race, since she didn't run in the special election.
Twitter Posting
i am beginning to think that benjamin bridgntunnel does not have a history of movement activism before 2020
— Émilia Decaudin ⚜️ (@EmiliaDecaudin) May 27, 2021
Welcome to City & State's Campaign Confidential newsletter, where senior reporter Jeff Coltin – with help from staff reporter Sydney Kashiwagi – is covering the run-up to New York City's hugely consequential 2021 municipal elections for mayor, City Council and more.
Twice a week, on Wednesdays and Fridays. Sign up here.
Powered By
NEXT STORY: The curious tale of the Holocaust education bill