New York State
The curious tale of the Holocaust education bill
A seemingly benign bill is having an awful lot of trouble getting through the New York Assembly this year.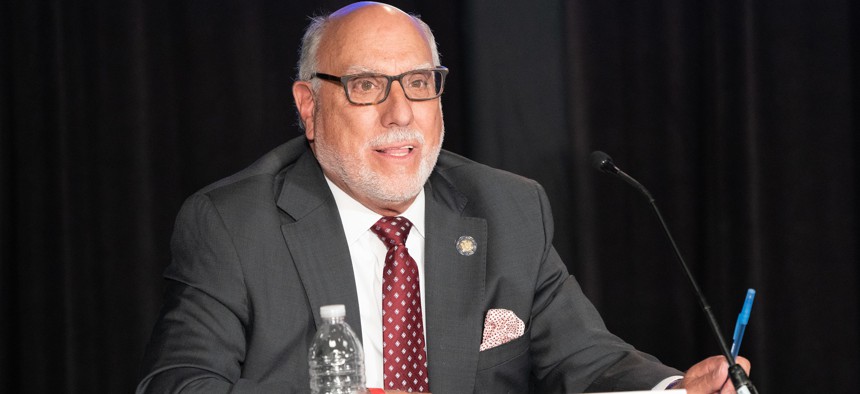 State Sen. Anna Kaplan of Long Island sees a connection between ongoing antisemitism and ignorance about the Holocaust. Recent surveys from Jewish advocacy organizations highlight how Americans do not appear to know about key details about the murders of millions of people by the Nazis during World War II, and the problem is getting worse. "We have to acknowledge the existing problem and find steps to really solve this," Kaplan, the first Iranian-born Jewish person elected to the state Senate, said in an interview earlier this spring. So she and Assembly Member Nily Rozic of Queens, who is related to people who were killed in the Holocaust, began a new effort to pass 3-year-old legislation they are sponsoring in their respective chambers. 
The whole idea is to study whether school districts across the state are teaching students about the Holocaust as well as they should. It is one of several topics mandated by state law for public school students. The state also requires education about slavery, Great Irish Famine and the nuts and bolts of how immigrants built the transcontinental railroad. If the bill passes and Gov. Andrew Cuomo signs it into law, the state Education Department would have one year to ask school districts how and what they teach about the Holocaust, according to the legislative language. State lawmakers have approved similar legislation to examine how problems like cyberbullying and the effects of urban glass on birds are playing out across the state. 
Passing a bill that promotes knowledge about the Holocaust seems straightforward. Kaplan and Rozic are members of the legislative supermajorities, and their bill is no budget buster in the grand scheme of a $212 billion state budget. Republicans are even highlighting their own support for getting the bill passed before lawmakers have their last scheduled session day in Albany on June 10. Yet, Monday's meeting of the Assembly Education Committee highlights how politics have complicated its passage. Special interests intervene. Colleagues present unexpected complications. Assembly Speaker Carl Heastie of the Bronx has not fulfilled years-old promises to ensure the public and media know what is happening in his chamber. 
The Assembly has broadcast live streams of its committee meetings since lawmakers began meeting remotely last year, but videos are not archived online. Heastie said the chamber would make their archived meetings accessible online in 2016, which was already seven years after the state Senate began mastering the apparently elusive skill of YouTubery. Five years later, Heastie claims his staff still cannot figure out how to post videos so people can watch them later. "I'd have to look into that," he told City & State in a May 26 interview. "Let me speak to the operations team and we'll get back to you." Republican Assembly Member Doug Smith of Long Island, however, did record the meeting and provided a copy to City & State. City & State obtained a second recording from another source who requested anonymity. 
The recordings show Education Committee Chair Michael Benedetto, a Democrat of the Bronx and a former teacher, did not want this bill to pass. State law requires that students learn about the Holocaust. He assured colleagues that unnamed teachers and state Education Commissioner Betty Rosa – whose spokesperson did not respond to a request for comment – say schools are doing great at teaching students about the Holocaust. How could lawmakers ever "impose upon the commissioner" in such a way, Benedetto asked colleagues. "It is too important a subject to be glossed over, and I was assured that they conduct courses," said Benedetto, who added that Rosa offered to write a letter reminding school districts to teach kids about the Holocaust. This was Benedetto's first line of argument to convince colleagues to keep the bill from moving forward in the legislative process. 
He also said that the multibillion dollar department could not bear the costs of reporting how well 731 districts were teaching kids about the Holocaust. And if lawmakers make the department check how students are learning about that, what next? Benedetto pondered. "You get people complaining that they don't teach civics anymore in school and that's just not true," he said. "Do I tell the commissioner, 'Let's do a study on every single school to make sure civics is being taught?'" He then flubbed a key fact about the bill, which does not require "every single school district (to) do a report each year." The bill calls for a one-time report on the information gathered from all those school districts, which contain more than 4,000 schools, by next January if it passes this year.
Others offered a different rationale for why they voted to hold the bill. "I am supportive of this, but I also want my history taught and the fears that I have experienced and that my family has experienced and being burnt out like Oklahoma did with Greenwood," Assembly Member Inez Dickens, a Democrat of the Bronx, said at the meeting. Assembly Member Chantel Jackson, also a Democrat of the Bronx, agreed the bill should have included a review of education about slavery. "That was my reason for holding," she said in an interview. Assembly Member Alicia Hyndman, a Democrat of Queens, noted students might not be learning enough about "Asian history about internment camps, Black history about slavery … when Italians and Irish people came here, the discrimination they faced, (and) homophobia." Assembly Member Latoya Joyner, a Democrat of the Bronx, added that she wanted a "broader bill" but did not respond by publication time to clarify what that meant. 
At least 10 out of 30 committee members – the Legislative Retrieval System has not been updated to include an official vote count – ultimately said on the recording they wanted to vote to "hold" the bill in the committee where it would not go anywhere soon. Most of them did not state a reason at the meeting. A bipartisan majority of committee members, however, decided checking up on how well schools were teaching students about the Holocaust made sense as incidents of antisemitic hate crimes continue around the state. "I've heard things that are just so deeply disturbing to my face (and) behind my back," 11-term Democratic Assembly Member Amy Paulin of Westchester, who is Jewish, said at the meeting. "For one of the only times that I've been in the New York State Assembly, I'm going to be voting against a chair (on a bill)." Others also outlined their support for the bill in terms of concern for fellow New Yorkers. "I represent a district on Long Island and every once in a while when we have menorah, lightings and things, kids will go and destroy the menorah, I guess they think it's a joke or something funny," Smith told colleagues. "I think that underscores the fact that we could be doing a little bit of a better job now." Because a majority of the committee voted against Benedetto's proposed hold, the bill is now heading to the Assembly floor for a final vote, right? 
Nope. 
Benedetto did something interesting by requesting a vote to either hold the bill in the Education Committee or redesignate it as one before the Ways and Means Committee, which is tasked with fiscal matters. "A few of us are a little confused because there's no fiscal impact on the bill," Smith said in an interview. So the bill was not votedout of committee, which could have meant its next stop was the Assembly floor. Instead, the bill has to go through at least one more committee with just seven more session days left. Rozic could not be reached for comment by publication time. 
The bill still has to get through the state Senate – which has passed it before. A spokesperson for Kaplan said complications like those seen in the Assembly are not expected. But time is running out weeks after Kaplan and Rozic began their latest push for the bill. State Senate Education Committee Chair Shelley Mayer of Yonkers could not be reached for comment by publication time, but the ongoing saga of the bill in the Assembly has already highlighted how political friction jams the gears of the legislative process. 
Powered By
NEXT STORY: John Liu had to come around on Andrew Yang