Campaigns & Elections
The fall of the Barrons?
And more coverage of key 2021 races.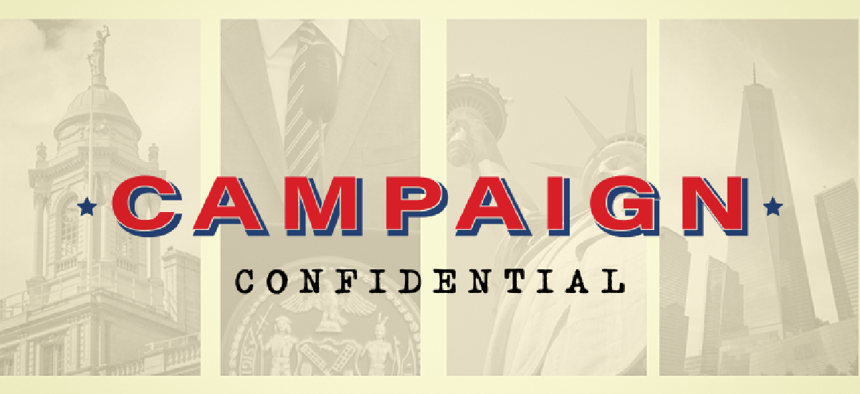 Could the Barron political dynasty be overthrown?
Charles Barron is vying to win his wife Inez Barron's New York City Council District 42 seat, which she is leaving this year due to term limits. The majority-Black district encompases East New York and its subsections such as Spring Creek and Starrett City. Charles Barron previously won the same seat in 2001. His wife won the Assembly seat in 2008 and they swapped seats when Charles was term-limited out of the City Council in 2013, with Inez running successfully to replace him and Charles then replacing her in the Assembly. 
But some have grown tired of the Barrons' seat swapping, particularly local politicos who say the district is in need of new leadership, pointing to the neighborhood's high rates of poverty and unemployment, and a recent upward trend in shootings as some of the most pressing issues in the district. Others remember the iconoclastic, radical couple known for generating their share of controversy, for their active role in helping the community. 
There are two leading alternative contenders in the Democratic primary race who have racked up a substantial number of endorsements and campaign contributions. Nikki Lucas, the founder of the president of the People First Democratic Club who has institutional support from lawmakers like Rep. Hakeem Jeffries, and Wilfredo Florentino, an openly gay Army veteran who identifies as Afro-Latinx, who has the support of progressive groups.
But will money and endorsements be enough to stop the Barrons from swapping seats? Read more here.
Small biz starts a super PAC
We know Big Business is spending money on the mayoral race, with MSG's James Dolan putting more than $4 million into his independent expenditure committee. But what about the little guys? Well – maybe not that little. In a Campaign Confidential exclusive, some small-business owners and small to mid-sized landlords, mainly based in Brooklyn, have created a super PAC and plan to support Eric Adams for mayor, Robert Cornegy for Brooklyn borough president and three to five City Council races, yet to be determined. The group called A Better New York For All isn't officially connected to any other organizations, but its executive director, rental car maven Gil Cygler, is a long-serving board member of the Brooklyn Chamber of Commerce. The PAC hasn't reported any fundraising yet, but they hope to raise half a million dollars.
Times is on her side
Ex-Sanitation Commissioner Kathryn Garcia won The New York Times' coveted endorsement in the crowded Democratic mayoral primary. But will it be enough to lift her relatively quiet campaign off the ground between now and June 22? Politicos say it depends on what she does next. But if history repeats itself, the Times' endorsement may not necessarily translate to a victory. "People will be looking at her plans much more closely," said Fordham University political science professor Christina Greer. "She's been one of these quiet candidates and so now the spotlight will be on her to really walk us through a lot of her plans that she's had for quite some time, but people haven't bothered to really look (at)." Former City Council Speaker Christine Quinn won the Times, the New York Post and the Daily News' endorsements in the lead up to the 2013 Democratic primary, but "finished a weak third," said Democratic strategist Bruce Gyory. "That's why sometimes the endorsements count and sometimes they don't and you have to take a look at what the candidates do with them."
Endorsement Watch
Rep. Grace Meng, state Sen. Jeremy Cooney and City Council Member Vanessa Gibson each endorsed Andrew Yang for mayor … District Council 9 International Union of Painters and Allied Trades endorsed Scott Stringer for mayor … Central Brooklyn Independent Democrats and Lambda Independent Democrats of Brooklyn both rescinded their endorsements of Stringer and are backing Dianne Morales for mayor … the Muslim Democratic Club of New York also endorsed Morales … Friends of Chinese Americans endorsed Eric Adams … Empire State Indivisible co-endorsed Maya Wiley and Morales for mayor … NYC Kids PAC endorsed Wiley as its first choice and Morales as its second choice for mayor … League of Independent Theater endorsed a slate of city candidates, including Art Chang as its first pick for mayor, Shaun Donovan as its second choice and Wiley as its third choice … Danny Barber, head of the NYCHA Citywide Council of Presidents, endorsed Ray McGuire for mayor … the Detectives' Endowment Association, the Sergeants Benevolent Association, the Lieutenants Benevolent Association and the Captains Endowment Association endorsed David Weprin for comptroller … state Sen. Liz Krueger endorsed Brad Lander for comptroller … Assembly Member Catalina Cruz and state Sen. James Sanders Jr. endorsed for Brian Benjamin for comptroller … Color of Change PAC endorsed Alvin Bragg for Manhattan district attorney and plans to spend $1 million supporting him … National Association of Social Workers NYC PAC co-endorsed Dan Quart and Bragg for Manhattan district attorney … former NYPD Commissioner Ray Kelly endorsed Liz Crotty for Manhattan district attorney … Rep. Jerry Nadler endorsed Jo Anne Simon for Brooklyn borough president … and Rep. Nydia Velázquez endorsed Antonio Reynoso for Brooklyn borough president … the New York League of Conservation Voters endorsed a few more council candidates, including Eric Dinowitz in District 11 in the Bronx … Council Member I. Daneek Miller endorsed Al-Hassan Kanu to succeed him in District 27 in Queens … Churches United for Fair Housing Action endorsed Amoy Barnes in District 49 on Staten Island … and Met Council Action endorsed a slate of council candidates, including Tricia Shimamura first, Kim Moscaritolo second and Billy Freeland third in District 5 in Manhattan.
Poll Sight
Corey Johnson may prefer the subway, but he's in the driver's seat for the New York City comptroller race. This poll of 520 likely Democratic voters for the American Council of Engineering Companies of New York and conducted by Honan Strategy Group between April 16-21 is just the latest survey to show the New York City Council speaker with a solid lead in the race. But with 47% of voters undecided, the race is far from over. And maybe some good news for ranked-choice voting? Two months out from the race, 63% of likely voters said they knew "a lot" or "some" about RCV, while 32% knew "only a little" or nothing at all.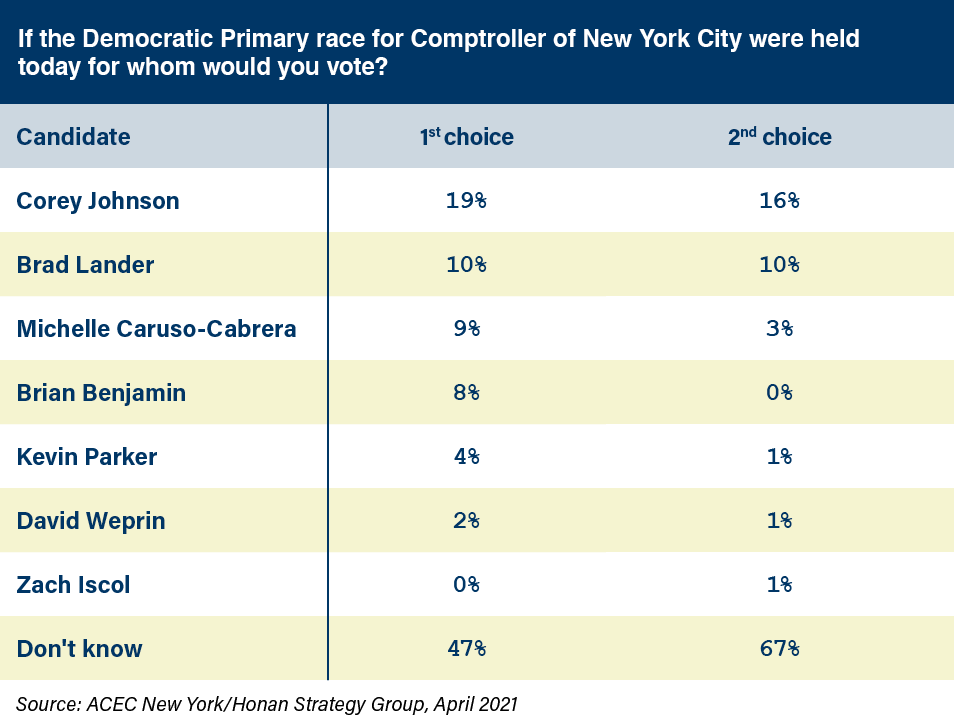 Staffing Up
Andres Pazmino is serving as political director for Kathryn Garcia's mayoral campaign … Dianne Morales' mayoral campaign continues to hire up, with Tyler Hazard joining as design assistant, Malynda Rascoe as community outreach coordinator and Brian Romero – who just resigned as executive vice president of the Stonewall Democratic Club of NYC in protest of the club not voting to rescind its mayoral endorsement of Scott Stringer – as a part-time policy adviser … and Lacey Tauber has joined Brad Lander's comptroller campaign as get-out-the-vote director.
Got tips? Email JColtin@CityandStateNY.com or SKashiwagi@CityandStateNY.com or send a DM to @JCColtin or @SydneyKashiwagi
District Data
City Council District 6 in Manhattan, covering neighborhoods including the Upper West Side, Lincoln Square and Hell's Kitchen
Current council member: Helen Rosenthal, since 2014, who's term-limited at the end of this year
2010 census demographics: 72.1% white, 11.3% Hispanic, 8.5% Asian and Pacific Islander, 5.8% Black
Housing: 67.2% renter-occupied, 32.8% owner-occupied
2013 Democratic primary election results: Rosenthal: 26.8%, Mel Wymore: 22.4%, Marc Landis: 19.4%, Noah Gotbaum: 12.2%, Ken Biberaj: 9.2%, Debra Cooper: 8.6%, Aaron Braunstein: 1.3%
2017 Democratic primary election results: Rosenthal: 64.9%, Mel Wymore: 30.9%, Cary Goodman: 4%
Who's running: Jeffrey Omura, David Gold, Maria Danzilo, Sara Lind, Gale Brewer and Zach Weiner. Gale Brewer, the Manhattan borough president, represented this district in the council for 12 years before taking her current post, and is a safe bet to win again after picking up just about every major endorsement in the race (except for the Jim Owles Liberal Democratic Club). Sara Lind, an attorney and progressive activist, is offering a liberal alternative to Brewer by running a pro-development campaign and aligning herself with the group that has supported housing homeless New Yorkers in Upper West Side hotels. While Maria Danzilo, who is also an attorney, is presenting a more conservative alternative, aligning herself with opponents of homeless shelters and with the New York City Police Benevolent Association. Like Brewer, Lind and Danzilo, Jeffrey Omura, an actor, has also received the maximum amount of public matching funds and is running a professional campaign.
Twitter Posting
nyt ed board when you can only vote for one candidate: here's our duel endorsement 
nyt ed board when you can vote for up to five candidates: here's one endorsement