Campaigns & Elections
Will stop and frisk be a top campaign issue once again?
And more coverage of key 2021 races.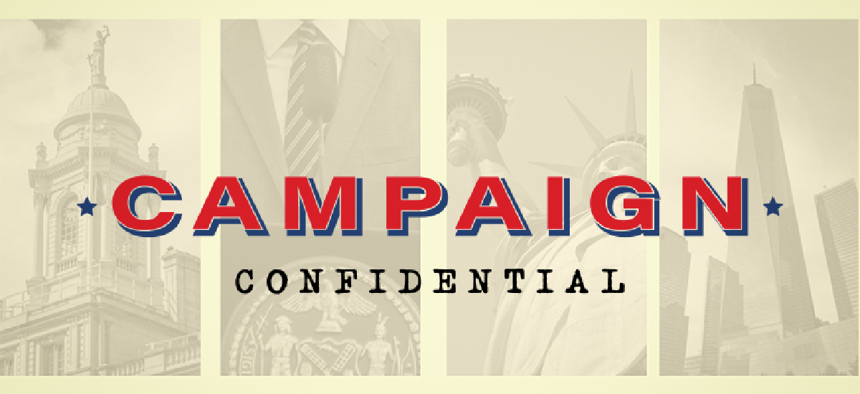 Stop and frisk hasn't disappeared
Bill de Blasio's vocal criticism of the NYPD's use of stop and frisk under then-Mayor Michael Bloomberg helped vault him to victory in 2013. In a city of a million issues, it became the issue. Now Maya Wiley – de Blasio's former counsel, who has many of his allies on her team – is hoping to make it an issue again, twice targeting Eric Adams for defending the tactic in the first official Democratic primary mayoral debate Thursday night. Adams, a retired cop, called stop and frisk "a great tool" in an interview with CBS New York last year and said that the police force under Bloomberg was simply using it wrong. Adams has been saying the same thing for a decade – while also loudly, proudly, criticizing the racist abuse of the tactic. Is there room for nuance in this debate, in a city where stop and frisks still happen – but the number of stops is down 98% from 10 years ago? 
Policing and public safety may have been the most-discussed debate topic. It was the first question for the candidates, and half the candidates stuck to it when the time came to question one of their opponents. Adams even asked Andrew Yang where the political newcomer had been following shootings in predominantly Black and brown neighborhoods – because Yang showed up so quickly after the Saturday shooting in Times Square. Yang didn't disagree – but said the two were aligned on the need for anti-violence units of plainclothes cops.
While all the candidates agreed that incoming NYPD officers should have to live in the five boroughs, there are other real areas of disagreement among them – and the city is in quite the spot. There have been more shootings reported in New York City at this point in the year – 451– than in any year since 2003. The 146 murders in the city this year are the most at this point in the calendar in a decade. But NYPD statistics show that there have been fewer overall crimes reported at this point in the year than in any year since records started being kept in the mid-90s – and the movement to reduce the NYPD's budget has entered mainstream political debate. It's a different situation than de Blasio inherited in 2013, but public safety – and even stop and frisk – may be a central issue once again.
By the Numbers
165,000
The units of affordable housing Mayor Michael Bloomberg's administration planned to build or preserve during his tenure – a number that was raised from just 65,000 units during Shaun Donovan's time as commissioner of the city Department of Housing Preservation and Development. Now that Donovan's running for mayor, City & State's Rebecca C. Lewis looked back at Donovan's history on affordable housing as part of the latest entry in our For the Record series, analyzing candidates' professional lives before running for office. How'd Donovan do? The Bloomberg administration came very close to hitting that 165,000-unit target, but housing advocate Michael McKee said Donovan's record "is a mixed bag at best."
2013 de Blasio is giving everyone hope
Every mayoral candidate seems to be finding something to like in at least one of the polls that have come out recently. Dianne Morales sent an email calling her "the progressive front-runner" after an April poll from a hotel workers union PAC showed she "vaulted to third place in this race." But Maya Wiley's team told donors last week she was "consistently the woman at the top of the polls" – which was actually a step down from the campaign's April claim that she had "risen to the top of the polls" (despite not a single public poll having shown her in the first or even second place position). Ray McGuire's campaign was pretty excited about a new poll from Andrew Yang's campaign showing McGuire "tied" with Eric Adams (as long as you consider 10% and 11% to be equal.) Shaun Donovan fundraised off a dubious poll that showed him essentially tied for second in the Bronx, and fundraised again off an April GQR poll that showed he was in fourth place – "the exact position where Mayor de Blasio was at this point in his race." (True, as long as you ignore every other poll that shows Donovan in a lower position.) And is anyone surprised that Yang's team and Adams' team are questioning the validity of any poll that shows the other guy in first place?
Two call it "Post-Traumatic Stringer Disorder"
Some former employees considered him to be a demanding and mercurial manager. Others praised him, or said he was no worse than any ambitious politician. New York City Comptroller Scott Stringer's treatment of his employees has recently come under scrutiny, mainly due to a recent accusation by a former campaign volunteer in 2001 of sexual harassment and sexual assault. So City & State talked to more than a dozen former staffers about their boss who's running for mayor. None of the sources said they had seen or heard of any sexual misconduct, and in fact almost all said they were surprised by Jean Kim's allegation – but some did share stories of Stringer calling staffers on weekend mornings to berate them, storming out of events when he didn't get a speaking slot and throwing pen caps at an employee.
Endorsement Watch
Assembly Member Nathalia Fernández, who is running for Bronx borough president, and Maya Wiley, who is running for mayor, co-endorsed each other … Queens borough president candidate Jimmy Van Bramer and mayoral candidate Dianne Morales co-endorsed each other … state Sen. Toby Ann Stavisky endorsed Andrew Yang for mayor … the Grand Street Dems, after rescinding its endorsement of Scott Stringer for mayor, is backing Kathryn Garcia ranked first and Morales ranked second … In the Fight North Brooklyn and the Union of Arab Women also endorsed Morales … The United Federation of Teachers announced a new slate of endorsements, including Corey Johnson for comptroller, Alvin Bragg for Manhattan district attorney, Jo Anne Simon for Brooklyn borough president, Carmen De La Rosa for Council District 10 in Manhattan and Julia Forman for Council District 26 in Queens … the Council of School Supervisors and Administrators also endorsed Johnson for comptroller … the New York State Iron Workers District Council endorsed a slate of candidates, including Elizabeth Crowley for Queens borough president and Antonio Reynoso for Brooklyn borough president … and the New York City Police Benevolent Association endorsed another slate of council candidates, including Maud Maron in District 1 in Manhattan.
Got tips? Email JColtin@CityandStateNY.com or SKashiwagi@CityandStateNY.com or send a DM to @JCColtin or @SydneyKashiwagi
District Data
City Council District 39 in Brooklyn, covering neighborhoods including Park Slope, Gowanus and Cobble Hill
Current council member: Brad Lander, since 2010, who is term-limited at the end of this year and running for comptroller
2010 census demographics: 65.9% white, 14.2% Hispanic, 12.5% Asian and Pacific Islander, 4.4% Black
Housing: 68.9% renter-occupied, 31.1% owner-occupied
2013 general election results: Lander: 91.7%, James E. Murray: 8.1%
2017 general election results: Lander wins unopposed
Who's running: Shahana Hanif, Mamnun Haq, Justin Krebs, Matthew Morgan, Briget Rein, Doug Schneider, Jessica Simmons and Brandon West. The race to replace Council Member Brad Lander will likely come down to Schneider, Hanif and West, who are viewed as the strongest candidates in the race, according to Julio Pena III, a district leader in Brooklyn who represents Assembly District 51. Hanif, a former Lander staffer, has the endorsements of progressive groups, including the Working Families Party, state Sen. Jessica Ramos and City Council Member Helen Rosenthal. West has the backing of the Democratic Socialists of America, New Kings Democrats, Cynthia Nixon and progressive lawmakers, including state Sen. Julia Salazar and Assembly Members Marcela Mitaynes and Phara Souffrant Forrest. And Schneider has institutional support from Brooklyn Democratic Party leaders. "I think they all have really strong platforms and some following," Pena III said. "I think the district is really interesting, they've elected Brad Lander and (Assembly Member) Bobby Carroll, and I think with ranked-choice voting, I think it's going to be a really interesting race to see how the numbers play out in terms of first, second and third choice." Pena, who said Schneider is his first choice, does not know who he will rank in the No. 2 and 3 spots, and said he thinks other constituents feel the same at the moment because of the sheer amount of candidates in the race. 
Twitter Posting 
how is it possible that i, a member of the exec board of my democratic club who volunteers for local candidates about 4 times a week, just got a mailer for a candidate running to represent me on the City Council that i've literally never heard of before
Powered By
NEXT STORY: Former Stringer staffers describe his demanding temperament