New York City
2021 New York City mayoral primary election results
Will front-runner Eric Adams win on election night, or will it take weeks to determine the next mayor?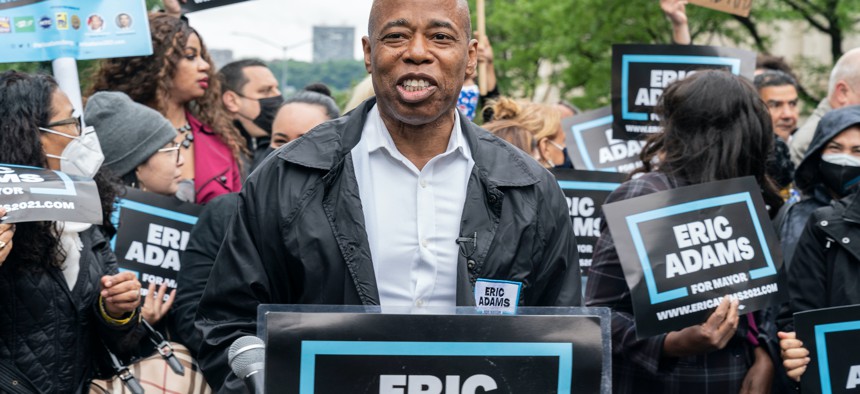 After nearly eight years with Mayor Bill de Blasio, New York City's Democrats are choosing a new leader in Tuesday's primary election. The winner will be highly favored to win the general election in November and to inherit a city that's likely to still be recovering from a historic pandemic that affected just about everything in the mayor's purview, from crime rates to housing.
In line with recent polling, Brooklyn Borough President Eric Adams maintains a strong early lead having received the majority of first-choice votes. Close behind are Maya Wiley, former counsel to de Blasio, and former New York City Sanitation Commissioner Kathryn Garcia. The fourth-best performing candidate, Andrew Yang, has already conceded the race, saying, "I am not going to be the next mayor of New York City, based upon the numbers that have come in tonight." That leaves the remaining candidates with little chance of success, even with ranked-choice voting.
On the Republican side, Curtis Sliwa, founder of the Guardian Angels, is the projected winner and candidate to face in the general election, beating out businessman Fernando Mateo.
The unofficial vote totals that have been released by the New York City Board of Elections on election night reflect only the first-place votes of those who voted in person – both on Election Day, and in the nine days of early voting that preceded it. Absentee and affidavit ballots aren't expected to be factored in until July 6, two weeks after the day of the primary. And the final results, including ranked-choice votes, aren't expected until July 12. It will be some time until an official winner is declared, though the likely victor has been narrowed down to Adams, Wiley and Garcia.
Democratic Party
Candidates
Eric Adams: 31.66%
Kathryn Garcia: 19.48%
Maya Wiley: 22.22%
Andrew Yang: 11.66%
Scott Stringer: 5.03%
Dianne Morales: 2.78%
Ray McGuire:  2.31%
Shaun Donovan: 2.16%
Paperboy Prince: 0.43%
Art Chang: 0.73%
Aaron Foldenauer: 0.84%
Isaac Wright Jr.: 0.24%
Joycelyn Taylor: 0.27%
96.62% of scanners reported.
Republican Party
Candidates
Curtis Sliwa: 68.92%
Fernando Mateo: 26.90%
96.62% of scanners reported.
Powered By
NEXT STORY: 2021 Democratic upstate mayoral primary results