New York City
A breakdown of the 2021 NYC primary
It's a big one.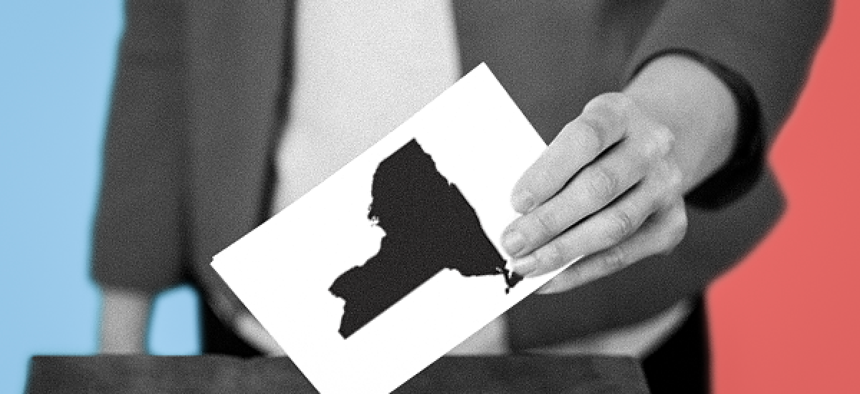 The pending primary
If you're a New York City resident then it's more than likely that you've been inundated with countless campaign mailers, television ads, billboard ads and door knockers that have informed you that the city's primary is on June 22. But if you've somehow managed to escape all of the election noise, then welcome to the conversation!
There are hundreds of candidates in the running this year for New York City mayor, comptroller, City Council, borough president and Manhattan district attorney – the vast majority of them as Democrats.
And for the first time, voters will have the opportunity to rank up to five candidates on the primary ballot, under the city's new ranked-choice voting system – except for DA races, which are technically state, rather than city, elections.
Unlike some states, New York primaries are partisan elections, in which each party will get to pick one, and only one, nominee who will be on the general election ballot in November. That's why during a general election you don't see multiple Democrats or Republicans running for mayor, for example. In New York state, partisan primaries are "closed," meaning only voters registered with a specific party can vote in its primary. 
Voting in local primaries is important because it determines who the likely winners in the general election will be, especially when it comes to Democratic candidates as city voters are overwhelmingly Democrats and in most elections the Democratic nominee will cruise to victory in November.
Keep reading for more information on how to vote, how ranked-choice voting works, who's running for office and your rights as a voter.
By the numbers 
They're running 
If it feels like hundreds of people are running for office in the city this year it's because there are hundreds of people running for office. Here's how many candidates there are running in each race, according to the city's Board of Elections.
Easy as 1, 2, 3, 4, 5
Ranked-choice refresher
This year's primary will be different from past primaries, as ranked-choice voting has been implemented. In a 2019 ballot referendum, New York City voters enthusiastically chose to replace the old voting system with a ranked-choice voting system that allows voters to rank up to five candidates in order of preference for each race and conducts an instant runoff if no one wins a majority of first place votes.
In the instant runoff, the candidate who comes in last place will be removed from the pool of candidates and votes cast for that person will be redistributed to other candidates based on their second pick for the position. This continues until just two candidates remain and whichever candidate has more votes is deemed the winner. If you want to get a better grasp on how it works you can look at a simulated ranked-choice election here. And for a better understanding of ranked-choice voting overall you can check out our explainer here.
It could take a few weeks before the city learns the results of the primary, due to an anticipated increase in absentee ballots and the slow-moving tabulation software used to calculate voters' rankings. While that's annoying to political junkies and campaigns, voters can expect to see results sometime during the week of July 12.
Literally speaking 
How to vote in the primary
Now that you're (hopefully) registered to vote (the deadline was May 28), it's time to figure out how to actually cast your ballot. If you want to vote in person on Election Day, you can check your registration and look up your poll site here. Hours are 6 a.m. to 9 p.m. You might want to bring a snack, as there's likely to be longer lines on Election Day.
If you want to skip the longer lines, you can vote early and in person between June 12 and June 20. Your early voting site might be different from your Election Day voting site. Here's where to find your early voting site.
If you want to skip the in-person experience altogether, there's still time to request an absentee ballot. Here's where you can request one before June 16. You can say you want an absentee ballot due to "temporary illness," as that definition has been expanded to include risk of contracting COVID-19.
With ranked-choice voting in open races for mayor, comptroller, City Council and for borough president, you might be choosing dozens of candidates. It'll be good to have a plan before you go to vote. You can view your sample ballot here.
Help! 
Who should I vote for?
OK, so we can't tell you what to do when you head to the polls but we can direct you to some handy election guides. If you're still feeling a little lost following the city's many ongoing elections and have questions about who is running for any of these local positions, or what the jobs even involve, we've got lots of resources and links for you to check out!
The mayoral election:
The comptroller race:
The City Council races:
The Manhattan district attorney race:
The borough president races:
– With reporting from Holly Pretsky and Isabel Beebe
Powered By
NEXT STORY: Ranked-choice voting education ramps into high gear