Accused of absenteeism, Corey Johnson was everywhere in the comptroller debate
The City Council speaker is leading the race for comptroller and facing criticism from opponents.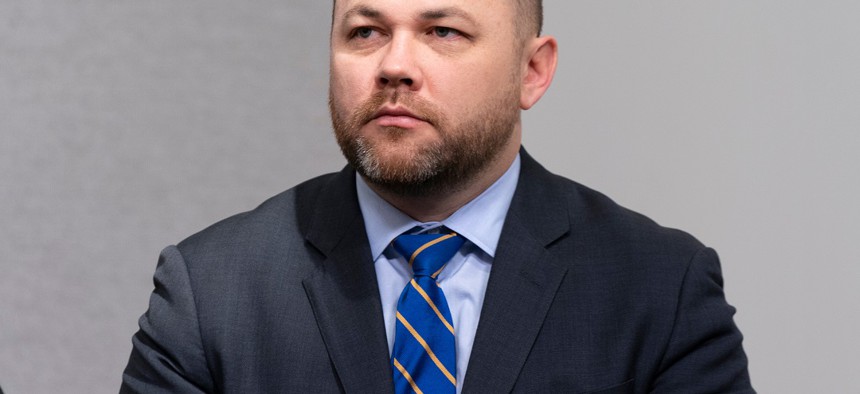 New York City Council Speaker Corey Johnson has been accused of being absent over much of the past year – not attending budget hearings, rarely meeting with colleagues and skipping a number of forums in the comptroller's race. But Johnson could not have been more present at the only New York City Campaign Finance Board sanctioned debate for Democratic comptroller candidates, as Johnson fended off criticism from opponents as the undisputed center of attention Thursday night. 
Johnson must be used to it – this was the wildly talented politician who out-hustled opponents to become speaker of the City Council and had political insiders watching his every move as he became a leading mayoral contender. Then came 2020's bruising budget negotiations over police funding, a quiet summer, and a withdrawal from the mayoral race before he'd even gotten in, with Johnson citing his struggle with depression. Months later, Johnson jumped into the comptroller race, and he's been the frontrunner for the budget watchdog job ever since. He's held a comfortable lead in the few public polls of the race, has pulled in endorsements from all the city's biggest labor unions and, as of the latest filing deadline in May, had the most money of anyone in the race, with more than $4 million on hand for the final month.
That position earned him withering attacks in the debate, primarily from two other leading candidates in the race, former financial journalist Michelle Caruso-Cabrera and New York City Council Member Brad Lander. Caruso-Cabrera and Lander were tied for second place with the support of 9% of likely Democratic voters in a May NY1/Ipsos poll. Johnson was in first, with 18%, while 44% of likely voters were still undecided.
Caruso-Cabrera, who has never held elected office, repeatedly criticized Johnson for not getting results in his seven and a half years on the Council. But Lander's question to Johnson in the debate raised an interesting exchange. Lander mentioned that Johnson has not disclosed his public schedule as speaker for the past 17 months, then asked where Johnson had been in the last month, since he had not attended a single one of the dozens of hearings that the Council has held on New York City Mayor Bill de Blasio's proposed budget. 
Johnson didn't deny the allegation, but accused Lander of "trying to confuse voters" who may not understand the budget process. "I have been fully engaged in communicating with the Council staff," Johnson said. The speaker said he attended closed-door meetings with the Budget Negotiating Team, made up of Council members. 
Asked by Lander why he didn't even attend the public hearing  with de Blasio's budget director, Johnson again accused Lander of trying to "confuse voters who may not understand the inner workings of how the Council typically operates" and said that he had met with the budget director multiple times privately.
But Johnson's absence from meetings has been widely discussed among Council insiders over the past year, and Johnson himself attended the hearing with the budget director, virtually, last year. While Johnson may be working behind the scenes, the expectation of attending relatively high-profile hearings should not be confusing to voters. "He has a responsibility to attend," said a former Council member who declined to be named so as to not criticize a colleague.
Johnson has previously come under fire for being missing from his district and on the campaign trail. Patch has reported that Johnson, who used to regularly make appearances in the Hell's Kitchen section of his district, has rarely set foot there in recent months. (After the story came out, Johnson was sure to hold a listening tour with local store owners and activists.) Rival campaigns have been quick to point out that Johnson has skipped out on several Comptroller forums. 
Even some of the progressive grassroots activists who would presumably compose part of Johnson's base say he has ignored them. "We started our outreach at least a few weeks before our forum but never received a response (from Johnson). Getting no response meant to me that he doesn't value Indivisible Nation BK as a progressive group that has a large presence in our part of Brooklyn," said Jennie Spector with Indivisible NationBK. Spector, who personally supports Lander, said state Sen. Brian Benjamin also did not attend the group's forum in April, but at least told their group he had a conflict that night. 
Representatives from the League of Independent Theater and Staten Island Political Action Club also said that Johnson did not respond to its invitations to attend its forums. (Only one candidate, Lander, attended the LIT's forum.) 
Johnson's campaign defended the City Council speaker, arguing that he has attended "multiple forums."
"Corey Johnson is leading the City Council through the COVID crisis by passing historic legislation that transformed our streets, expanded access to vaccines and protected tenants from harassment," Johnson's spokesperson Avi Small said in an emailed statement. "Since announcing his campaign for Comptroller, Corey has participated in multiple forums, political clubs and in-person campaign events while continuing to lead the City Council and negotiate the largest municipal budget in the nation. Like most New Yorkers, Corey is tired of Zoom. Now that he is fully vaccinated, he is looking forward to meeting with voters in person, and joining upcoming forums and debates."
Johnson wasn't the only candidate put on the defensive Thursday night. Johnson himself twice criticized Caruso-Cabrera for being a registered Republican until 2015. Although she wrote a book called "You Know I'm Right" outlining her fiscally conservative political philosophy, the candidate defended herself in part by saying she had always been socially liberal – "I have been in favor of gay rights – that's what we used to call them when I was much younger, as I'm much older than you," Caruso-Cabrera said. "Now we call them LGBT –" 
An exasperated Johnson cut her off. "I know, I'm gay!" he said. "I'm gay. I know that."
For an office typically described as boring, sparks were flying. Assembly Member David Weprin criticized Lander for voting against the city budget last year because Lander did not believe that the New York City Police Department's budget had been cut enough. Lander responded that he was proud of the vote he took last year and would rather have invested in supportive housing and mental health responses on the streets. Lander has been running on the most left-leaning platform in the race, and boasts endorsements from progressive stalwarts like Rep. Alexandria Ocasio-Cortez and the Working Families Party.
Weprin stands on the other end of the political spectrum, running a more conservative campaign in the Democratic primary. He, along with Caruso-Cabrera and entrepreneur Zach Iscol were the only ones to raise their hands when asked if they would consider supporting the shrinkage of the city's workforce. But Weprin had to field a question from Benjamin, who asked why Weprin accepted the endorsement of NYPD labor unions that supported Donald Trump's presidential reelection in 2020 and are routinely criticized by police reform advocates for adopting reactionary, anti-reform stances. Police unions "make up 20% of our pension funds," Weprin said. "We can't leave anybody behind… in their letters of endorsement, they actually said that they felt that I was the most qualified person to invest their pension fund money."
Many of the candidates emphasized their own experience at the debate. Benjamin and state Sen. Kevin Parker both talked about bills they have supported in Albany, and Iscol highlighted his time running a nonprofit advocating for military veterans' mental health. But only Johnson's experience was criticized. "Financial statements, they are tools, they are revealing, and in the right hands they can be weapons," Caruso-Cabrera said. "I know how to use them, unlike, for example, Corey Johnson, who has presided over this debacle of a city. And he wants a promotion."
With reporting by Sydney Kashiwagi
Update: This story has been edited to add context about Johnson's presence in Hell's Kitchen. As well as context about the Indivisible Nation BK and League of Independent Theater forums.