Campaigns & Elections
City Council poised to make strides in gender diversity
At least 22 women are likely to win the Democratic primaries and are heavily favored to win in the general election.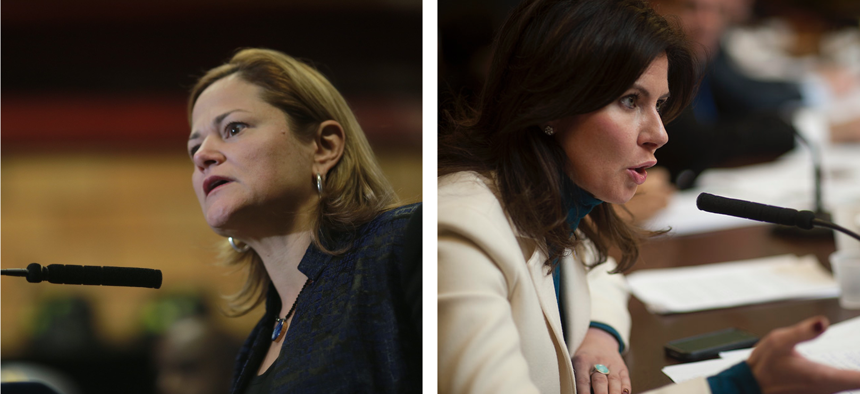 The 21 in '21 movement, it turns out, may have been too modest a goal. As results from the first round of ranked-choice voting poured in, at least 22 women appeared likely to win their New York City Council primaries and are heavily favored to win as Democrats in November's general election. That would exceed the goal set by the 21 in '21 campaign to elect this year 21 women to the City Council, a body that has historically failed to reflect the gender diversity of New York City.
Initial results released by the city Board of Elections on Tuesday night only reflected the first-choice votes of ballots cast in person. Absentee ballots still have to be tallied and some of the closer races will go into further rounds of ranked-choice vote counting. All of that means that some of the initial results could still change, which is why the 21 in '21 campaign said Wednesday afternoon that they're "encouraged" by the results, stopping short of declaring an all-out victory. But a tally of declared winners and candidates who are at this point likely to win – those leading by at least 10 percentage points, and some by much larger margins – shows that at least 22 women are likely to win those primaries and secure those seats in November. That includes two districts where the margins are still tight – Queens' 23rd District and Staten Island's 49th District – but where the leading candidates are both women. The 21 in '21 initiative put out a statement on Wednesday afternoon noting that 28 female candidates are currently leading in their primary races.
New York City currently has only 14 female City Council members. Women make up 27% of the body, despite accounting for roughly 52% of the city's population. Although the council once had as many as 18 women in 2009, it dipped to as low as 11. In 2017, when the council had 13 female members, a report by its Women's Caucus noted that New York City fell significantly behind the other most populous cities in the country, whose local city councils averaged 34% female representation.
The 21 in '21 effort was launched in 2017, co-founded by former Council Speaker Melissa Mark-Viverito and former Council Member – and current Queens borough president contender – Elizabeth Crowley. "It doesn't happen naturally," Amelia Adams, political consultant and chair of the executive board of 21 in '21, said of electing women to political office. "One, because we need to push women to run. And two, the traditional institutions don't support and groom women to run for office."
The 21 in '21 initiative made its endorsements last fall, backing 32 Democrats and one Republican in this year's council primaries, and its leaders note that it's not an ideological organization. Jessica Haller, the group's executive director and a former candidate in City Council District 11, said that a key to the group's success was that it didn't just lend its name to candidates, but actually offered mentoring and other tools to help them build their campaigns. "We helped them with their elevator pitches, we helped them be able to talk to unions," added Yvette Buckner, vice chair of the 21 in '21 board and a managing director at Tusk Strategies. Mark-Viverito and other former council members, including Helen Foster, Una Clarke and the outgoing Vanessa Gibson, helped mentor candidates, she said.
The City Council has also lagged in racial diversity, though the early primary results show possibilities of making some strides there too. The council has never elected a South Asian member despite the city's large South Asian population. In Council District 25 in Queens, Shekar Krishnan is now leading by 13 percentage points, and in Brooklyn's District 39, Shahana Hanif is now leading by 10 percentage points. "This is the first time that we could possibly have a Muslim woman. This is the first time that we could possibly have an openly gay Black woman" Buckner said, referring to Hanif and District 35 candidate Crystal Hudson, respectively. "Women (whose) districts have never been represented by a woman, it's the first time that we may see that."
The barriers to elected office for women and people of color are well documented, but the 21 in '21 leaders suggest that the coronavirus pandemic made the need for their representation ever more apparent. "When we're talking about housing, women are the ones who are taking care of not just their children, but they're likely taking care of their parents as well," Buckner said.
Already declared winners in the primaries include incumbents Carlina Rivera, Diana Ayala, Adrienne Adams, Selvena Brooks-Powers and Farah Louis. Marjorie Velazquez was declared the winner in District 13, setting her up to take over Mark Gjonaj's seat. Manhattan Borough President Gale Brewer also secured victory in District 6, all but guaranteeing her return to the council. And while not officially declared yet, Tiffany Cabán and Sandy Nurse are among those who hold very comfortable leads.
While it will likely take a few weeks to find out exactly how close the council will come to gender parity, and whether we'll see a marked change in racial diversity too, initial results brought satisfaction to those who have been fighting to see those changes for years. "After the early results last night, we're just encouraged that this project that we embarked on four years ago shows promising results, that we actually may achieve parity in the New York City Council," Amelia Adams said.
Correction: Jessica Haller is a former candidate for Council District 11 after dropping out in April, not a current candidate. A previous version of this article also incorrectly identified the district where Shahana Hanif is a candidate.