Campaigns & Elections
History may be kind to de Blasio – but the mayoral candidates haven't been
And more coverage of key 2021 races.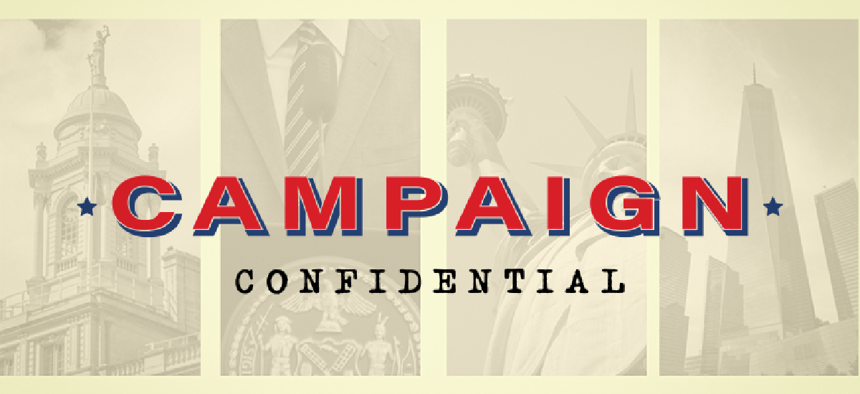 "Eric, the mayor likes Eric."
History may be kind to New York City Mayor Bill de Blasio. Much as the legacy of his former boss, former Mayor David Dinkins, was being considered in a more positive light even before his death last year, it's not too hard to imagine the current mayor being remembered for instituting universal pre-K and overseeing a period of economic growth and low crime. But in the present, de Blasio is often a punchline, with a consistently negative approval rating, even among members of his own party – so much so that mayoral candidates are running away from him.
The outgoing mayor, long-perceived as peevish, seems to have a spring in his step lately. He's dancing in public, cheering on the home sports teams and finally enjoying his position. But the leading candidates are quick to criticize their fellow Democrat. And de Blasio's widely suspected support for Eric Adams has emerged as a key issue in the race's final weeks. 
Universal pre-K was a "phenomenal program," said former Sanitation Commissioner Kathryn Garcia, whose career has been unquestionably advanced from serving as de Blasio's "go-to fixer," in Wednesday night's mayoral debate.
An ABC 7 moderator then asked: "But stick-with-it-ness, to make it so that we are thinking about how are we going to get people vaccinated? How are we going to get kids back in school? These things were failures during the height of a crisis. Execution matters."
And in response, other candidates gave harsh assessments of de Blasio's tenure.
Who gave de Blasio an F? And why'd Yang show up outside the Prospect Park Y? Read more here.
Crossing the rotunda
Speaking of de Blasio … as the mayor's time in office ends, at least nine folks who worked in the de Blasio administration in City Hall are now trying to cross the rotunda and become City Council members. There's Julie Menin, most recently census director, running in District 5 in Manhattan, and Amit Bagga, most recently deputy census director, in District 26 in Queens. Lincoln Restler, once de Blasio's deputy chief of staff, is now running in District 33 in Brooklyn and Amoy Barnes, de Blasio's former Staten Island borough director, is running in District 49 on Staten Island. Mariya Markh, in District 48 in Brooklyn, was a senior liaison in the Community Affairs Unit and Harold Miller, running in District 27 in Queens, was deputy commissioner of the Community Affairs Unit. Three former members of the intergovernmental affairs team are also running: Stacy Lynch, a former deputy director is running in District 7 in Manhattan; Pierina Sanchez, former senior adviser, is running in District 14 in the Bronx and former senior adviser Tahirah Moore is running in District 36 in Brooklyn. Most are keeping their distance from the relatively unpopular mayor – he's only endorsed one candidate so far, Mercedes Narcisse in District 46 in Brooklyn, who never worked for him. But the association probably helps more than hurts for most of them, one of the candidates said. "He's not a net negative in a majority of those districts."
Tish is staying out
In an alternate timeline, it isn't hard to imagine Letitia James finishing up her second term as public advocate as the leading contender in the mayoral race. But former state Attorney General Eric Schneiderman resigned in scandal, and she seized that opportunity instead. For a brief moment, it seemed like James might play a role in this year's race anyway, after Jean Kim, who accused Scott Stringer of sexually harassing and assaulting her in 2001, filed a formal complaint with her office. That earned some headlines, but James isn't doing anything with the 20-year-old case, where the evidence is scant to nonexistent. "We reviewed the complaint and determined we don't have jurisdiction," a spokesperson for the office told City & State. James also declined to endorse in the mayoral race, or even get involved behind the scenes. She's staying out of the race in her old council district too, District 35 in Brooklyn.
Council candidate John Choe – or is it Lewis?
Candidates running for City Council District 20 in Queens were asked to name their hometown heroes at a forum this week. Most named their parents. Candidate Ellen Young said state Sen. John Liu. But candidate John Choe, a member of Queens Community Board 7, which is moving to oust him from the board, said his hometown hero is Lewis Latimer, an African American inventor who improved Thomas Edison's lightbulb and lived in Queens. However, it turns out Latimer may not only be Choe's hometown hero, but also the pseudonym he uses to unabashedly promote himself online. There's a "Lewis Latimer" profile on the news website Patch, which regularly posts stories about Choe (Choe's name is listed in the URL of the profile). There's also a Lewis Latimer Twitter account, which frequently retweets Choe's City Council tweets. Choe's campaign declined to speak to Campaign Confidential about the pseudonym. If Latimer is Choe, it wouldn't be the first time Choe has been linked to questionable online behavior. The Queens Daily Eagle reported CB 7 executive committee members alleged Choe ran an unauthorized CB 7 Facebook page marked as an official government page, which featured posts connected to the Greater Flushing Chamber of Commerce, where he serves as the executive director. The city Department of Investigation reportedly ordered the Facebook page to be removed.
Endorsement Watch
The New York State Nurses Association endorsed Maya Wiley as its No. 1 selection for mayor and Eric Adams as its No. 2 selection in ranked-choice voting … Planned Parenthood of Greater New York Votes PAC endorsed a slate of candidates, including Kathryn Garcia as its No. 1 selection for mayor, Scott Stringer as its No. 2, Wiley as its No. 3 and Ray McGuire as its No. 4 … New York Progressive Action Network "suspended" its co-endorsement of Dianne Morales for mayor and will focus on its endorsement of Wiley … The Jewish Vote rescinded its co-endorsement of Morales for mayor and is now solely backing Wiley … Flatbush Jewish Community Coalition endorsed Adams for mayor … Former Trump national security adviser Michael Flynn endorsed Fernando Mateo for mayor in the Republican primary … PLACE NYC endorsed Michelle Caruso-Cabrera for comptroller … and Caruso-Cabrera and Council District 16 candidate Yves Filiuscross-endorsed each other … The Uniformed Firefighters Association and the Uniformed Fire Officers Association endorsed Liz Crotty for Manhattan district attorney … The New York Amsterdam News endorsed another slate of candidates, including Brad Hoylman for Manhattan borough president, Stacy Lynch for Council District 7 in Manhattan and Athena Moore as its No. 1 selection and Cordell Cleare as its No. 2 selection in District 9 in Manhattan … The Communications Workers of America Local 1180 and the National Organization of Women's Brooklyn-Queens chapter endorsed Jo Anne Simon for Brooklyn borough president … Leaders in the Orthodox Jewish sects in Williamsburg, Brooklyn, endorsed Antonio Reynoso for Brooklyn borough president … and District Council 9 IUPAT endorsed Victoria Cambranes in District 33 in Brooklyn.
Staffing Up
After resigning from her role as senior adviser to Dianne Morales' mayoral campaign, Ifeoma Ike has joined Maya Wiley's campaign as senior adviser … Juan Antigua is now Dianne Morales' campaign manager … and Cassie Moreno has joined Eliza Orlins' campaign for Manhattan district attorney as communications director.
Got tips? Email JColtin@CityandStateNY.com or SKashiwagi@CityandStateNY.com or send a DM to @JCColtin or @SydneyKashiwagi
District Data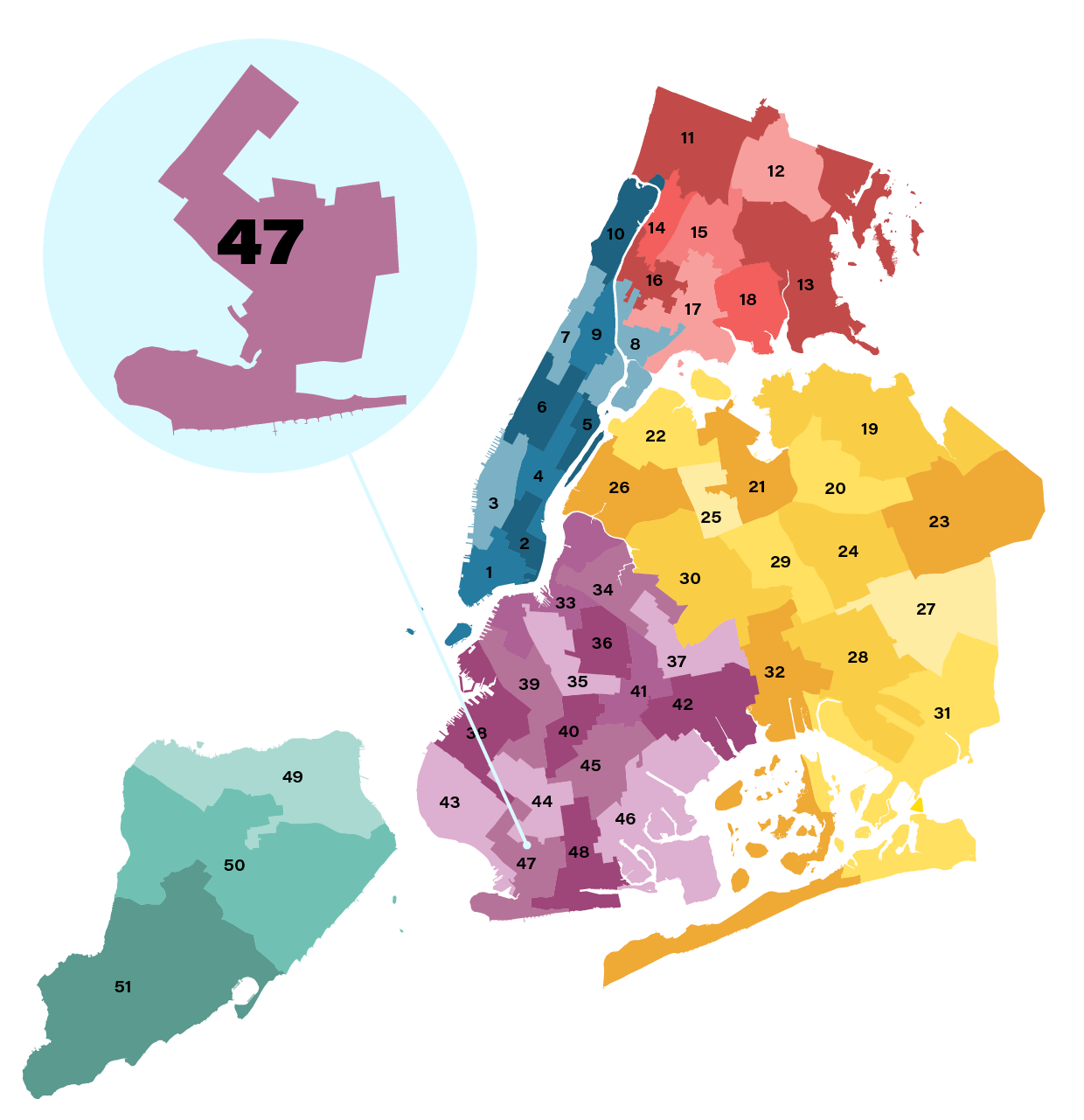 City Council District 47 in southern Brooklyn, covering neighborhoods including Bensonhurst, Coney Island and Gravesend
Current council member: Mark Treyger since 2014, who is term-limited at the end of this year
2010 census demographics: 56.5% white, 19.4% Asian and Pacific Islander, 14% Hispanic, 8.6% Black
Housing: 68.8% renter-occupied, 31.2% owner-occupied
2013 Democratic primary election results: Treyger: 45.8%, Todd Dobrin: 28.4%, John Lisyanskiy: 25.7%
2017 general election results: Mark Treyger (Democratic, Working Families): 72.4%, Raimondo Denaro (Republican, Conservative): 27.4%
Who's running: Alec Brook-Krasny, Ari Kagan, Joseph Packer, Steven Patzer, Mark Szuszkiewicz and Winton Tran. The race to replace outgoing City Council Member Mark Treyger has its share of infamous candidates. There's Republican Mark Szuszkiewicz, who has promoted the far-right QAnon conspiracy. Former Assembly Member Alec Brook-Krasny was accused of being involved in an opioid schemebut was acquitted on the charges, and Patzer is an activist who reportedly embellished his resume and endorsements. Ari Kagan, a Treyger protege who is the council member's director of district operations, is so far leading in campaign cash, has connections to the Democratic Party as a district leader and has the backing of Treyger, Reps. Hakeem Jeffries and Yvette Clarke as well as powerful unions like the United Federation of Teachers and 32BJ SEIU. Though Kagan has institutional support and money, he lost in neighboring District 48 against Chaim Deutsch in 2013, and in 2006 to Brook-Krasny for Assembly District 46.
Twitter Posting
Can anyone tell me if the nyc mayor's race is heating up?? I wish more headlines would answer this question

— Noah Hurowitz (@NoahHurowitz) June 1, 2021
Welcome to City & State's Campaign Confidential newsletter, where senior reporter Jeff Coltin – with help from staff reporter Sydney Kashiwagi – is covering the run-up to New York City's hugely consequential 2021 municipal elections for mayor, City Council and more.
Twice a week, on Wednesdays and Fridays. Sign up here.