New York City
Mayor and pariah, de Blasio becomes an issue in the mayoral race
NYC mayoral candidates are quick to criticize their fellow Democrat – or any candidate too close to him.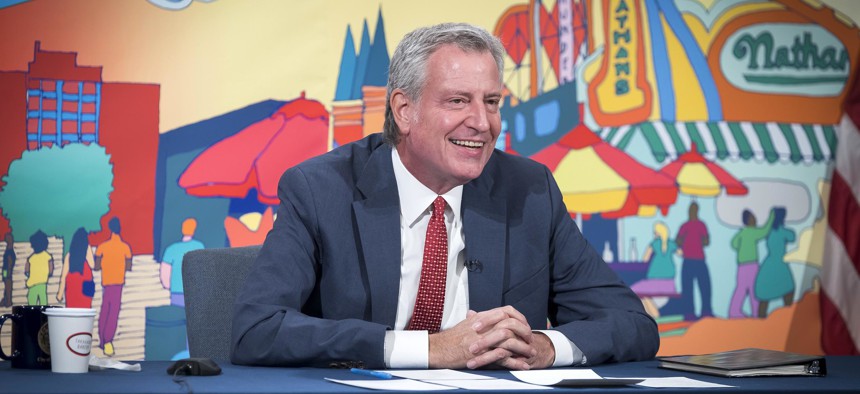 History may be kind to New York City Mayor Bill de Blasio. Much as the legacy of his former boss, former Mayor David Dinkins, was being considered in a more positive light even before his death last year, it's not too hard to imagine the current mayor being remembered for instituting universal pre-K and overseeing a period of economic growth and low crime. But in the present, de Blasio is often a punchline, with a consistently negative approval rating, even among members of his own party – so much so that mayoral candidates are running away from him.
The outgoing mayor, long-perceived as peevish, seems to have a spring in his step lately. He's dancing in public, cheering on the home sports teams and finally enjoying his position. But the leading candidates are quick to criticize their fellow Democrat. And de Blasio's widely suspected support for Eric Adams has emerged as a key issue in the race's final weeks. 
Universal pre-K was a "phenomenal program," said former Sanitation Commissioner Kathryn Garcia, whose career has been unquestionably advanced from serving as de Blasio's "go-to fixer." "But stick-with-it-ness, to make it so that we are thinking about how are we going to get people vaccinated? How are we going to get kids back in school? These things were failures during the height of a crisis. Execution matters."
Asked by an ABC 7 moderator at the first official in-person debate Wednesday night to grade de Blasio's tenure, others gave harsh assessments. New York City Comptroller Scott Stringer gave him an F, mentioning "two municipal corruption scandals." Shaun Donovan, the former commissioner of Housing Preservation and Development and U.S. secretary of Housing and Urban Development, gave de Blasio a D grade, citing homelessness, which had significantly increased during de Blasio's tenure until the coronavirus pandemic. And investment banker Ray McGuire was mixed, giving a B– on universal pre-K, but an "un-passing" on "leadership of the city and management of the budget." De Blasio's former counsel Maya Wiley too, praised a couple projects she was involved in when she worked for de Blasio from 2014 to 2016, such as universal pre-K and the implementation of sanctuary city policies, but gave him an F "when it comes to what happened this past summer with police accountability."
In nonprofit executive Dianne Morales' response, she may have unintentionally reflected how many progressives feel about her own campaign, now in the midst of a rebellion by staffers that's featured resignations, firings and a march on her campaign office. "In terms of vision, at the beginning of his administration, I would probably give him an A. I think we were all very inspired about the possibilities," she said. "I think there's a difference between vision and execution, and so in terms of execution, I'd probably give him somewhere around a C."
But the most notable responses may have been from the frontrunners, Brooklyn Borough President Eric Adams and former nonprofit executive Andrew Yang. Adams may have been the kindest to de Blasio, giving him a B on universal pre-K and another B for reducing the abuse of stop-and-frisk in the NYPD. "He dropped the number substantially and kept the city safe," he said, before declining to give an overall grade because "you have to look at each issue." It wasn't a total surprise. Adams has been treating de Blasio like one of the super PACs that are supporting Adams' mayoral bid – keeping his distance, but apparently grateful for the behind-the-scenes support. Politico New York reported that de Blasio had met with major labor leaders and expressed his support for Adams back in February. All three unions represented there – 32BJ, DC 37 and the Hotel Trades Council – endorsed Adams thereafter. The Atlantic added that de Blasio has been trying to get the Rev. Al Sharpton to back Adams too. So far, he's failed. 
Adams and de Blasio make an odd couple. One is a former police captain who was once registered as a Republican, and, though he's firmly in the Democratic fold now, is running as a development-friendly moderate focused on public safety. The other is a progressive who once supported the socialist Sandanista government in Nicaragua and sees himself as an heir to Sen. Bernie Sanders of Vermont's leadership of the left. 
However, the two have an overlapping base in Brooklyn and allies in certain labor union bosses and Brooklyn Democratic Party Chair Assembly Member Rodneyse Bichotte Hermelyn. But Adams' path to victory – which includes some support from more conservative, outer borough white voters who hate the mayor – differs enough from de Blasio's winning coalition in 2013 that both seem to have at least tacitly agreed that a formal endorsement could hurt Adams more than help him. 
In fact, Yang was the only candidate on Wednesday to say that he would accept de Blasio's endorsement. Yang's own assessment of de Blasio's tenure wasn't particularly negative."My family was one of the families that benefited from universal pre-K. I think we can agree that was Mayor de Blasio's biggest achievement," he said. "I'm going to give him an incomplete, because there's still time, Bill, not to squander all of the federal money before one of us gets in there."
Yang has been consistently making an issue of the nearly $4 billion budget gap that is currently projected to greet the next mayor. It's a wonky issue, on which de Blasio disputes the specifics, but Yang brought it up three times at the debate, aligning himself with the Daily News editorial board and the business-friendly Citizens Budget Commission, which have also criticized the mayor's spending. 
For months, following his cheerful campaign playbook, Yang has been hesitant to directly criticize de Blasio – unlike de Blasio administration veterans Wiley and Garcia, who felt they had to draw a contrast immediately. 
But Yang has seen Adams overtake him in some recent polls, and finally gone negative on his main rival. And naturally the most promising line of attack is to tie Adams to the unpopular incumbent. Yang called out Adams by name Tuesday, saying he didn't have the courage to say anything about the mayor's spending because de Blasio "is making calls for him right now." Yang hit the same notes Thursday at a post-debate press conference in Brooklyn. Yang originally planned to speak outside the Prospect Park YMCA – a location chosen to troll de Blasio, who has been mocked for his devotion to lengthy midday workouts at a gym far from his home or office – but Yang had to speak down the street after being harangued by progressive groups protesting his campaign. As for the choice of the YMCA? "We just thought it would be a great way to provide a contrast with politics as usual," Yang told reporters. 
Amid this turn, Adams told Orthodox Jewish news outlet Hamodia's Reuvain Borchardt on Thursday that Yang's claim that he'd accept de Blasio's endorsement was "hypocrisy … it was amazing to hear him say, 'Eric, the mayor likes Eric,' but let me now say I want the mayor's endorsement,' Adams said. "I mean, what do you say after that?"
Powered By
NEXT STORY: Supersized PAC spending in the mayoral race