New York City
Maya Wiley won over The Strokes. For some, that's enough to back her.
And more coverage of key 2021 races.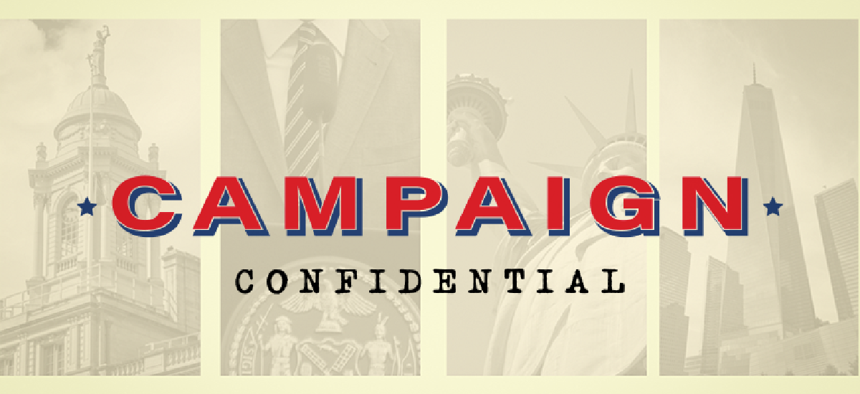 Is Maya Wiley cool?
Saturday night's electric 1,200 bodies jostling rock concert with The Strokes, comedian John Mulaney and Rep. Alexandria Ocasio-Cortez (yes, she's on that level) was pretty good evidence that Maya Wiley is now the coolest choice for mayor of New York City among a certain young "I vape, and I vote" set. "This is the dawning of the age," Strokes frontman Julian Casablancas said, introducing Wiley onstage before closing their set with "Reptilia." "It starts with people like Maya because she will do shit. Green New Deal jobs … there's a long ass list, she'll do all of it."
It wasn't always this way. Scott Stringer was on a path toward some Bernie Sanders/Ed Markey/Mike Gravel realness, then fell off. Dianne Morales was obviously it, with her radical-ish politics and her young, and/or queer and/or diverse army. But unionization proved to be cooler. Ray McGuire had a shot – his son's an NBA player and Jay-Z and Nas endorsed him – but the rappers have been MIA and they could only help a Wall Street banker so much anyway. Wiley didn't start out cool (cable news #resistance punditry is for boomers), but she's become it, thanks in part to some late endorsements. "I mean, AOC gave her seal of approval, right?" said Elizabeth Bennett, 30, who was waiting in line outside the concert in a Strokes baseball jersey and a Supreme-branded fanny pack. "If she got The Strokes to endorse her, then I say that makes her pretty cool," said Mars Ballantyne, 25, standing outside the concert. And Johnny Russell, 21, clad in a leather jacket over a vintage Chicago Bulls jersey, who drove in from Boston to see The Strokes, was into Wiley's platform: "I was looking into it, seeing everything she goes for. That's what I'm fucking with, you know?"
It's hard to seperate "cool" from anti-establishment, leftist politics, but it's possible. Barack Obama was the cool candidate without his politics being radical. Though his identity was, and Wiley has that going for her too. Being the first woman, and second Black mayor of New York City, would be cool. And Wiley knew to hit the anti-establishment notes. Maybe the loudest cheers of the night came not for The Strokes, but when she said she'd have "the courage to confront" the NYPD.
So is Maya Wiley cool? Near the end of the night – which a spokesperson said netted $80,000 for the campaign – Wiley gestured to Casablancas across the stage. "Every night before I have to debate, this one right here texts me that he loves me," she said, before letting the crowd in on a secret. "He also texts me, at my urging: 'bad bitch.'"
The crowd erupted, and Casablancas closed: "Give it up for the future mayor of New York, the self-proclaimed bad bitch, Maya Wiley!"
By the Numbers
$12,763,475
The amount Tali Farhadian Weinstein has raised for her Manhattan district attorney campaign – more than the other seven Democratic candidates combined. But $8.2 million of that came from Farhadian Weinstein herself, all in the last three weeks. Farhadian Weinstein was most recently general counsel to Brooklyn District Attorney Eric Gonzalez, but she is married to hedge fund manager Boaz Weinstein, who very well may have ascended from multimillionaire to billionaire in the past year. So Farhadian Weinstein, running in one borough, is poised to spend more than any single mayoral candidate, running in five (Yes, even Ray McGuire). What's she spending on? About $1.5 million to Red Horse Strategies and more than $3 million to the Hamilton Campaign Network in the past few weeks alone, some of which seems to be going toward mailers and TV ads calling opponents Alvin Bragg and Dan Quart soft on domestic violence. A new poll from a progressive think tank supporting Bragg said that he and Farhadian Weinstein are tied for first place in the race.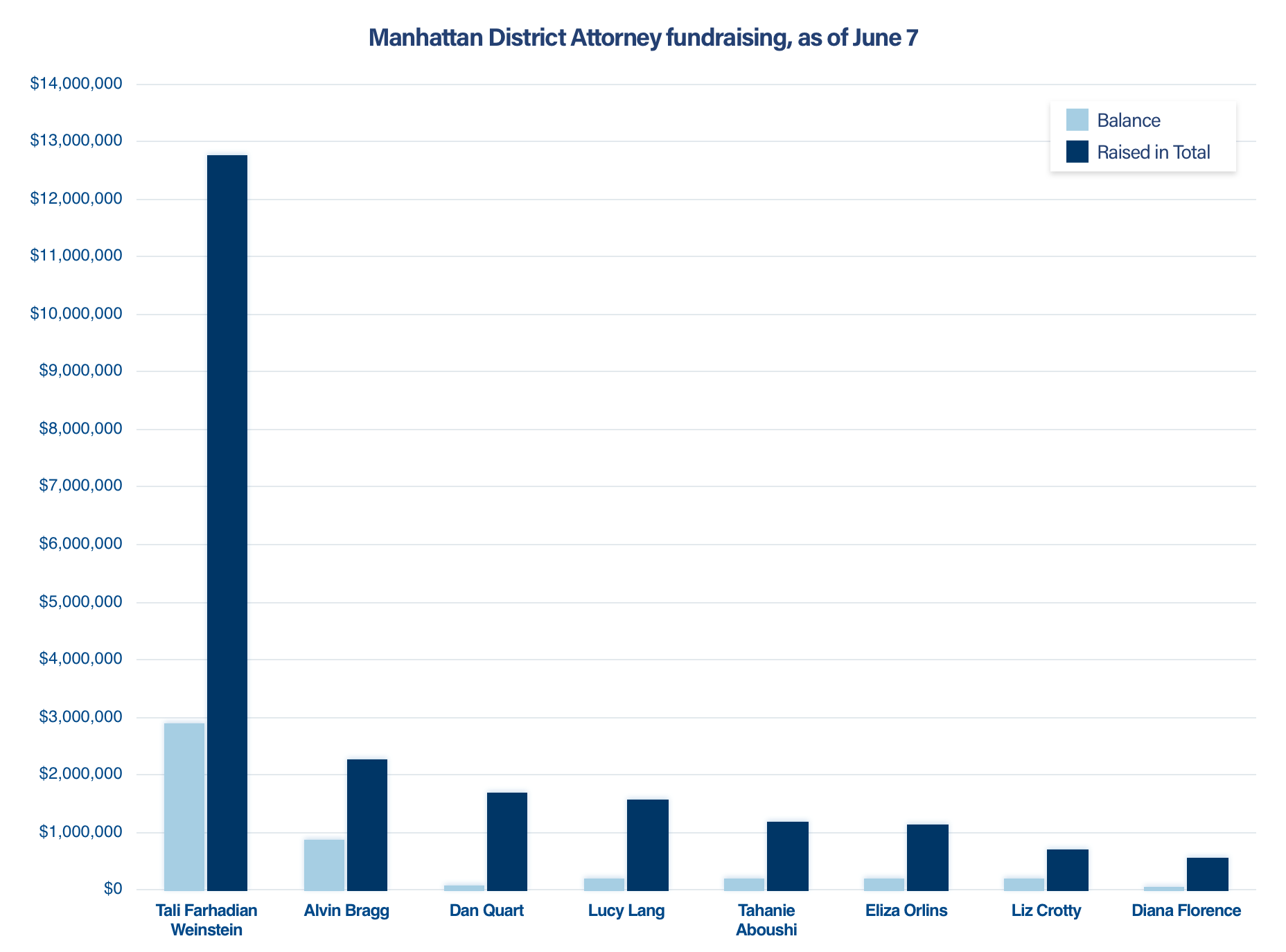 Early voting: Maybe not as slow as you think
No lines and quiet poll sites had the political class talking this week, with early voting seeming to get off to a slow start. An underwhelming 16,867 New Yorkers turned out to vote on the first day of early voting Saturday across the five boroughs. Another 15,165 came on Sunday, 11,688 on Monday and a whopping 20,568 on Tuesday. But the 64,288 early voters over four days paled in comparison to the 93,830 New Yorkers who cast their ballots on the first day of early voting in the presidential election last year. Of course, this is a municipal primary and low turnout is expected compared to a high-profile general election – even if most of the races then weren't competitive. Democratic political strategist Bruce Gyory's take: We're actually on pace for relatively high turnout. "My sense is the early voting shows steady progress without long lines. If it ends up at or over 150,000 votes when early in person voting concludes, I think overall (turnout) will cross 850,000 with a chance to hit or exceed 900,000 votes," Gyory said, compared to the nearly 700,000 voters in the 2013 mayoral primary. Gyory thinks that because New York has largely recovered from the pandemic, it could lead to "far more significant" in-person voting on June 22 than last year's presidential primary, when the city was still in the middle of the coronavirus pandemic.
Sliwa likely to win Republican mayoral primary – but who knows?
Curtis Sliwa, a radio host who founded the Guardian Angels crime prevention group in the late 1970s, and businessman and activist Fernando Mateo may be competing in the Republican mayoral primary, but they've also quietly become the laughingstock of the party. A recent poll found Sliwa had a 6-point edge over Mateo, leading with 33% of 250 Republicans surveyed in a PIX11, NewsNation, Emerson College poll released last week. However, the poll found that 40% of Republicans are still undecided in the Republican primary for mayor. Sliwa may have the name recognition, but some say it's for the wrong reasons. "What if your name recognition aligns you with being a buffoon?" said a Republican operative, who was granted anonymity to speak candidly about the race. "That's (Sliwa's) problem, he just does these stupid stunts with the meatball birthday cake and then talking about the fucking 14 cats." (Sliwa actually has 15 cats.) And the party's chances are slim to none in the general anyway. You're always hoping that someone like another Mike Bloomberg will come along," the Republican operative said, "or you're always hoping that lightning strikes and three weeks before the election, the Democrat is hauled away in handcuffs or drops dead from a heart attack." Which Republican said they're choosing "the lesser of two evils?" Read more here.
Gift or a curse?
Generic, positive mailers being sent to voters are causing some headaches for City Council candidates who feel like they have to disavow them to maintain their progressive credentials. The problem is their source: Common Sense NYC, a super PAC funded primarily by conservative billionaires Stephen Ross and Ronald Lauder, and Voters of NYC, a super PAC funded primarily by major real estate developers. Both are operated by political consultant Jeff Leb, who says the spending is supporting candidates who are "pragmatic in their thinking" and that "this is our gift to New York City – highlighting which candidates are qualified for local office and which are not in races that are getting little attention." But candidates in Manhattan like Carmen De La Rosa in District 10 have "denounced the interference," Julie Menin in District 5 has "disavow(ed) all outside spending," and Erik Bottcher in District 3 went so far as to send a cease and desist letter to the PAC telling voters he's "an experienced leader." The super PACs are going negative with some candidates too, with Moumita Ahmed in District 24 in Queens relishing the fight, but candidates like Crystal Hudson in District 35 in Brooklyn feeling like she had to disavow the spending against her rival Michael Hollingsworth, even if she wasn't involved. And that's the thing – candidates can't do much since independent expenditure committees aren't affiliated with the campaigns and can't coordinate with them. Outside spending is rampant this year. Shaun Abreu in District 7 seems to have been the biggest beneficiary, with $166,850 spent in his favor so far.
Endorsement Watch
New York City District Council of Carpenters and New York City Council Member Deborah Rose endorsed Eric Adams for mayor … Reps. Hakeem Jeffries, Gregory Meeks and Ritchie Torres endorsed Adams as their No. 2 selection for mayor … New York Knicks player Taj Gibson endorsed Adams … The Queens Chronicle, The Jewish Voice, The Irish Echo and El Especialito newspapers endorsed Adams … The New York Real Estate Chamber endorsed Adams for mayor and Brian Benjamin for comptroller … New York State Troopers Police Benevolent Association President Thomas Mungeer is supporting Adams for mayor, but a spokesperson said Adams "respectfully declined" it … the NYPD Captains Endowment Association – the union Adams belongs to – endorsed Andrew Yang for mayor … Former mayoral candidate and current City Council District 50 candidate Sal Albanese endorsed Yang for mayor … New York City Council Member Daniel Dromm and Assembly Member Harvey Epstein endorsed Maya Wiley for mayor … New York Communities for Change, People For the American Way, the Muslim Democratic Club of New York, the American Pakistani Public Affairs Committee, DRUM Beats and CAAAV endorsed Wiley for mayor … Wiley and Amit Bagga, a candidate in Council District 26 in Queens, cross-endorsed each other … Wiley and Crystal Hudson, a candidate in Council District 35 in Brooklyn cross-endorsed each other … Citizens Union endorsed Kathryn Garcia as its No. 1 selection for mayor, Adams as its No. 2 selection and Scott Stringer as its No. 3 selection, and Brian Benjamin as its No. 1 selection for comptroller, Corey Johnson as its No. 2 selection and Brad Lander as its No. 3 selection … Crain's New York Business endorsed Garcia in the Democratic primary for mayor and Curtis Sliwa in the Republican primary for mayor … Reps. Nydia Velázquez and Grace Meng endorsed Garcia as their No. 2 selection for mayor … Assembly Member Nathalia Fernández endorsed Garcia as her No. 2 selection for mayor and Garcia endorsed Fernández for Bronx borough president … The Daily News endorsed David Weprin for comptroller … The New York Post endorsed Zach Iscol as its No. 1 selection for comptroller, Weprin as its No. 2 selection, Michelle Caruso-Cabrera as its No. 3 selection and Reshma Patel as its No. 4 selection … Assembly Member Ron Kim endorsed Lindsey Boylan for Manhattan borough president … Citizen Action endorsed Cesar Vargas as its No. 1 selection for Staten Island borough president and Lorie Honor as its No. 2 selection … Retail, Wholesale and Department Store Union, Make the Road Action and New York Communities for Change endorsed Jimmy Van Bramer for Queens borough president … Former presidential candidate Hillary Clinton endorsed Stacy Lynch in District 7 in Manhattan … Council Member Brad Lander endorsed Ingrid Gomez in District 21 in Queens … Former New York City Comptroller Bill Thompson endorsed Alfonso Quiroz in District 25 in Queens … and Rep. Gregory Meeks, Assembly Member David Weprin, state Sen. Toby Ann Stavisky, City Council Speaker Corey Johnson and Council Member James Gennaro endorsed Linda Lee in District 23.
Got tips? Email JColtin@CityandStateNY.com or SKashiwagi@CityandStateNY.com or send a DM to @JCColtin or @SydneyKashiwagi
District Data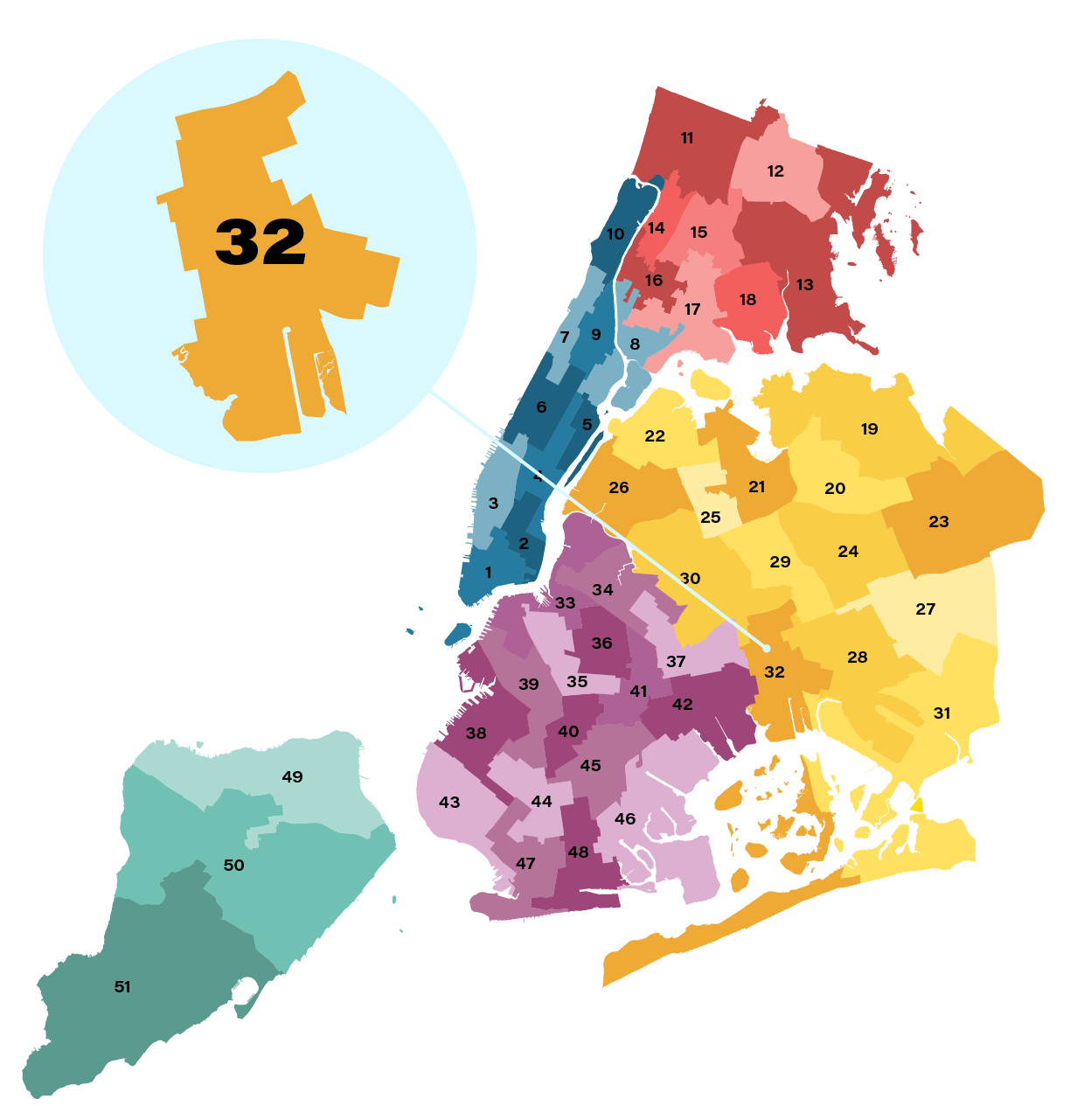 City Council District 32 in Queens, covering neighborhoods including Howard Beach, Broad Channel and Breezy Point
Current council member: Eric Ulrich since 2009, who is term-limited at the end of this year
2010 census demographics: 38.1% white, 30.4% Hispanic, 14.8% Asian, 8.3% Black
Housing: 55% owner-occupied, 45% renter-occupied
2017 Democratic primary election results: Michael Scala: 43.6%, Helal Sheikh: 29.9%, William Ruiz: 25%
2017 general election results: Ulrich (Republican, Conservative, Independence and Reform): 65.6%, Scala (Democrat): 34.2%
Who's running: Felicia Singh, Bella Matias, Michael Scala, Shaeleigh Severino, Kaled Alamarie, Helal Sheikh, Kenichi Wilson, Joann Ariola and Steven Sirgiovanni. Michael Scala, an attorney, is a more moderate Democrat backed by the United Federation of Teachers and state Sen. James Sanders Jr. who won the Democratic primary in 2017. Felicia Singh is a teacher running on a more progressive platform with support from the Working Families Party and major unions like 32BJ SEIU and the Hotel Trades Council. Insiders say one of the two is likely to win this year's six-way Democratic primary, and Joann Ariola, chair of the Queens County Republican Party, will win the GOP primary. Council Member Eric Ulrich has endorsed Ariola and thinks she can keep the seat Republican. "She's talking about quality of life, she's talking about public safety, she's talking about issues that really resonate with voters in this part of the city," he said. But Democrats see it as a pickup opportunity in the overwhelmingly blue City Council.
Twitter Posting 
I love voting. Even if it's meaningless lmao. No one is ever nicer than a poll worker.

— Caroline Ourso (@ceourso) June 15, 2021
Powered By
NEXT STORY: The endorsements for NYC mayoral candidates