Eric Adams
The Eric Adams real estate tour
And more coverage of key 2021 races.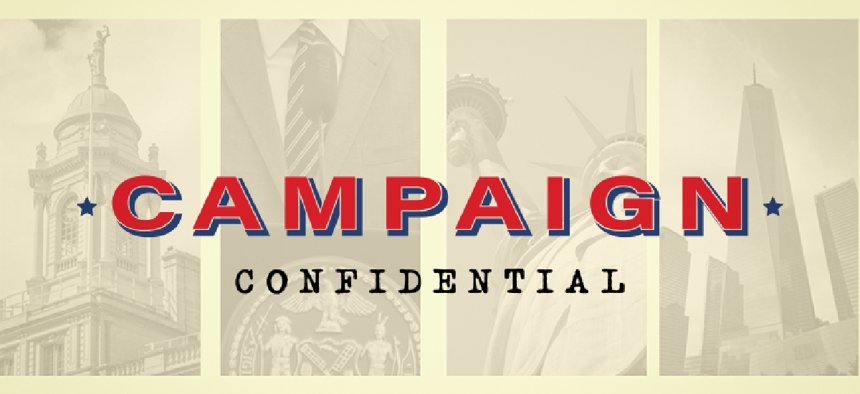 Eric Adams: Get into my room
A leading New York City mayoral candidate was in the uncomfortable position of having to prove that he lived in the city he wants to represent – and in fact already has represented for more than 14 years. Brooklyn Borough President Eric Adams went so far as to invite more than a dozen journalists this morning to the Bedford-Stuyvesant townhouse that he bought in 2002 to give a tour and respond to the bombshell Politico New York report that raised questions about where Adams sleeps at night – and whether it's more often at Borough Hall or a second home he owns with his partner in Fort Lee, New Jersey, rather than in Bed-Stuy.
 Famous for once suggesting invasive tours of your children's rooms, Adams was now inviting press to take a close look at his. Suffice to say, the press event answered some questions, but raised more. To be clear, the apartment was riddled with memorabilia from Adams' career in politics and law enforcement. But there was evidence that Adams' 25-year-old son, Jordan Coleman, spends more time there than his dad, from the decidedly non-Adams sneaker collection to the decidedly non-vegan fridge. Adams and Coleman don't explicitly deny it – both said Coleman lives primarily in New Jersey, but often crashes at his dad's place, since he's currently in a master's program at Brooklyn College. And Adams hasn't been coy about the fact that he has slept at Brooklyn Borough Hall – even though the extent to which he still does, "I would say about two nights a week (sleeping) on average, three hours a night," – went unreported until this week.
It's hard not to sound conspiratorial when you're talking about a candidate's residency, especially when the Adams campaign does have a totally odd, but overarching explanation for the questions raised by Politico's reporting: Adams is a grinder who works ridiculously long hours and is messy with paperwork. Inconsistencies with the voter registrations of Adams and his longtime partner, Tracey Collins, will surely be reported out more fully in the coming days, as will Adams' record of visiting Collins in New Jersey, since he promised to provide E-ZPass data that would record his trips across the Hudson River. But at least one Adams staffer was quick to confirm Adams' claim that the people Politico reported coming into Borough Hall in the wee hours of the morning were his government staffers. Adams said today he was coming "into Borough hall at 1 in the morning, working until 3 or 4 (a.m.) with my staffers who come in because they believe." A former government staffer, Rachel Atcheson, who's now on leave to work on the campaign, told City & State outside Adams' apartment that it was all true, saying she has personally been in Borough Hall "until 1 (a.m.) because I believed," but that others would work even later, she said. "We literally just work hard. But hey, if that's what they're going to hound us on? I'm fine."
County parties are weaker than ever
Brooklyn Democratic Party boss Rodneyse Bichotte Hermelyn personally endorsed Eric Adams for mayor back in March, but for a while, the county party appeared to be avoiding making any formal endorsement in the mayoral race.
On Staten Island, Democratic Party boss Michael Cusick endorsed Andrew Yang last month, and in Queens, party boss Rep. Gregory Meeks endorsed Ray McGuire in April – but their parties have both stayed quiet on making any formal endorsements. Manhattan Demoratic Party boss Keith Wright hasn't endorsed and neither has his party.
Political insiders say the cause of this trend may not come as a surprise: there are simply too many Democrats to choose from in the mayoral race and party leaders already have their own allegiances to different candidates.
This year's trend of Democratic parties not endorsing a candidate for mayor in the primary stands in contrast to the 2013 primary, when every party made an endorsement four months before the primary, as Politico New York reported.
Manhattan Democratic Party Executive Director Kyle Ishmael told City & State that the party's district leaders are "all over the place," with some supporting Scott Stringer on the Upper West Side, leaders in Central Harlem backing Eric Adams and some factions supporting Dianne Morales or Maya Wiley. "Even if we were to do a party endorsement, there wouldn't be a clear favorite or a clear majority for anyone in particular," Ishmael said.
Last weekend, the Bronx became the first to break. With less than two weeks to go till the June 22 primary, the Bronx Democratic Party and its chair, state Sen. Jamaal Bailey, both endorsed Brooklyn Borough President Eric Adams. Read more about the endorsement process here.
Rank, in file
Months and months of candidates refusing to answer the question, "who will you rank second?," has brought us to this: A handful of City Council candidates shaking hands and publicly encouraging supporters to rank their foe second. There's Nabaraj KC and Austin Shafran pairing up in District 19 in Queens and Debra Markell and Harpreet Singh Toor next door in District 23. Sara Lind and Jeffrey Omura teamed up in District 6 in Manhattan, and so did Ahmadou Diallo and Yves Filius in District 16 in the Bronx. Andy Marte and Scott Murphy have paired up in District 34 spanning Brooklyn and Queens, following mayoral candidates Art Chang and Joycelyn Taylor. But not everyone's picking just one friend. In the crowded race for District 26 in Queens, Jesse Laymon has a flyer asking voters to rank him second, with no recommendation of who to put first. In District 20 in Queens, seven candidates are banding together against Sandra Ung, and a coalition of five candidates is forming in District 7 in Manhattan too, with one leading candidate, Shaun Abreu, apparently being ganged up on. That's one feature consistent across all of these cross-endorsements – it's candidates teaming up to get any edge over a stronger opponent widely considered to be the favorite.
Endorsement Watch
Reps. Alexandria Ocasio-Cortez and Jamaal Bowman, state Sen. Julia Salazar, Assembly Members Maritza Davila and Emily Gallager, U.S. Sen. Elizabeth Warren and former HUD Secretary Julián Castro endorsed Maya Wiley for mayor … The Working Families Party "suspended" its co-endorsement of Dianne Morales for mayor and is now solely supporting Wiley for mayor … the National Organization for Women's New York City chapter endorsed Wiley as its No. 1 selection in ranked-choice voting for mayor and Kathryn Garcia as its No. 2 selection … In the Fight North Brooklyn endorsed Wiley for mayor … Rep. Adriano Espaillat endorsed Wiley as his No. 2 selection for mayor and Corey Johnson as his No. 2 selection for comptroller. He had previously only ranked Eric Adams No. 1 for mayor and Brian Benjamin No. 1 for comptroller … the Bronx Democratic Party, state Sen. Jamaal Bailey and City Council Members Kevin Riley and Karen Koslowitz endorsed Adams for mayor … the Bronx Dems also endorsed Oswald Feliz for Council District 15 … Uniformed EMS Officers Union Local 3621 and Uniformed EMTs, Paramedics & Fire Inspectors FDNY Local 2507 endorsed Eric Adams for mayor … the PRIDE Democrats endorsed Adams for mayor … The Black Leadership Action Coalition released a slate of endorsements, including Adams as its No. 1 selection for mayor and Shaun Donovan as its No. 2 selection, and Stacy Lynch for Council District 7 in Manhattan … Assembly Member Robert Carroll endorsed Garcia for mayor … The Chief-Leader endorsed Garcia as its No. 1 selection for mayor, Adams as its No. 2, Ray McGuire as its No. 3, Scott Stringer as its No. 4 and Shaun Donovan as its No. 5 … Queens Jewish Alliance for Action endorsed Andrew Yang as its No. 1 selection for mayor, Garcia as its No. 2 selection, Adams as its No. 3 and McGuire as its No. 4 … The New York Times endorsed Brad Lander for comptroller … the New York City Central Labor Council endorsed Johnson for comptroller … StreetsPAC endorsed Garcia for mayor and Johnson as its No. 1 selection for comptroller and Lander as its No. 2 comptroller selection … City Council Member Francisco Moya and Johnsoncross-endorsed each other … Community Voices Heard Power endorsed Benjamin for comptroller … former Bronx Borough President Adolfo Carrión endorsed Fernando Cabrera for Bronx borough president … Citizens Union co-endorsed Alvin Bragg and Tali Farhadian Weinstein for Manhattan district attorney … Council Member Daniel Dromm endorsed Shekar Krishnan to succeed him in District 25 in Queens … Rep. Nydia Velázquez endorsed Briget Rein in District 39 in Brooklyn … New York City Mayor Bill de Blasio endorsed Harold Miller in District 27 in Queens … and Ocasio-Cortez's Courage to Change PAC released a list of candidates who had taken its pledge, some of whom were ranked, including Arthur Schwartz as its No. 1 selection in District 3 in Manhattan and Phelan Dante Fitzpatrick as its No. 2 selection.
Got tips? Email JColtin@CityandStateNY.com or SKashiwagi@CityandStateNY.com or send a DM to @JCColtin or @SydneyKashiwagi
Poll Sight
New Yorkers think Eric Adams is the mayoral candidate who can best handle crime, while they think Andrew Yang can best handle reopening businesses and stop the spread of COVID-19. That's according to a Spectrum News NY1/Ipsos poll of more than 3,000 adult New York City residents, who were surveyed between May 17-31. It found 45% New Yorkers think that crime and public safety would be the top priority for the next mayor to address, followed by reopening the city (26%) and stopping the spread of the coronavirus (25%). Of those priorities, 21% of New Yorkers said they would trust former NYPD Captain Eric Adams the most to handle crime and public safety, followed by Andrew Yang (13%). But when it comes to reopening the city and stopping the spread of the virus, New Yorkers say they trust Yang over Adams on both issues. And in ranking the candidates, 22% of likely Democratic voters said Adams would be their first choice, while 16% said Yang and 15% said Kathryn Garcia.
District Data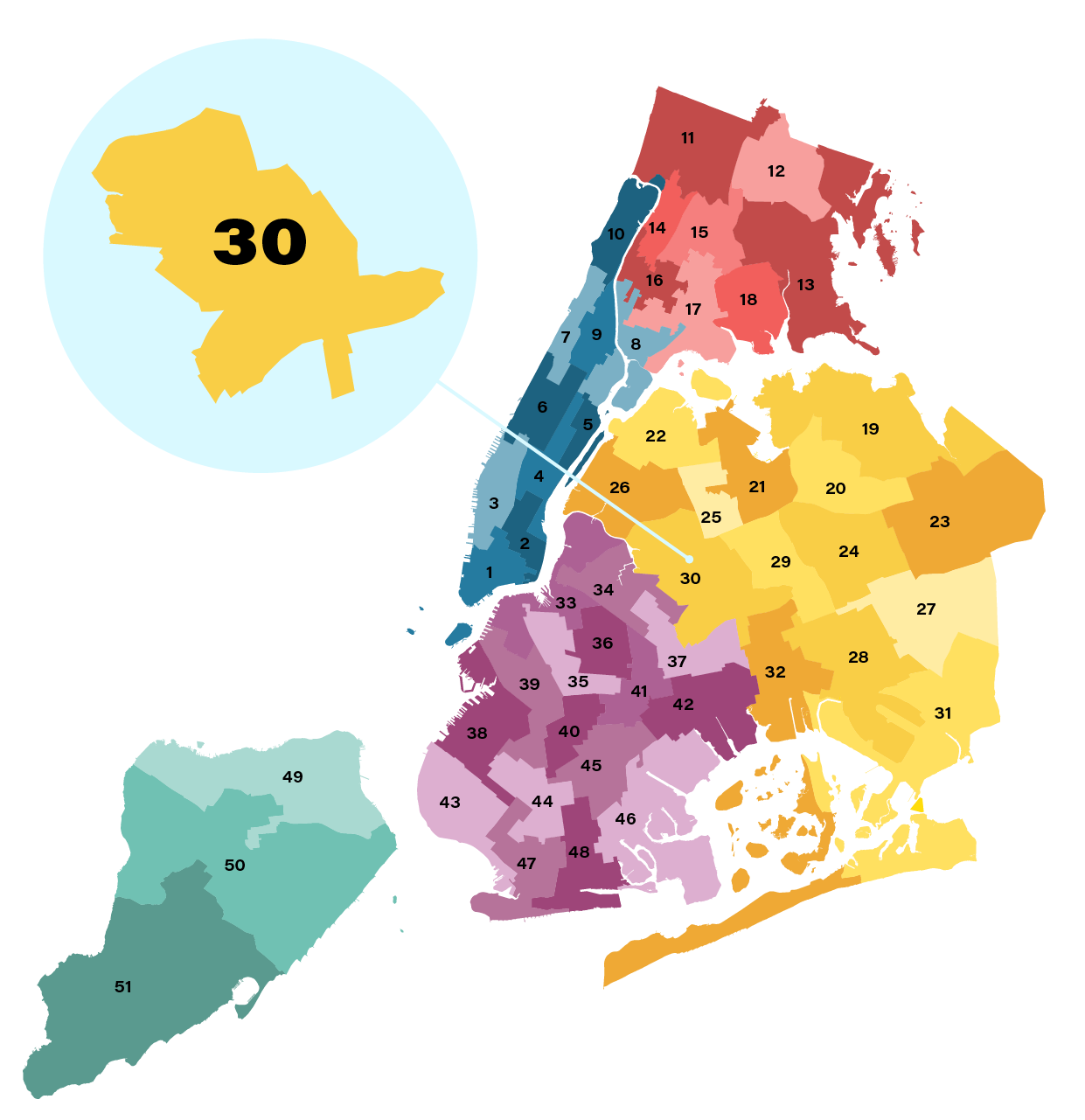 City Council District 30 in Queens, covering neighborhoods including Glendale, Maspeth and Middle Village
Current council member: Robert Holden, since 2018, who is running for reelection
2010 census demographics: 57.3% white, 30.7% Hispanic, 8.3% Asian, 1.7% Black
Housing: 54.5% renter-occupied, 45.5% owner-occupied
2017 Democratic primary election results: Elizabeth Crowley: 63.7%, Robert Holden: 36%
2017 general election results: Holden (Republican, Conservative, Reform, Dump de Blasio): 50.2%, Crowley (Democratic, Working Families, Women's Equality): 49.6%
Who's running: Robert Holden, Juan Ardila and John Spataro. Holden, a conservative Democrat, lost handily to the incumbent, Elizabeth Crowley, in the Democratic primary four years ago. Ardila is hoping the district's Democrats reject Holden again by highlighting Holden's conservative voting record and the fact that he won on the Republican line in 2017. But it's a different race – Holden is the incumbent now and has support from the United Federation of Teachers, among other unions. And Ardila has a more progressive platform than Crowley, so this race will be a real political test for the district, which seems to have a growing Hispanic population. If Holden does lose, there's speculation that Republican John Spataro, who doesn't seem to be running a campaign, would step aside to give Holden the line in November.
Twitter Posting 
All this time Eric Adams was trying to get into our rooms to establish NYC residency? 

— Chris Sosa (@ChrisSosa) June 8, 2021