Campaigns & Elections
Why are Democratic parties staying out of the mayoral race?
These typical early endorsers may not be able to decide on one candidate this year.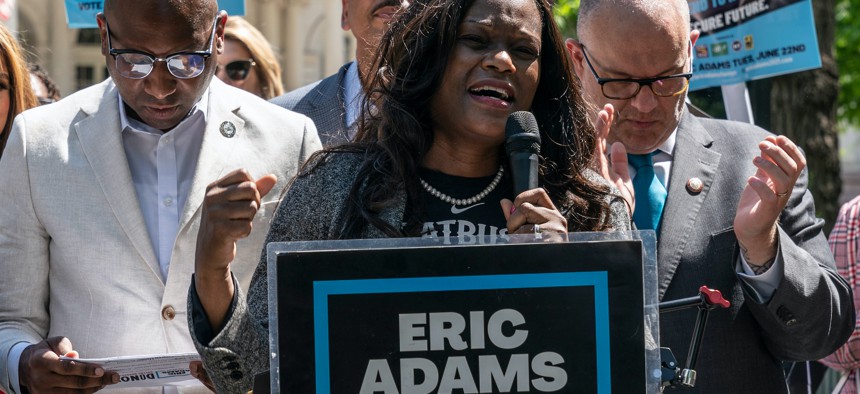 Brooklyn Democratic Party boss Rodneyse Bichotte Hermelyn personally endorsed Eric Adams for mayor back in March, but for a while, the county party appeared to be avoiding making any formal endorsement in the mayoral race.
On Staten Island, Democratic Party boss Michael Cusick endorsed Andrew Yang last month, and in Queens, party boss Rep. Gregory Meeks endorsed Ray McGuire in April – but their parties have both stayed quiet on making any formal endorsements. Manhattan Demoratic Party boss Keith Wright hasn't endorsed and neither has his party.
Political insiders say the cause of this trend may not come as a surprise: there are simply too many Democrats to choose from in the mayoral race and party leaders already have their own allegiances to different candidates.
This year's trend of Democratic parties not endorsing a candidate for mayor in the primary stands in contrast to the 2013 primary, when every party made an endorsement four months before the primary, as Politico New York reported.
Manhattan Democratic Party Executive Director Kyle Ishmael told City & State that the party's district leaders are "all over the place," with some supporting Scott Stringer on the Upper West Side, leaders in Central Harlem backing Eric Adams and some factions supporting Dianne Morales or Maya Wiley. "Even if we were to do a party endorsement, there wouldn't be a clear favorite or a clear majority for anyone in particular," Ishmael said.
Last weekend, the Bronx became the first to break. With less than two weeks to go till the June 22 primary, the Bronx Democratic Party and its chair, state Sen. Jamaal Bailey, both endorsed Brooklyn Borough President Eric Adams. The party's endorsement of Adams didn't come from a formal vote of stakeholders though, but rather a sort of straw poll, a spokesperson for the party, Jason Laidley, told City & State. "We spoke to our district leaders and our vice chairs," he said, "and that's who people are going for."
Now Brooklyn may be trying to do the same thing. On Tuesday, a Brooklyn Democratic Party spokesperson told City & State that the party was backing Adams – more or less in spirit – without casting a formal vote, which came as a surprise to some members of the party.
"Brooklyn Democrats are backing Eric Adams. The majority of Brooklyn district leaders and elected officials, including the Brooklyn Democratic County Leader Rodneyse Bichotte Hermelyn, are supporting our borough president for mayor. Traditionally, the executive committee does not do a formal vote. However, unofficially, the county typically backs a candidate and in this instance it is Eric Adams for mayor," the Brooklyn Democratic Party spokesperson told City & State.
With no formal endorsement through a vote, the party's announcement surprised at least one party member, who told City & State speaking on the condition of anonymity, that the party choosing to softly endorse Adams rather than hold an official vote to endorse him or another candidate, was to avoid another 13-hour Zoom debacle, like the one in December, which laid bare the party's fractures.
"They are trying to make it appear as if the (Brooklyn Democratic Party) apparatus is backing in its official Democratic Party certain candidates, which is not the case, it's just individual actors doing that and using the party name," said the source within the party about Tuesday's announcement. "I think there definitely are schisms and divides within the group of district leaders. I don't think we could confidently say that a vote would have gone in favor of Eric Adams this time around. I think it was just easier for (the party) to just sweep things under the rug and say we're just going to continue to move in this suspect fashion and not draw attention to it by not actually holding a meeting and by not formalizing the process in any way."
Had the party held a formal endorsement vote, the Brooklyn Democratic source thinks there would have been "vote whipping" for party leaders to back Yang or Adams.
Even though there's less than two weeks to go before the primary, at least two Democratic parties didn't rule out making a last-minute endorsement.
"We will continue to listen to our members and interview candidates," Staten Island Democratic Party Executive Director James Clinton, told City & State when pressed on whether an endorsement in the mayoral race from the party could still be coming.
The executive director of Manhattan's Democratic Party didn't rule out the possibility either. "We have not endorsed yet, but there's potential room for an endorsement," Ishmael said.
Powered By
NEXT STORY: Scott Stringer has always been progressive