Campaigns & Elections
Yang says he won't leave for New Paltz if elected
And more coverage of key 2021 races.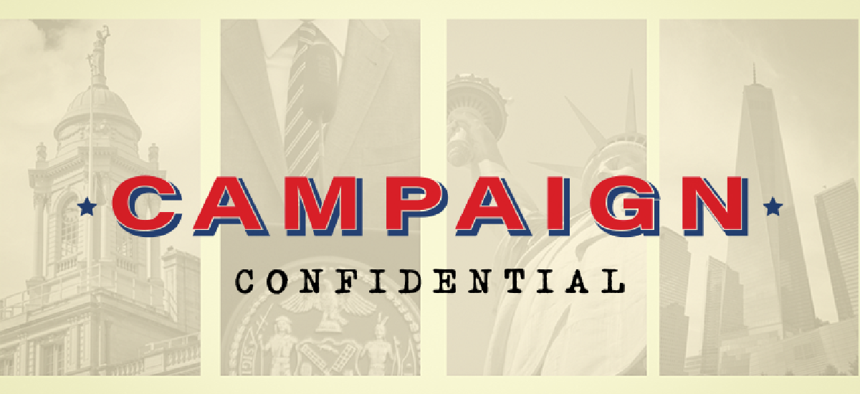 "New Yorkers will be sick of me"
After getting slammed for fleeing the city for his country home in New Paltzduring the pandemic, Andrew Yang warned New Yorkers that they would see him in the city around the clock – at least during his first term – if he's elected mayor. Yang vowed during a debate Thursday night that he wouldn't rely on a taxpayer-funded security detail to drive him and his family upstate. In fact, he said New Yorkers would be seeing him so much they might get sick of him. "I don't expect to leave the city a single day for my first term. I'm going to be here grinding it out because that's what our city requires right now," he said. "Grinding" is an Eric Adams catchphrase at this point, and the subtext was clear, when Adams had just released E-ZPass records showing government cars had driven him to New Jersey six times in the past year – presumably to a second home he owns there with his partner. But Yang was also drawing a contrast with New York City Mayor Bill de Blasio, who came under fire for abandoning New Yorkers to be on the presidential campaign trail in Iowa when more than70,000 New Yorkers lost power for a few hours. "New Yorkers will be sick of me, they'll be like 'Yang go away,' because I'm going to be here all the time trying to solve problems and get our city working again for us and our families," Yang said. Of course, Yang's pledge was more rhetoric than reality. He has already said he'd visit Israel, and his campaign clarified that he would visit Albany and Washington, D.C., on official business.
By the Numbers
"Over 50"
The number of staffers working on Dianne Morales' mayoral campaign who were fired on June 9, according to a spokesperson for the campaign, who said "anyone who was let go this week was engaged in the work stoppage." A campaign source told the Daily News it was 45 people, and the union called it "40+," but the campaign declined to give a specific number, or share the number of people who are still working for the Morales campaign, with early voting starting tomorrow. Morales reportedly had about 100 employees at the campaign's peak, which suggests about 50 are left. But Maya Wiley's mayoral campaign was eager to share that it hired 12 new organizers who had been working for Morales previously, in addition to Ifeoma Ike, a former senior adviser to Morales who decamped to Team Wiley. Morales refused her nascent staff union's demands last week, but a spokesperson said all the fired staffers had been paid through Wednesday, including the two-week work stoppage – and that the New York City Campaign Finance Board had approved it, despite Morales' concerns. A fired staffer said payday is on June 15, so they'll find out for sure then.
Quart brings it in over the limit
Dan Quart's Manhattan district attorney campaign had a lucrative day on Jan. 10, 2020, bringing in $100,200 from private donors, and transferring in another $15,000 from one of Quart's older campaign committees. But he may have to return some of it, like half of the $10,000 donation from LBHD Management LLC, since LLC donations are capped at $5,000. LBHD shares an address with Tao Lu, who donated $35,000 that same day. BCYTL LLC, which gave Quart $5,000 that day, also shares an address with Lu. Neither LLC seemed to file the required paperwork with the state Board of Elections identifying its owners, but both share Lu's home address and list Lu as a registered agent. A call to a number associated with Lu, who has no other history of political donations, was not returned. But if Lu does have an ownership stake in the LLCs, that would seem to put Lu well over the individual contribution limit of about $37,829. "The Quart campaign has always followed all campaign finance rules and regulations," campaign manager Leslie Joy said. "With nearly 1,000 donors totalling millions in campaign contributions from all corners of Manhattan, should there be any donor-caused deficiencies, we will of course work to resolve it thoroughly and swiftly."
The "Wall Street person" and the political scion
Ray McGuire has walked a fine line in his run for New York City mayor, saying he's not just a Wall Street guy. He's someone who was "coming from the bottom to get to this point." But it's hard not to be pigeonholed when your campaign seems to have only drawn interest and donations from the city's elite, as highlighted in the latest entry in City & State's For the Record series on mayoral candidates' professional histories. But if Wall Street is McGuire's domain, then City Hall is Stringer's world, after a five-decade record of political involvement that starts not just with campaigning for his cousin Bella Abzug but with his father, who was counsel to Mayor Abe Beame, and his mother, who was a City Council member. Now if Stringer can't pull off an electoral miracle, he'll be out of office in January for the first time in 29 years.
 
Endorsement Watch
New York City Public Advocate Jumaane Williams endorsed Maya Wiley for mayor … the Uniformed Firefighters Association endorsed Andrew Yang for mayor … state Sen. Gustavo Rivera and Assembly Member Harvey Epstein both rescinded their endorsements of Dianne Morales for mayor following her campaign's labor dispute … The New York Post endorsed Tali Farhadian Weinsten for Manhattan district attorney … U.S. Sen. Bernie Sanders released a slate of endorsements, including Brad Lander for comptroller, Tahanie Aboushi for Manhattan district attorney and Michael Hollingsworth in Council District 35 in Brooklyn … Rep. Alexandria Ocasio-Cortez released a slate of personal endorsements, including Adolfo Abreu in District 14 in the Bronx, Jaslin Kaur in District 23 in Queens and a co-endorsement of Shahana Hanif and Brandon West in District 39 in Brooklyn … Assembly Member Karines Reyes endorsed Vanessa Gibson as her No. 1 selection for Bronx borough president and Nathalia Fernandez as her No. 2 … and Jumaane Williams and state Sen. Leroy Comrie endorsed Al-Hassan Kanu in District 27 in Queens.
Staffing Up
Anthony Hayes has joined Dianne Morales' mayoral campaign as communications consultant … and Laura Manos-Hey has joined Eliza Orlins' Manhattan district attorney campaign as deputy organizer.
Got tips? Email JColtin@CityandStateNY.com or SKashiwagi@CityandStateNY.com or send a DM to @JCColtin or @SydneyKashiwagi
District Data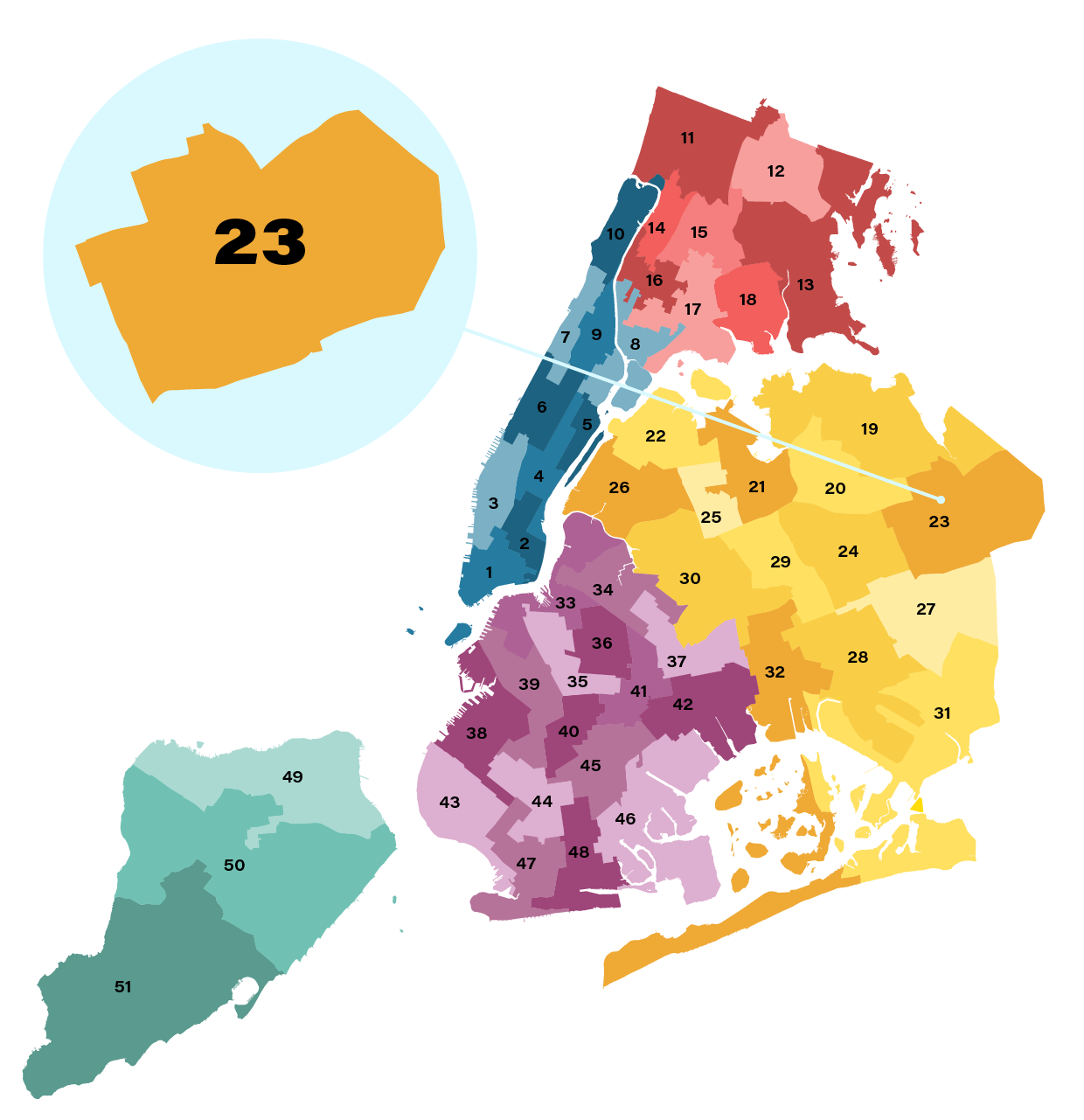 City Council District 23 in eastern Queens covering neighborhoods including Glen Oaks, Queens Village and Floral Park
Current council member: Barry Grodenchik since 2015, who is not running for reelection
2010 census demographics: 36.7% Asian and Pacific Islander, 31.4% white, 13.8% Hispanic, 11.7% Black
Housing: 66.9% owner-occupied, 33.1% renter-occupied
2015 general election results: Grodenchik (Democratic): 55%, Joseph Concannon (Republican, Conservative and Reform): 37.9%, Rebecca Lynch (Working Families): 7%
2017 Democratic primary election results: Grodenchik: 79.2%, Benny Itteera: 20.2%
Who's running: Alex Amoroso, Koshy Thomas, Steve Behar, Sanjeev Kumar Jindal, Jaslin Kaur, Linda Lee, Debra Markell, James Reilly, Harpreet Singh Toor. Council Member Barry Grodenchik decided to retire at the end of his term after admitting to sexually harassing a staffer. He was subsequently stripped of his chairmanship of the Parks and Recreation Committee, which all paved the way for this year's open primary race. The list of nine candidates includes a Grodenchik aide, Steve Behar. Jaslin Kaur has been endorsed by Rep. Alexandria Ocasio-Cortez, U.S. Sen. Bernie Sanders and the New York City Democratic Socialists of America. Nonprofit leader Linda Lee, Harpeet Singh Toor, who is a leader in the Sikh community and ex-City Hall official Debra Markell are also running. A source in the Democratic Party in Queens told Campaign Confidential that the race is between Behar and Lee, noting that Behar has name recognition in the district having worked for Grodenchik and so does Lee through the nonprofit she heads. As for Kaur's big endorsements on the left, the source said they don't think the endorsements will play well in the district. "That's not a Bernie Sanders or an AOC district," the source said. "This is Eastern Queens, it's more moderate. It's got a big Jewish population and so (Kaur) being supported by DSA is a net negative." But DSA's volunteer army has been hitting the district hard, hoping to prove it can win even in more moderate districts.
Twitter Posting
My ranked-choice NYC mayoral ballot:
1. Her
2. If not her, then her
3. Him, I guess
4. That whole mess
5. Ugh, if I have to
6. Who?
7. Not that guy
8. Absolutely not that guy

— Mark Harris (@MarkHarrisNYC) June 10, 2021