Campaigns & Elections
Eric Adams declared winner in New York City mayoral race
Kathryn Garcia failed to catch up in the ranked-choice tallies.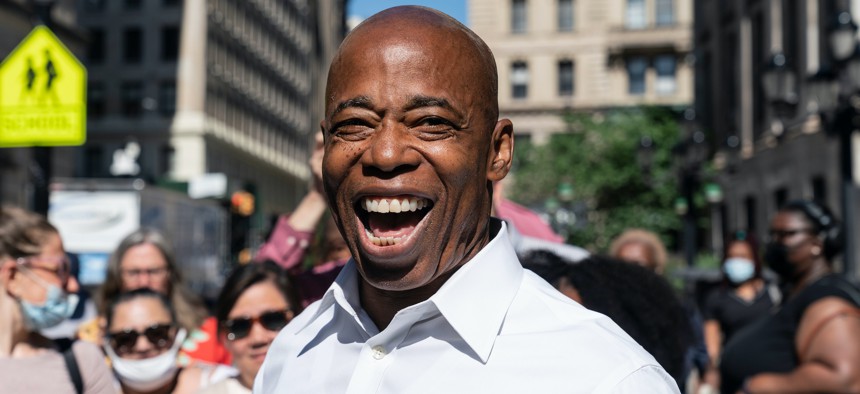 Eric Adams had to wait for it – but two weeks after primary day, the Brooklyn borough president has been declared the winner in the Democratic primary for New York City mayor, and will be all but guaranteed to take office on Jan. 1, 2022. Preliminary results released Tuesday by the New York City Board of Elections showed Adams with a 1 percentage point lead over Kathryn Garcia, the former New York City sanitation commissioner, in the final round of ranked-choice voting. Adams had 403,333 total votes to Garcia's 394,907 – a 8,426 vote difference out of nearly 940,000 ballots cast.
These results are nearly final. They include all the votes cast in-person – both in early voting and on Election Day – as well as 118,085 absentee ballots, mailed in or dropped off by New York City Democrats. There are still 3,699 outstanding absentee ballots that are eligible to be "cured" by July 14, Board of Elections Deputy Executive Director Dawn Sandow said at a regularly scheduled commissioners meeting Tuesday. But not all of those ballots will be fixed and counted, and even if they were, it would not be enough to change the outcome of the mayoral race. Leading candidates in the race, including Adams, Garcia and Maya Wiley, a former counsel to Mayor Bill de Blasio, have filed preemptive lawsuits, preserving their ability to challenge the Board of Elections if they take any issue with the process. It was not immediately clear if any of them would be exercising that right, and if so, what effect it could have on the counting. State law requires a manual recount if the final margin of any race is within one half of 1 percentage point, but Adams has a 1-point lead. Pending any legal challenges, Sandow said the board expected to certify the election on July 14.
But Tuesday's results were enough for The Associated Press, which called the race, and for Adams himself, who finally declared victory.
"While there are still some very small amounts of votes to be counted, the results are clear: an historic, diverse, five-borough coalition led by working-class New Yorkers has led us to victory in the Democratic primary for Mayor of New York City," Adams said in an emailed press release. "Now we must focus on winning in November so that we can deliver on the promise of this great city for those who are struggling, who are underserved, and who are committed to a safe, fair, affordable future for all New Yorkers."
Adams will face Republican Curtis Sliwa, among other third-party candidates in the general election in November. Given Democrats' overwhelming registration advantage in New York City, Adams will be expected to win and to succeed de Blasio, who is term-limited at the end of this year after eight years in office.
Garcia's campaign didn't have much to say Tuesday. "Today, we have the nearly final results for the Democratic primary for mayor," campaign spokesperson Lindsey Green said in a statement texted to City & State. "We are currently seeking additional clarity on the number of outstanding ballots and are committed to supporting the Democratic nominee."
These results came after a difficult couple weeks for the Board of Elections – and a stressful one for anybody waiting on election results. As usual, the board released preliminary election night results on June 22 that showed Adams with a comfortable lead in first-place votes of nearly 10 percentage points. A week later, on June 29, the board published a preliminary tabulation which ranked votes, but not including absentee ballots. But the BOE rescinded those results within hours, saying that some 135,000 dummy test votes had been included in the results in error. The next day, the BOE released the corrected preliminary results, which showed Garcia closing the considerable gap between herself and Adams, trailing him by just 2.2 percentage points, or just 14,755 votes, out of more than 800,000. Tuesday's results showed Garcia shrinking that gap even further – but it wasn't enough to win.
The Board of Elections was harshly criticized by observers, including, on Tuesday, by Wiley, in an emailed statement. "It would be an understatement to express dismay at the BOE's administration of this election," she said. "Today we simply must recommit ourselves to a reformed Board of Elections and build new confidence in how we administer voting in New York City. New York City's voters deserve better, and the BOE must be completely remade following what can only be described as a debacle."
Wiley's campaign did not immediately respond to a request for comment on whether she would pursue a lawsuit. Her statement read, in part, that "We will have more to say about the next steps shortly."
At the BOE meeting earlier on Tuesday, Sandow briefly responded to criticisms of the board's tabulation error last week. "The process we followed was transparent and open," she said. "We were trying to satisfy expectations of quick results with the new way of voting. But we can say with certainty, this issue caused no votes to be lost, no voters disenfranchised, and no incorrect results to be certified."
This was the first major election in New York City utilizing ranked-choice voting, where voters could rank up to five candidates in order of preference. The board has not released data on how many voters utilized the ranking system yet, but uptick seemed to be high. In the final round of ranked-choice calculations, just 139,459 ballots were exhausted, meaning only 15% of voters included neither Adams nor Garcia on their ballot.
With 937,699 votes counted so far, this Democratic primary saw more voters than any mayoral primary since 1989, when massive numbers of New Yorkers helped the man who would become the city's first Black mayor, David Dinkins, unseat the incumbent Ed Koch. Adams, if elected in November, will be its second. The total far exceeds the 692,000 who came out in the late open mayoral primary in 2013, when de Blasio was chosen.
The BOE also released near-final results for other races, including comptroller, where City Council Member Brad Lander declared victory after holding on to his lead over City Council Speaker Corey Johnson. Lander had 51.9% of the vote in the final round of ranked-choice voting to Johnson's 48.1%.
"I promise to work hard every single day to build a city that is more just, more equal, and more prepared for the future," Lander said in an emailed statement. "We ran a campaign rooted in the idea that we can have bold, progressive local government that delivers for its people. This was the most grassroots campaign for Comptroller in NYC history – and I couldn't be more grateful to everyone who was part of it."
Lander, who ran with the support of a progressive coalition including the Working Families Party and Rep. Alexandria Ocasio-Cortez, seemed to be drawing a difference between himself and Adams, who ran with the support of some of the city's more politically moderate power brokers, including the Bronx Democratic Party and labor unions, including District Council 37 and 32BJ SEIU.
With Adams, Lander and New York City Public Advocate Jumaane Williams all but guaranteed to hold on to his seat, all three citywide elected officials next year would hail from Brooklyn.
Powered By
NEXT STORY: Rochester's newly united legislative delegation