Campaign Confidential
Eric Adams had to wait for it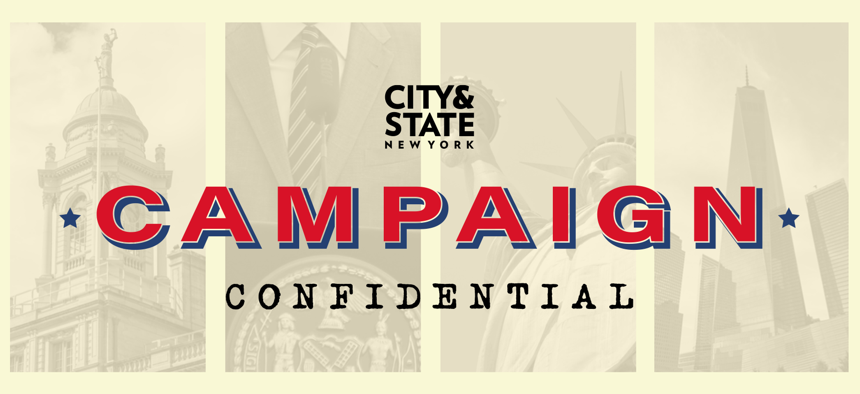 Eric Adams wins NYC's Democratic mayoral primary
Eric Adams had to wait for it – but two weeks after primary day, the Brooklyn borough president has been declared the winner in the Democratic primary for New York City mayor, and will be all but guaranteed to take office on Jan. 1, 2022. Preliminary results released Tuesday night by the New York City Board of Elections showed Adams with a 1 percentage point lead over Kathryn Garcia, the former New York City sanitation commissioner, in the final round of ranked-choice voting. Adams had 403,333 total votes to Garcia's 394,907 – a 8,426 vote difference out of nearly 940,000 ballots cast.
These results came after a difficult couple weeks for the Board of Elections – and a stressful one for any "brunch-goers" waiting on election results. At the board's meeting earlier on Tuesday, Board of Elections Deputy Executive Director Dawn Sandow briefly responded to criticisms of the board's tabulation error last week. "The process we followed was transparent and open," she said. "We were trying to satisfy expectations of quick results with the new way of voting. But we can say with certainty, this issue caused no votes to be lost, no voters disenfranchised, and no incorrect results to be certified."
This was the first major election in New York City utilizing ranked-choice voting, where voters could rank up to five candidates in order of preference. The board has not released data on how many voters utilized the ranking system yet, but uptick seemed to be high. In the final round of ranked-choice calculations, just 139,459 ballots were exhausted, meaning only 15% of voters included neither Adams nor Garcia on their ballot.
Read more on Tuesday's delayed declarations of victory.
By the Numbers
1/63
The number of races – out of 63 primaries held on June 22 – where the candidate who had the lead based on the election night results did not end up winning. That's assuming all of the results released Tuesday hold, but the winners are feeling pretty confident – and it turns out, most of them could have slept soundly for the past two weeks. The one exception: Kristin Richardson Jordan, who trailed City Council Member Bill Perkins by 1.3 percentage points on primary night, and now leads him by just 100 votes. Perkins, 72, has held office more than two decades, but barely campaigned due to his serious health problems, while Jordan, 34, is a poet and democratic socialist who now may be likely to represent District 9 in Harlem. Two other RCV wins are worth a look. Shekar Krishnan led Yi Chen on primary night in District 25 in western Queens, but absentee ballots vaulted Chen into first place among first-choice votes. Once ranked votes were tabulated, Krishnan won. Same story in the Republican primary in District 50 on Staten Island, where David Carr led on primary night, but Marko Kepi surpassed him in first-place votes when absentees were factored in. Ranked-choice ballots put Carr ahead by 2.8 points, but this is a GOP primary, so Kepi is crying "cheating" even as his campaign is being investigated by the DA.
Got tips? Email JColtin@CityandStateNY.com or send a DM to @JCColtin
Speaker race math
Forget the Yankees – what are leading City Council speaker candidates' win-loss records when it comes to their endorsement slates? Based on mostly self-reported lists provided by the candidates, Adrienne Adams went 14-2, Justin Brannan was 20-6, Keith Powers was 18-1 and Carlina Rivera went 17-2. Many of the speaker candidates endorsed the same winners (for example, all four backed Lynn Schulman, who works for the council), but a couple races are worth highlighting. Rivera and Adams backed the winner, Alexa Avilés, in District 38 in Brooklyn, while Brannan endorsed César Zuñiga. Powers endorsed winner Rita Joseph in District 40 in Brooklyn, while Brannan supported Josue Pierre. And Rivera endorsed winning challenger Sandy Nurse in District 37 in Brooklyn, while Brannan endorsed Council Member Darma Diaz. But Brannan didn't only back losers – in the crowded District 27 race, he supported Nantasha Williams who went on to win decisively. Rivera was the only speaker candidate to endorse Tiffany Cabán in District 22, which could make for an interesting dynamic, since sources say the Working Families Party is helping push the Democratic Socialists of America-backed candidate toward a speaker run. Cabán has next to no shot, since her politics are to the left of somewhere from 47 to 50 of the incoming council members, but the speaker race has become a relatively high-profile way for members to put forward their political agenda.
[csny_dfp_ads]
On to the next
The lame duck period is really beginning for the City Council, and term-limited council members are looking for a new place to fly. Council Member Ben Kallos didn't do great boroughwide in his Manhattan BP run, but he dominated his own district, and there are whispers that he'd make a great Assembly candidate. He wouldn't challenge an incumbent, but people think nearby Upper East Side Assembly Member Dan Quart may not run again, after a yearslong district attorney campaign that landed him in last place – and a bruising 2020 reelection campaign against newcomer Cameron Koffman. Reached Tuesday, Koffman said he's not running again, but he doesn't think Quart will either: "And Ben is unbeatable in that area." Kallos declined to comment, and Quart said, "I haven't made any decisions about the future." Who else? People close to Jimmy Van Bramer said he should look at the Assembly, since he carried much of western Queens in his BP bid – especially if Assembly Member Catherine Nolan, who is battling cancer, doesn't run again. Everyone expects Council Member Inez Barron to run for her husband Charles' soon-to-be-vacated Assembly seat. Nobody would be surprised if Fernando Cabrera, who just ran for Bronx BP and abandoned a congressional run before that, tries to run for the state Legislature again. And while Ydanis Rodriguez and Mark Treyger may be in line for jobs in Eric Adams' administration, they also may be weighing options in Albany – especially with Rodriguez's Assembly member, Carmen De La Rosa, set to take his seat.
Ashmi's cash
Contenders to be the next AOC or the next Bowman are popping up everywhere, hoping to take down congressional incumbents in 2022. One interesting candidacy: Ashmi Sheth, the 27-year-old Indian American woman from Hell's Kitchen who's planning to challenge Rep. Jerry Nadler. Sheth was an associate at the Federal Reserve Bank of New York and is running on a progressive platform of generational change. Her campaign shared exclusively with City & State that she raised "over $100,000 from over 500 separate individual donors" in her first quarter of fundraising. That puts Sheth ahead of Ocasio-Cortez's $21,000 first quarter in 2017, about on par with Bowman's $113,000 first quarter in 2019, and way behind Lindsey Boylan's $349,000 haul in 2019. Boylan, of course, only got nearly 22% of the vote against Nadler in last year's primary, and it would take a political miracle for Sheth – or anybody – to unseat the 29-year incumbent, assuming he runs again. Two other candidates have already filed to run, and Boylan declined to comment on whether she would join them. The Upper West Side seat may again be a sideshow to the Upper East Side and whatever thrills Rep. Carolyn Maloney's crowded reelection campaign may hold.
District Data
City Council District 38 in western Brooklyn, covering neighborhoods including Red Hook, Sunset Park and Greenwood Heights
Current council member: Carlos Menchaca since 2014, who is term-limited at the end of this year
2010 census demographics: 43.9% Hispanic, 32.7% Asian and Pacific Islander, 17.2% white, 4.6% Black
Housing: 77.8% renter-occupied, 22.2% owner-occupied
2013 Democratic primary election results: Carlos Menchaca: 58.8%, Sara Gonzalez: 41.2%
2021 Democratic primary election preliminary first-place results: Alexa Avilés: 39.6%, Yu Lin: 25.7%, Rodrigo Camarena: 11.5%, Jacqui Painter: 9.8%, César Zuñiga: 9%, Victor Swinton: 4%
Who ran: Following preliminary ranked-choice voting tabulation, Alexa Avilés won with 65% of the final-round vote, and Yu Lin finished in a distant second with 35%. Avilés, a program director at a nonprofit, was a rare candidate who earned endorsements from both the New York City chapter of the Democratic Socialists of America and major labor unions like the UFT and 1199SEIU. Her victory was never really in doubt, especially after Rep. Nydia Velázquez endorsed her early. And Assembly Member Marcela Mitaynes' victory in the same neighborhoods last year proved a democratic socialist could win there.
Twitter Posting 
Speaker candidates: Be more creative in your congratulatory tweets. Y'all starting to look templated.