Campaigns & Elections
New York City's most surprising primary results
The unexpected winners, from Brad Lander to Vito Fossella.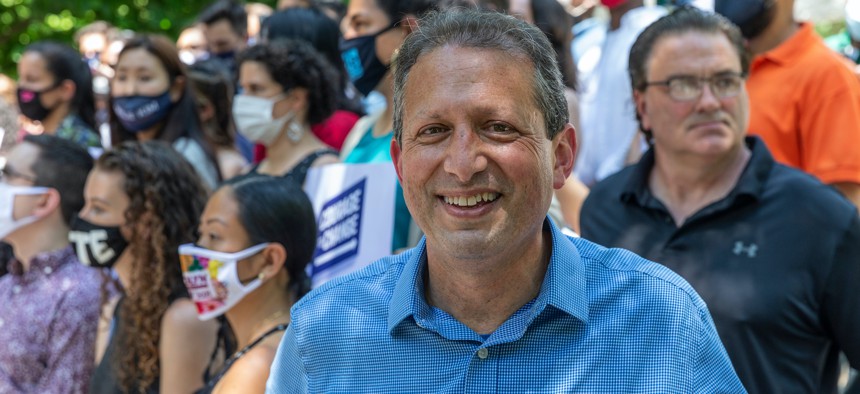 Some results in the June 22 New York City primary elections felt like a foregone conclusion. New York City Public Advocate Jumaane Williams would win reelection easily, and Gale Brewer would be a council member once again. Even in the hard-fought mayoral race, Eric Adams seemed to take control of the race a month or two before the primary and never let go.
But some of the 63 races across the city were much harder to predict, leading to major victories and surprising upsets. Here are some of the city's most eye-popping primary results.
Brad Lander, New York City comptroller
Brad Lander had been plotting a comptroller run for at least three years, but when City Council Speaker Corey Johnson entered the race late, in March 2021, he seemed all but destined to win citywide office on the strength of his name recognition, grassroots fundraising and labor union endorsements. Many of the most trusted pollsters avoided the race, but the polls that were published mostly showed Johnson winning, and City Council Member Brad Lander often far, far behind. While early progressive consolidation never happened in the mayoral race, it certainly did in the comptroller race, and that paid off for Lander, who'd been building a résumé of progressive legislation and relationships with players on the left for more than a decade. While Kathryn Garcia and Maya Wiley battled for votes in Manhattan, northwestern Brooklyn and western Queens in the mayoral race, Lander's advantage in those areas – outside of Johnson's own Chelsea-Hell's Kitchen district and the Central Harlem district of state Sen. Brian Benjamin, another candidate – was total. Preliminary results including absentee ballots showed Lander with 51.9% of the final-round vote to Johnson's 48.1%, and Lander formally declared victory on July 6.
Alvin Bragg, Manhattan district attorney
There was little question that the race to replace the retiring Cy Vance would be focused on progressive change – the question was just how far would Manhattan Democrats be willing to go toward decarceration. Much of the institutional left, including the Working Families Party, backed civil rights lawyer Tahanie Aboushi, while former Assistant U.S. Attorney in the Eastern District of New York Tali Farhadian Weinstein raised more money than the rest of the field combined and picked up key endorsements from moderate Democrats fearful of rising crime. Ideologically, former state Chief Deputy Attorney General Alvin Bragg positioned himself between them. He appealed to voters with his stories of experiencing crime as the only Black man in the race, while not shying away from his prosecutorial experience in the attorney general's office. Preliminary election night results showed Bragg with 33.8% of the vote to Farhadian Weinstein's 30.4%, and she conceded on July 2, seeing no path to victory with absentee ballots.
Antonio Reynoso, Brooklyn borough president
City Council Member Robert Cornegy Jr., a business-friendly candidate from Bedford-Stuyvesant had the backing of much of Brooklyn's political establishment and Assembly Member Jo Anne Simon, a liberal from Boerum Hill with long-standing relationships in gentrified brownstone Brooklyn, also had a strong base. But nobody could deny the energy that Council Member Antonio Reynoso brought to the race, showing off his break dance moves around the borough. Reynoso is one the council's most progressive members and – with support from a coalition from heavy hitters such as Rep. Nydia Velázquez and Public Advocate Jumaane Williams – he won by running up huge margins in neighborhoods that, like his own North Brooklyn district, include large numbers of Latino voters and young progressives, from Bushwick down to Sunset Park. Preliminary results including absentee ballots showed Reynoso winning 54.8% of the votes in the final round, to Simon's 45.2%. The Dominican American Reynoso will be the first Hispanic borough president in Brooklyn.
Vito Fossella, Republican for Staten Island borough president
An endorsement from former President Donald Trump was the key for former Rep. Vito Fossella, who had 50.8% of the final-round vote according to preliminary results including absentee ballots, while City Council Member Steven Matteo had 49.2%. Matteo was the county organization's pick, and seemed to be cruising to victory in the Republican primary, since Fossella was barely campaigning until last month. Fossella was well known, having served 11 years in Congress before declining to run for reelection in 2008 after a drunken driving arrest revealed he had a second family living in Virginia. A last-second endorsement from Trump, who is enormously popular among Republicans in the most conservative borough, may have been enough to push Fossella over Matteo in the tight race. Now Fossella will face Democrat Mark Murphy in the general election.
Christopher Marte, City Council District 1, Manhattan
Christopher Marte, a political organizer, fell just 222 votes short of unseating incumbent City Council Member Margaret Chin in 2017. But with Chin term-limited out, longtime Chinese American advocate and City Council staffer Jenny Low seemed to be getting all the attention and support in the race to replace her, picking up endorsements from Velázquez, Assembly Member Yuh-Line Niou and just about every major labor union. But Marte, who is Latino, built bridges with Asian American and white voters by partnering with politically engaged constituencies to oppose certain real estate developments, and it paid off. He won almost every precinct in the district, and topped Low in the final round of ranked-choice instant runoff, 60.5% to 39.5%.
Kristin Richardson Jordan, City Council District 9, Manhattan
City Council Member Bill Perkins was running for reelection after four years on the council, 11 years in the state Senate and eight before that in the City Council, all representing Central Harlem. So even though he barely campaigned at all, and even though he's dealing with health issues including alleged cognitive decline, many Harlemites thought he would win. And if Perkins didn't top the crowded field of 13 candidates, then insiders thought it would be an older candidate from the traditional power structures – like Cordell Cleare, Perkins' former chief of staff, or Athena Moore, who runs the Manhattan borough president's uptown office. Richardson Jordan, a poet, teacher and democratic socialist, proved them all wrong, and it looks likely she'll hold on to her narrow 100-vote lead over Perkins in the final round, according to preliminary results including absentee ballots. Richardson Jordan had 50.3% of the vote to Perkins' 49.7%. Perkins actually had 525 more first-place votes than Richardson Jordan, but this was one of the rare races where lower-ranked votes helped a trailing candidate into the lead. Richardson Jordan, who is 34 and queer, ran on the most progressive platform in the race, including prison abolition. She also raised the most money and ran an early, aggressive campaign as one of the first candidates to announce.
Julie Won, City Council District 26, Queens
This race was the most crowded in the city, with 15 Democrats competing to succeed Council Member Jimmy Van Bramer in western Queens. Many had their eyes on Amit Bagga, a political operative who'd held many positions in the de Blasio administration. He had support from Van Bramer, the Working Families Party and major unions including the janitors' union 32BJ SEIU. But in the end it was Julie Won, a business consultant with IBM with far fewer endorsements who pulled it off, winning 56.7% of the vote in the final round of ranked-choice voting, according to preliminary results including absentee ballots, to Bagga's 43.3%. Won didn't work directly in politics or government, but volunteered her time in the district and brought her personal story as a Korean immigrant to a district with a large Asian American population.
Crystal Hudson, City Council District 35, Brooklyn 
Candidates endorsed by the New York City Democratic Socialists of America won 2020 primaries for Assembly and state Senate in districts that shared a lot of territory with this district, which includes Fort Greene, Prospect Heights and part of Crown Heights. Now the DSA was trying again, supporting graphic designer and tenant organizer Michael Hollingsworth for office. Crystal Hudson, a political operative who had worked for Public Advocate Jumaane Williams and the current local Council Member, Laurie Cumbo, garnered support from influential elected officials, including Reps. Hakeem Jeffries and Yvette Clarke. Hudson, who will be the first gay Black woman in the council, also got outside financial support from labor-backed independent expenditure committees that supported her and real estate-backed committees that opposed Hollingsworth. The race became heated around issues like development and gentrification, with Hollingsworth pitching a socialist vision and Hudson running on a big tent, progressive platform. In the end, preliminary results including absentee ballots showed Hudson with 54% of the final-round vote, to Hollingsworth's 46%. 
Chi Ossé, City Council District 36, Brooklyn
Chi Ossé, the 23-year-old Black Lives Matter activist, said that as recently as last year, he didn't even know who represented him in the City Council in the seat from Bedford-Stuyvesant and Crown Heights. That's not something you could say about his opponents Henry Butler, the local community board district manager who had previously run for the council and leads an influential political club, or Tahirah Moore, a longtime political operative who worked in de Blasio's City Hall. Butler picked up endorsements from labor unions, but it was Ossé who earned 56.9% of the vote to Butler's 43.1% in the final round, according to preliminary results including absentee ballots. The influx of progressive young professionals to the district may have helped bolster the queer, Haitian American Ossé's stylish campaign and progressive politics.
Darlene Mealy, City Council District 41, Brooklyn
Darlene Mealy had represented this Central Brooklyn district including parts of Bedford-Stuyvesant and Brownsville for 12 years, from 2006 through 2017, and she had been a district leader since then. But for the past four years, the district had been represented by Alicka Ampry-Samuel, a well-connected council member who had earned so much respect in the body that she was considered to be among the top candidates for City Council speaker in 2022. Just 11 days before the primary, Mealy reported spending merely $1,260, suggesting that she wasn't taking this comeback attempt seriously. But Mealy seemed to spend big in the final days after unlocking public matching funds, and preliminary results including absentee ballots showed a comfortable victory in the two-person race. Mealy had 57.3% to Ampry-Samuel's 42.1%. Ampry-Samuel – and most political observers, who didn't consider Mealy to be a serious candidate after her uninspiring tenure in the council – seemed to be taken by surprise.
Powered By
NEXT STORY: What do NYC district attorneys do?