Campaign Confidential
Which endorsements really mattered?
And more coverage of key 2021 races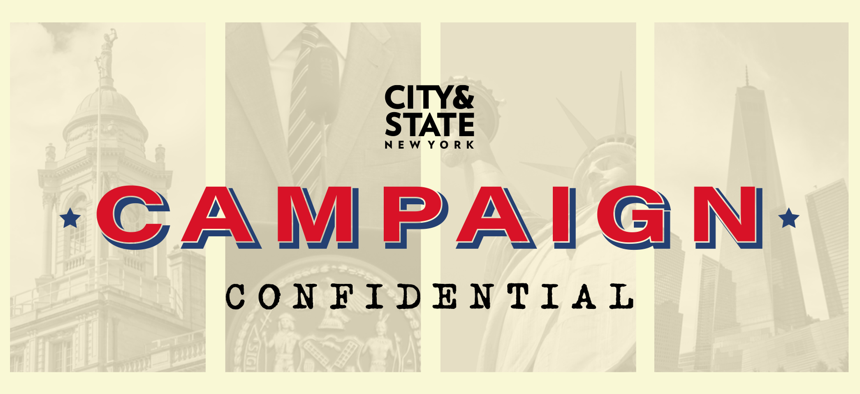 Not just a name on a list
There's a saying, often attributed to President John F. Kennedy, that victory has a hundred fathers and defeat is an orphan. So while the results were still being tabulated in the 2021 New York City primaries, many of the countless unions, organizations and public figures who endorsed candidates were clamoring for credit for wins – or at least a shoutout during the victory speech. While many endorsers just end up being a name on a list, some of them are indisputable game-changers. Here are a few of them from the primaries, from the Post and the Times to Trump and Espaillat.
By the Numbers
29
The number of women expected to be on the New York City Council next year – pending a few potentially competitive general elections. More than a dozen of them were outside City Hall on Tuesday morning, celebrating with 21 in '21 and other organizations that supported female candidates. Twenty-two candidates endorsed by 21 in '21 actually won their races and 17 lost – and one is still unresolved with Democrat Olivia Drabczyk running a long shot campaign against Republican Joseph Borelli on Staten Island. With a 57% female City Council, the conversation quickly turned to the council speaker race. "Does the next speaker have to be a woman?" a reporter asked. "Yes!" a chorus of voices shouted back. "All the citywides are (expected to be) men," former Council Speaker Melissa Mark-Viverito said, so we need a woman as speaker. It's early in the race, but Council Members Carlina Rivera and Adrienne Adams are considered contenders, and Gale Brewer and Tiffany Cabán's names have been in the mix too. Brewer and Rivera were both at the presser, but it was only Rivera who stayed nearly an hour after the event finished, schmoozing with future colleagues.
Is somebody out to get Farah Louis?
New York City Council Member Farah Louis and her political mentor, Assembly Member Rodneyse Bichotte Hermelyn, think the June 28 car crash that sent Louis to the hospital could have been a violent, politically motivated hit. "The FBI is investigating. There have been some talks that some people were trying to target her and kill her," Bichotte Hermelyn told City & State on Tuesday. Louis herself wasn't sure about the FBI, just saying there are "additional authorities involved" beyond the NYPD, but said her primary election, which she won with more than 75% of the vote, was "the scariest and most tumultuous six months of my life." Both Louis and opponent Anthony Beckford have accused each other of political harassment, and Louis said that her car got keyed, but she never went to the police because if she did, "We would be labeled 'Black Karens.'" Beckford called the implication that he had anything to do with the crash "delusional and crazy." "I highly doubt that anyone set up a 'political hit' on her. She has no importance for any agency, group or person to do that. … Sounds like something Trump would come up with." The FBI's New York office did not respond to a request for comment, and the NYPD said that the "investigation is ongoing by the NYPD Collision Investigation Squad." Louis has recovered and is making public appearances, and urged patience since "there's a lot that I can't share due to the investigation." As for the crash, "I can't say that it was motivated by anything else, I don't know. I know that this is the speculation from the community."
An unbelievable comeback?
Yi Andy Chen's absentee ballot operation was incredible. Was it too good to be true? Two political consultants who work in Queens tell City & State that a formal complaint has been filed with the district attorney regarding Chen's campaign for City Council District 25 in western Queens. "The DA is currently or about to investigate for a ballot harvesting operation," one said. Chen's district had nearly 14,000 absentee ballots requested, more than any other district in the city, and more than double any other district in Queens. Instead of being mailed, many absentee ballots were picked up in person by the same people. And the absentees overwhelmingly favored Chen. He trailed Shekar Krishnan by 13 percentage points based on preliminary, in-person votes. But with absentees factored in, Chen led Krishnan by 0.6 points in first-place votes – though Krishnan won handily when ranked votes were factored in and is expected to win. Chen's campaign manager Kenneth Chiu denied any knowledge of a complaint or an investigation. Regarding the absentees, Chiu said, "We did everything by the book." The campaign targeted voters with Chinese names with mailers, social media, texts and calls that informed them about absentee ballot applications. Chiu said they didn't request ballots on voters' behalf, and "the (absentee) number, when it popped up, I was surprised too." The Queens District Attorney's office declined to comment and the BOE – which is dealing with an absentee ballot investigation regarding Marko Kepi, a candidate in District 50 on Staten Island – did not respond to a request for comment.
Fool me once …
We were this close to having the famed Jimmy McMillan running for mayor on the Rent is 2 Damn High line. But he fell 460 signatures short. Paperboy Love Prince also failed to make the Love ballot line for mayor and Theo Chino – who is not a Black woman – will not be running for public advocate on the Black Women Lead line, even though he tried. So who will be on the November ballot? In retrospect, Bloombergian speculation that Ray McGuire could mount an independent run in the general election seems a bit silly, and it now looks clear that no other Democrats will be challenging Eric Adams. However, Republican mayoral primary loser Fernando Mateo will be running on the Save our City line. In the Staten Island borough president race, Leticia Remauro has the Conservative Party line and isn't deferring yet to apparent Republican nominee Vito Fossella, even if she finished a distant third in the primary. And Michelle Caruso-Cabrera is keeping hope alive in the comptroller race, telling City & State that running as a conservative foil to Democratic comptroller primary winner Brad Lander is "an interesting idea" and "we'll see." Problem is, it's too late to get on the ballot, unless you can convince a party to give you their line through a Working Families Party-style switcheroo. Speaking of which, Maya Wiley told The City she wouldn't accept the WFP line if offered, and party officers will be meeting in the coming weeks to decide what to do with the ballot line – currently occupied by WFP placeholder Deborah Axt. But no need for a deal with the devil this year. Parties only need to hit a threshold to maintain automatic ballot access on even-numbered years.
District Data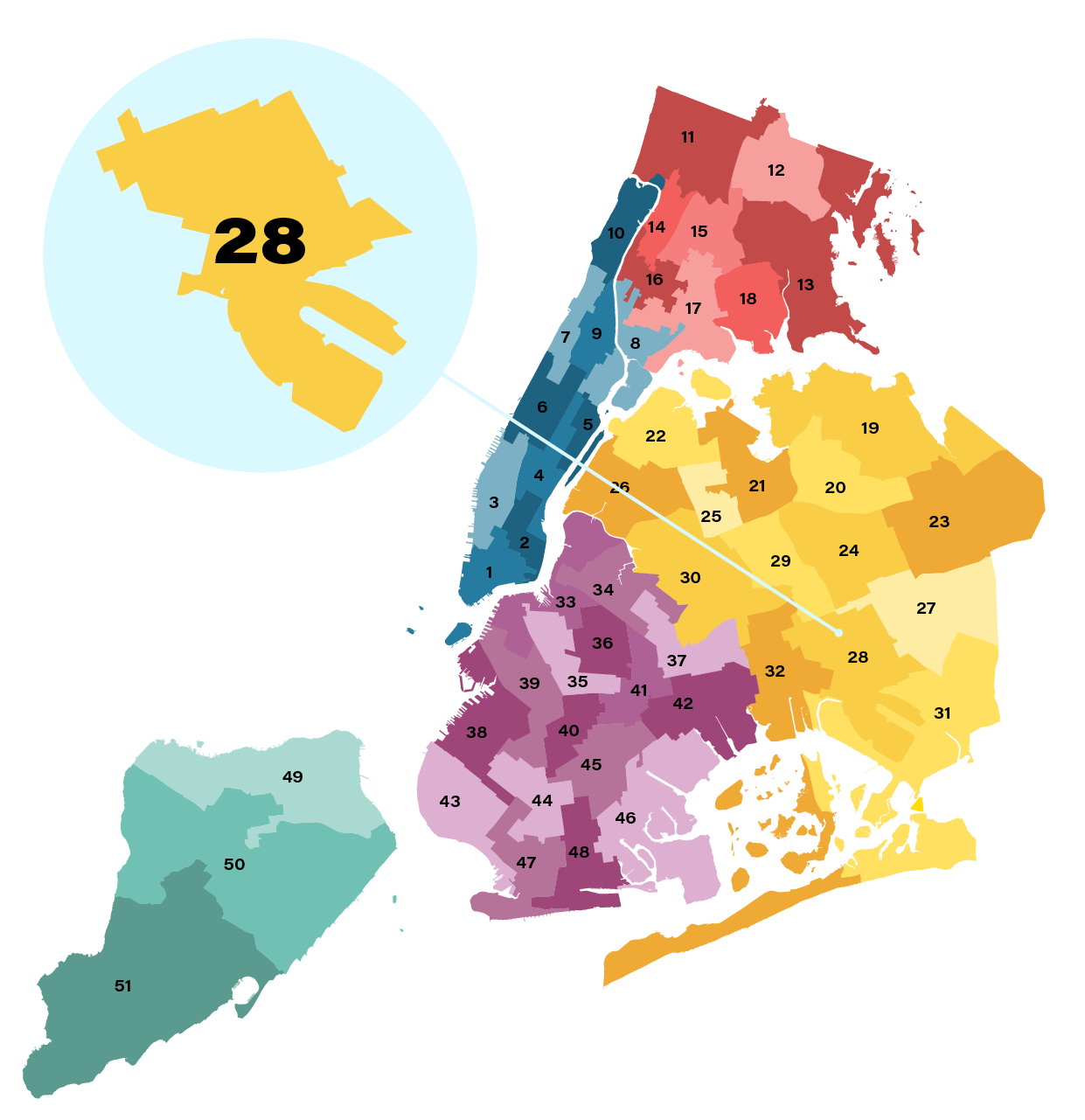 City Council District 28 in Southeast Queens, covering neighborhoods including Jamaica, Richmond Hill and South Ozone Park
Current council member: Adrienne Adams, since 2017, who is running for reelection
2010 census demographics: 48.4% Black, 19.2% Hispanic, 15.6% Asian, 3.3% white
Housing: 52.3% renter-occupied, 47.7% owner-occupied
2017 Democratic primary election results: Adams: 39.2%, Richard David: 31.6%, Hettie Powell: 29%
2021 preliminary Democratic primary election results: Adams: 53.4%, Japneet Singh: 24.1%, Ruben Wills: 22.1%
Who ran: In the end, the incumbent Adams won easily. But she had the misfortune of being a City Council speaker candidate with a relatively serious primary challenge – which may help explain why she was less active in campaigning with other council candidates than her fellow potential speaker opponents, like Justin Brannan or Carlina Rivera. Japneet Singh had an impressive showing for someone who reported raising less than $19,000, but the more notable opponent was Ruben Wills, who represented the district in the City Council from 2010 until 2017 – when he was automatically removed from office after his conviction for stealing more than $30,000 in public funds. After Wills served two years in prison, his conviction was overturned because he wasn't allowed to present evidence from witnesses of his choosing in the 2017 trial. Still, his reputation apparently took a hit – he was the only former council member who failed to win his comeback bid this year out of six candidates in the primary.
Twitter Posting 
Powered By
NEXT STORY: NYC Council approves $4 million for AAPI organizations