Politics
New York welcomes its first female governor
Political observers hope that Kathy Hochul will bring needed change to Albany in her historic role.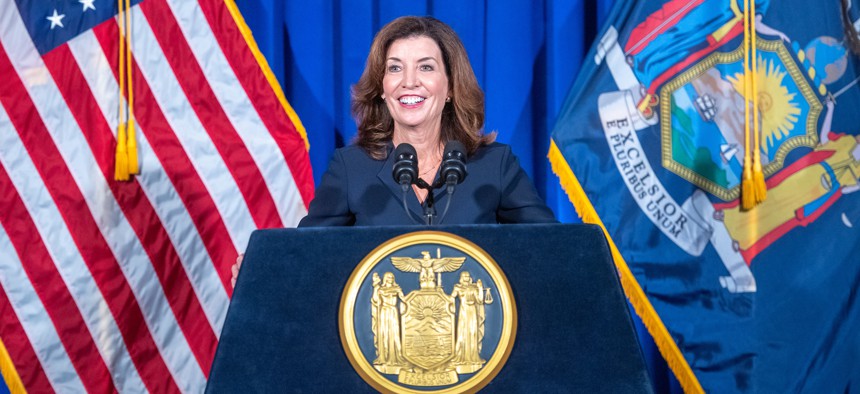 At 12:01 a.m. Tuesday morning, Gov. Kathy Hochul became the first woman in history to lead the state of New York. Her swearing in represents the latest in a series of recent firsts for women as they fill more political leadership roles around the state.
Hochul is the 57th person to lead the state since New York's first governor George Clinton took office in 1777. Over those 244 years, the only break from the long list of white men to hold the office came in 2008, when David Paterson became the state's first Black governor. Like Hochul, he ascended when former Gov. Eliot Spitzer resigned amid a prostitution scandal. The same could be said for state Attorney General Letitia James, the first woman and first Black person to serve in that role, after she won the election to replace disgraced former Attorney General Eric Schneiderman, who stepped down amid allegations of assault. Now, scandal has led to yet another historic first when Hochul was sworn in. "I think it's a really big deal," said Amelia Adams, a New York City political consultant and executive board chair of the 21 in '21 initiative to get more women elected to the City Council. "We have to pause and take it in."
That the alleged bad acting of men led to women holding two out of the three statewide positions could be described by some as poetic justice. And for the first time, the traditional "three men in a room" is now closer to being "three women in a room," with state Senate Majority Leader Andrea Stewart-Cousins' historic leadership as the first woman to lead her chamber. Now more than ever, women are represented at the highest levels of government in New York, even if it sometimes took a roundabout way to get there. "It wasn't a traditional method," Adams said. "It's because a guy … really f-ed up, and that's how a woman was able to come into power."
For Hochul, that means following Gov. Andrew Cuomo, who stepped down amid multiple allegations of sexual harassment and inappropriate touching. She has pledged to change the culture of Albany, long a male-dominated breeding ground for corruption, harassment and bad actors where governors are especially powerful compared to other states. The stage is set for Hochul to institute structural change, if she chooses. "Women lead differently, they are more likely to seek consensus," said political strategist L. Joy Williams, who has worked to help elect Black women across the country. "(Hochul) seems to fit that same narrative that we say about women who lead differently." Although Cuomo's resignation, along with pressing concerns like COVID-19 and rent relief, has been driving the news cycle, Williams said she hoped people will find some time to "highlight and celebrate and look forward to having a woman lead the state."
Coming in as the first female governor, especially taking charge after Cuomo's many ethical scandals, Hochul will face some unique pressures and critiques that her male predecessors likely never encountered. "And that will certainly have a gendered tone to it because of the fact that, A, she's a woman," said Erica Vladimer, a former state Senate staffer and advocate for gender and workplace protections. "But also because of who she's following – Gov. Cuomo really set himself up as this macho man." Vladimer said that while Hochul's gender will not determine whether she will be a good or bad governor, culturally there are "two different rubrics of success" depending on gender. Assembly Member Yuh-Line Niou, at a recent City & State event, warned that people were setting Hochul up for failure if they expect the new governor to fix all of Albany's deep-seated problems.
Despite her historic role and the potential for change, observers cautioned against diminishing Hochul to her identity as a woman. "After a pandemic that's decimated New Yorkers, and leadership in the Executive Chamber that put optics over results, we'll be doing a disservice to ourselves and to Hochul if we only focus on her gender," said Rebecca Katz, a political consultant who served as a senior adviser to Cynthia Nixon during her 2018 run for governor. And allies are confident that she will be remembered for much more than her groundbreaking status. "I think her legacy is not going to be just the fact that she is the first woman to ever be governor in a state that's well over 200 years old," Assembly Majority Leader Crystal Peoples-Stokes, a fellow Western New Yorker, said in a recent interview. "But she's going to leave with a reputation of someone who gets things done in the interest of women, children and families."
Still, Hochul has joined what is still a fairly exclusive club of female governors in U.S. history. Currently, just nine out of 50 states (including New York) are led by women. Of those, four are the first women to lead their states. But times are changing quickly as more women like Hochul – as well as James and Stewart-Cousins – break those glass ceilings at the state level. As more women take on higher office, some hope it will change the conversation around issues that impact them. "I hope that this will lead to more of a public pressure for all of our leaders to come to the table and recognize that gender equity and workplace protections … it's not a secondary issue to anything else," Vladimer said. "It cannot be something that we choose to forgo if we truly want to fight for New Yorkers."
– With reporting by Zach Williams