Politics
What will Cuomo do in the next two weeks?
His critics are nervous he might do something nefarious. Or it could be a boring final fortnight for the governor.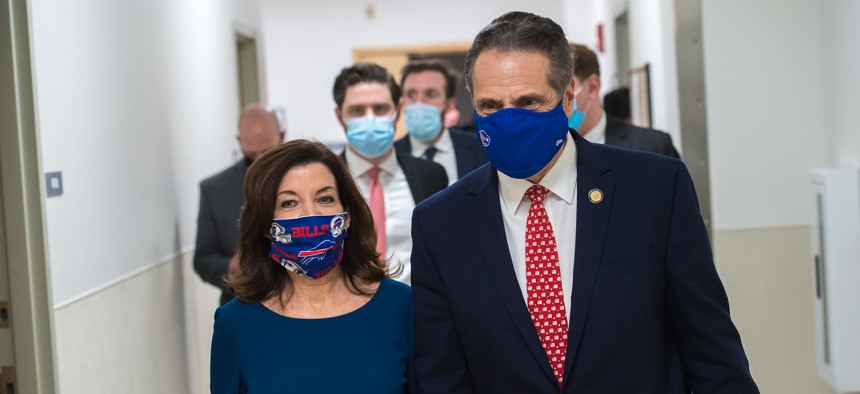 Gov. Andrew Cuomo is stepping down, but he's taking his time doing it. "My resignation will be effective in 14 days," he said on Tuesday, leaving New Yorkers to wonder what he will do – and what he could do, between now and Aug. 24, when Lt. Gov. Kathy Hochul is expected to become governor.
"This is a governor who is well known for retribution. And in most cases of resignation, there is a sigh of relief. And the eagerness to turn the page. But Andrew Cuomo is a different kind of politician," state Sen. Brad Hoylman, a Manhattan Democrat, told City & State. "They say a week is a very long time in politics. Double that and you've got the current situation."
It was a sentiment shared among many New York Democrats who, though hard-pressed to name what specific mischief Cuomo could get up to in the next two weeks, were nevertheless nervous.
"I hope there's nothing nefarious about the 14 days, but it strikes me as too long a period," former U.S. Attorney for the Southern District of New York Preet Bharara, who'd been a thorn in the side of New York politicians during his time in office, including Cuomo, said in a statement emailed to reporters. "You don't have to give two weeks notice to resign as governor."
But that's exactly what Cuomo did, adding an extra 14 days to the 3,874 days he has already spent as governor. And with that job comes expansive powers over the state in regard to appointing top officials, enacting legislation and spending the state's billions. However, the state attorney general's report that found Cuomo sexually harassed multiple women and lorded over a toxic workplace has badly wounded the governor, leaving him a lame duck in the truest sense.
Bharara couched his statement, admitting it "may be overly cynical." After all, some former allies and political foes alike are expecting Cuomo to avoid making more controversy when he already has so many other scandals swirling. But there's also an understanding that Cuomo, with his reputation as a master of the levers of government, may have a trick or two up his sleeve.
"I think much like Richard Nixon, Andrew Cuomo understands that this is all about his place in history, and he's very conscious of his place in history," said Peter Kauffman, a political strategist who consulted on Cuomo's 2010 and 2014 campaigns. The governor clearly wants to be seen as a good person who is stepping aside for the good of the people, so he'll likely be "ensuring a smooth, work-focused transition to try to salvage some good will for the future," Kauffman said. "But also, be on your toes for some subterfuge."
Cuomo has a hard-earned reputation for bending the political world to his will, from supporting the formation of the Independent Democratic Conference in the state Senate to directing the shifting of millions of dollars from the Metropolitan Transportation Authority to struggling upstate ski resorts. So longtime Cuomo critics are keeping an eye out now that Cuomo has nothing left to lose. "I think there's a lot of giveaways he could still use his position as the governor to do," said Jonathan Westin of New York Communities for Change, who pointed to the way that Cuomo gave a $115 million rent relief program contract to a company that employs a former adviser. "There's a lot of contracts he could give away … you see that when he wants to build a bridge, he builds a bridge. There's a lot he could do in two weeks."
Westin is more focused on the harm that he believes Cuomo could do in his remaining two weeks, rather than the good. Just about two hours after Cuomo announced his pending resignation, New York Communities for Change shared a petition calling on "Governor Kathy Hochul" to extend the state's eviction moratorium to June 2022. Why not focus on Cuomo? "If he decides in his fall from grace that he wants to do something good for tenants, more power to him," Westin said. "But I don't think it's going to change his reputation." State Sen. Julia Salazar, another progressive and Cuomo critic, is also moving on from Cuomo and doesn't expect much out of Cuomo in the transition period. "I would be surprised if he does anything, frankly, interesting in the next two weeks," she said, guessing that he'll be too occupied with "whatever internally a transition might entail." Still, she's got some ideas of some "interesting" things he could do. Presidents and governors often go on clemency binges as their time in office wanes, pardoning or commuting sentences only after the potential political pushback can be muted. Cuomo's former senior aide Joe Percoco and development czar Alain Kaloyeros were both convicted in federal court, not state court, so there's nothing Cuomo can do as governor. But Cuomo has been far more conservative in granting clemency petitions than advocates for the incarcerated had hoped, and Salazar thinks now would be a great time to change that – but she's not holding her breath. "I don't know that he'll actually be doing that. It's probably not high on his priority list over the next couple weeks, but I hope I'm wrong."
One thing that might be taking up his time instead? Impeachment. Many state legislators had used it as a threat, telling Cuomo to resign or be impeached, but Salazar thinks the process will keep moving forward. The Assembly Judiciary Committee, which is handling impeachment, had previously given Cuomo until Aug. 13 to submit evidence in his defense. "There's a complete understanding that there's nothing precluding us from impeaching a governor after he resigns," she said. "I feel strongly that if the Assembly votes to impeach, which they only need a simple majority to do, that an impeachment trial would really reveal a lot and be the only opportunity to hold the governor accountable under the law."
An impeached governor would not be able to run for statewide office again, and even the threat of impeachment may keep Cuomo from closing deals or making appointments in his waning days in office.
Of course, Cuomo may be busy receiving legal advice in the next two weeks as well. Beyond impeachment, the governor is facing investigations from local district attorneys and at least two other probes. Two of the law firms hired to represent Cuomo and his office during the attorney general's investigation are reportedly being paid by the state, and he may lose their representation when he leaves office. A third firm, Glavin PLLC, is being paid by Cuomo's campaign committee. A request for comment from the governor's office was not returned on Tuesday.
Speculation will likely continue until Cuomo's last day in office. He's a larger-than-life figure in New York politics who's power can hardly be overstated. And even now, in his weakened state, with 11 corroborated allegations of sexual harassment hanging over him, he still has the office. "The bottom line is, he's still governor," said Henry Berger, a longtime election lawyer and former adviser to New York City Mayor Bill de Blasio. "He can do anything he wants."
New York has faced this transition period before, though on a tighter timeline. After it was revealed he was a client of a prostitution ring, Gov. Eliot Spitzer announced his resignation on March 12, 2008, effective five days later, on March 17. News reports from the time don't suggest that Spitzer did anything particularly notable in his final days. Spitzer declined to comment, and a number of members of his inner circle could not be immediately reached on Tuesday.
But Cuomo once agitated for an elected official accused of sexual harassment to resign as soon as possible. Assembly Member Vito Lopez gave himself five weeks before resigning in 2013 – enough time to finish out the legislative session. "Vito Lopez should not spend another day in office, let alone a whole month," the Daily News reported Cuomo saying in a statement at the time. "He should resign effective immediately and if he does not, he must be expelled."
Under pressure, Lopez relented. He resigned within four days.