New York State
Who will Hochul pick as lieutenant governor?
She's eyeing a downstate ally, but there are several interesting options.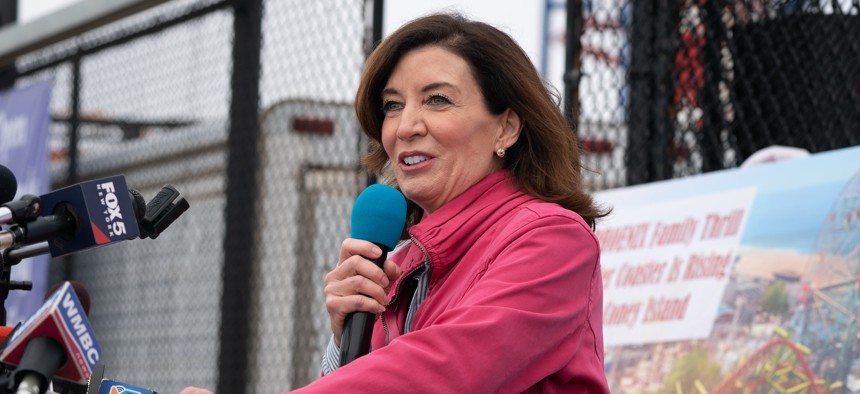 Lt. Gov. Kathy Hochul is promising to make some big changes at the state Capitol after she officially becomes governor next week. A diplomatic approach with state lawmakers will not be simple window dressing, according to Hochul. Her door will be open to local officials like New York City Mayor Bill de Blasio. There might even be space on the Second Floor for her replacement as lieutenant governor to become a real partner in power.
"I love the model of Kamala Harris and Joe Biden," she told The Buffalo News on Aug. 11. "I want to continue the model of giving a broad portfolio to a lieutenant governor (and) I'm also looking for someone to be in the room, someone that I trust, and has good instincts, but also someone that I enjoy being with."
The conventional wisdom is that Hochul will pick someone from New York City who is Black or Latino to shore up her political position downstate as she gets ready to run for a full term next year. But all we know so far is that she has said diversity is important and that she has narrowed her search to New York City. A number of current city and state officials appear to be in the running, but a Hochul spokesperson told City & State on Monday morning that there is no shortlist yet.
Joining her administration offers the future lieutenant governor a chance to build their political profile at the statewide level, but Hochul may face tough odds to win the 2022 Democratic primary against potential candidates like state Attorney General Letitia James and others. "I don't think anybody wants it," one downstate Democratic legislator told City & State. "She's likely a caretaker governor (and) she is going to have a hard time."
Still, somebody has to fill her shoes. Here is a rundown of the current officials she might ask – and why they might say yes.
State Sen. Jamaal Bailey
The Bronx Democratic Party chair has been mentioned as a potential candidate who could bring a lot to a Hochul administration. He has deep ties to Assembly Speaker Carl Heastie and state Senate Majority Leader Andrea Stewart-Cousins, which could help Hochul on the legislative front. His work on criminal justice reforms in the Legislature could also strengthen her ties to the political left. Giving up a safe seat in the state Senate, however, could prove to be too much of a risky move for a three-term 30-something legislator who already has a pretty good thing going on.
State Sen. Brian Benjamin
An unsuccessful run for New York City comptroller highlights how the Harlem Democrat is looking for something new in his third term in office. An endorsement by former Rep. Charlie Rangel underscored how picking Benjamin might help Hochul build new bridges with Black New Yorkers. These could be two reasons why Hochul is reportedly vetting Benjamin for the job. She and him can even bond over all the time they have both spent presiding over proceedings in the state Senate. A new gig as lieutenant governor might just satisfy his political wanderlust while still keeping him in familiar surroundings.
Bronx Borough President Ruben Diaz Jr.
A former New York City mayoral hopeful, Diaz Jr. would provide a Hochul administration with a wealth of experience as well as contacts throughout the city's political establishment and Black and Latino communities. That could make him attractive for Hochul, but like with other candidates, it remains to be seen whether Diaz Jr. would actually want the job. He said months ago that he was looking forward to spending more time with his family once his term ended at the end of this year. Whether or not that means he is done with politics, it could serve as the perfect excuse to let Hochul down gently if she ever asked him to join her administration.
State Sen. Alessandra Biaggi
Adding Biaggi, who chairs the state Senate Ethics Committee, to the administration would give Hochul additional credibility on vows to end sexual harassment in the governor's office. Biaggi could also help Hochul win political leftists who might be otherwise concerned about her moderate record in Congress and as Erie County clerk. Biaggi notably declined to say recently whether she is interested in the job. It would help her get a step above fellow millennial up-and-comers in state politics, but if Hochul asks, Biaggi might decide it's better to go at it alone next year and run for governor than tying her political fortunes to Hochul.
New York City Public Advocate Jumaane Williams
His 2018 lieutenant governor primary challenge probably did not endear the outspoken Brooklynite to Hochul. He also appears more interested in ousting her next year than helping her win a full term in office. Still, he obviously thinks he would be good at the job. Forgiving Williams and allowing him to make good on shifting the lieutenant governor position into more of a state-level public advocate is one way for Hochul to shake things up in Albany – however, unlikely it is that she would appoint a political rival like Williams.
Assembly Member Ron Kim
Few choices would allow Hochul to show her independence from Cuomo more than selecting one of his top critics as her replacement. Kim offers some chances to build a few bridges to the progressive left and Asian American communities. While he is undoubtedly interested in the job, he does not appear to be anyone's ribbon-cutting good soldier. "I'm open and exploring all options," he told City & State in a text message. "It's clear this state needs an independent elected who's willing to keep the governor accountable. It's clear the current LG failed to do that." So it's possible Hochul might pass on him, especially given his 2018 endorsement of Williams.
Assembly Member Rodneyse Bichotte Hermelyn
There are few reasons why Hochul could pick the Brooklyn lawmaker. Her advocacy and personal experiences with issues like child sexual abuse and minority- and women-owned businesses reflects a similar brand of feminist politics as Hochul, who has promised to make staffer safety a top priority. Bichotte Hermelyn is the head of the Democratic Party in James' home turf, and it could help Hochul make some inroads into crucial voting blocks like the West Indian and Jewish communities that Bichotte Hermelyn has courted during her four terms in office. Plus, she might actually want the job, as evidenced by an anonymous legislator floating her name in the media. "It's something she might be open to considering," a spokesperson for Bichotte Hermelyn said Monday morning.
Powered By
NEXT STORY: Five years and a transformed New York