New York State
Backlash grows over Hochul DFS nominee
Some progressives say Adrienne Harris is too cozy with the industries she would oversee as superintendent of the Department of Financial Services.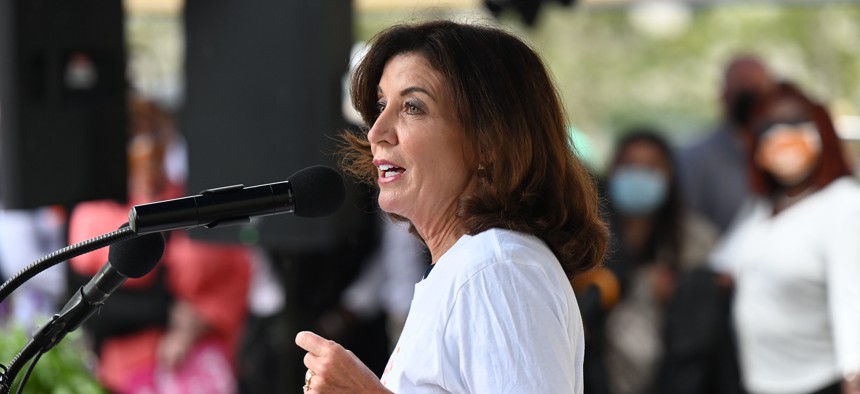 Adrienne Harris has worked for President Barack Obama and served as a top staffer at the U.S. Department of Treasury. She is also a bonafide expert on financial technology and regulation, but her ties to lending companies could nonetheless doom her nomination as superintendent of the state Department of Financial Services.
People on the political left like Cynthia Nixon, a former gubernatorial candidate and actress, say Harris is a potential "fox in the regulatory henhouse" considering her past comments on regulation and spots on the boards of the industry group Alliance for Innovative Regulation and the for-profit online lender LendingClub. "The way we tend to regulate financial services, and most industries in the United States, is – and I always took a little bit of an issue with this – it's sort of like the list of no-no's," Harris said in a 2020 interview while extolling the benefits of a light regulatory touch. That has added to growing perceptions that the new governor is surrounding herself with people who are too close to big business. "The jury is still out on this nomination," state Sen. John Liu of Queens, a former New York City comptroller, said in an interview. "If someone who has been in the financial services sees regulators as people just out to get companies, one could question what that same person would do in the role of a regulator, and perhaps take a less vigorous approach towards protecting consumers." 
A growing number of legislators and activists are pushing for the state Senate to block her from overseeing the multi-trillion dollar insurance and finance industries because of her business ties, past comments and record in the Obama administration. Her nomination also raises additional concerns about how the new governor will make good on promises to be fully transparent about how it is handling potential conflicts of interest among top officials. 
A final vote on the nomination is expected in early January – which gives opponents plenty of time to mobilize."This appointment by Kathy Hochul sends a message to Wall Street that they can do what they want, everyday New Yorkers be damned. The New York Senate needs to vote no on her confirmation and demand an end to a New York run for and by Wall Street," Nixon tweeted Sept. 9. While Assembly Members Yuh-Line Niou of Manhattan and Ron Kim of Queens have expressed vehement opposition to the nomination, state Sens. Alessandra Biaggi of the Bronx as well as Julia Salazar and Jabari Brisport (members of the New York City chapter of the Democratic Socialists of America who represent parts of Brooklyn) are the only members of the upper chamber that have said they will vote no. "Appointing Adrienne Harris to oversee the Department of Financial Services would be akin to giving predatory financial tech companies free rein in New York," Brisport said in a statement. "Her apparent disdain for the regulations that protect New Yorkers from financial exploitation makes her an absurd and deeply concerning potential choice for this role." And this is the latest instance of Hochul naming a new official with notable business ties. 
Lt. Gov. Brian Benjamin once worked for Morgan Stanley and has yet to publicly say that he will divest from a controversial high-interest loan company. Secretary to the Governor Karen Persichilli Keogh – a former executive at J.P. Morgan Chase – is married to a lobbyist for the telecommunications industry. Hochul worked as president of government relations at M&T Bank Corporation after serving in Congress, and her husband's company has business before the state. The administration has said Keogh would recuse herself when appropriate in her new role and presumably Harris would do so as well, though a spokesperson for the governor did not respond to a request for comment by publication time. It also remains unclear the extent to which Harris might have any investments in industries she might oversee and when she might step down from her various outside roles. 
But even if Harris does demonstrate she has taken adequate steps to avoid conflicts of interest, there is still a matter of how her business-friendly track record in the Obama administration might affect her decision-making as superintendent. This is especially concerning given the timing of her appointment as the state continues to recover from a pandemic that has heightened long-standing inequities, according to Biaggi. "The fact that she has said that she doesn't really understand what is controversial about certain (financial technology) companies or certain payday lending companies is concerning," Biaggi said in an interview. "If we're talking about moving New York forward we have to also acknowledge that we have the largest income inequality gap since the Gilded Age." In other words, Harris might not be good enough to rise to the historical moment even if she addresses the various concerns about her industry ties. 
New York State has a long tradition of relatively strong regulation over insurance and financial markets, but that could change depending on who is the superintendent of the department. 
The DFS can make or break a bank charter and has big influence over what types of loans and insurance policies companies can sell. Former DFS superintendent Linda Lacewell was known for her particularly strong relationship to ex-Gov. Andrew Cuomo and involvement in the controversies that led to their resignations last month. The nomination of Harris is now a key test of where the department will go from there. "For over 20 years, advocates and many legislators have fought to keep out predatory financial products and to protect the state's strong financial consumer protection laws," Russ Haven, general counsel at the New York Public Interest Research Group, a good government group, said in an interview.  "We're concerned that there's a new crop of financial players that you know will be seeking an opportunity with the change of administration to push that agenda."
Other legislators, however, say Harris will undoubtedly bring some serious experience on issues related to finance, regulations and other matters concerning the DFS, including writing some pretty wonky policy briefs on the future of financial technology during her time as a special assistant to Obama on economic policy. "Impressive resume," Republican state Sen. Phil Boyle of Long Island said in an interview. Her nomination will have to be approved by three state senate committees before it would reach the floor of the chamber. State Senate Finance Chair Liz Krueger of Manhattan and Banks Committee Chair James Sanders Jr. of Queens did not respond to a request for comment by publication time, but Insurance Committee Chair Neil Breslin of the Capital Region is backing her nomination. "(Harris) has much better credentials than either of her two predecessors and I liked the fact that she was not a prosecutor," he said in an interview. "I like the fact that she's not working for Governor Cuomo."
At this point, the backlash against Harris is nowhere near big enough to scuttle her nomination – at least judging by the fact that only a few state senators have said much about it. Salazar Brisport and Biaggi are the only ones among more than a dozen Democrats in the chamber to say they will vote against the nomination when asked by City & State. Some of their colleagues said that it is too soon to decide. "I'll give it a lot more thought once the (2022 legislative session) is closer than four months away," Democratic state Sen. James Skoufis of the Hudson Valley said via text message. There are still several months left before the chamber and its various committees will have to make a final decision on making her the new head of DFS. That gives the new administration lots of time to address concerns about her industry ties and record in the Obama administration though progressives are accelerating their own efforts to make such concerns a moot point as soon as possible. "This is a call-your-senators moment New York," Fordham University Associate Law Professor Zephyr Teachout, a former candidate for attorney general and expert on government corruption, tweeted Aug. 7. "Hochul's nomination of Harris is a bad idea and should not go through."