New York State
5 things to know about the new secretary to the governor
Incoming Gov. Kathy Hochul has appointed Karen Persichilli Keogh as her top aide.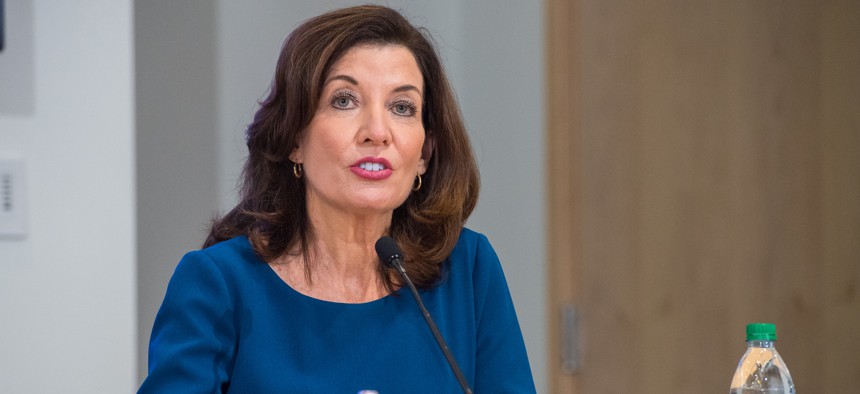 Incoming Gov. Kathy Hochul has no shortage of big issues she'll have to tackle when she takes office early Tuesday morning. Before taking office, she started with the appointment of a key senior position: secretary to governor. Although speculation continues about who Hochul will pick as her lieutenant governor, the secretary traditionally has been the true second-in-command to the governor, a top adviser, member of their inner circle and one of the most powerful people in the state. For that role, Hochul has tapped veteran political consultant Karen Persichilli Keogh.
Persichilli Keogh will take over the role from Gov. Andrew Cuomo's secretary Melissa DeRosa, a constant presence at Cuomo's side throughout the pandemic and a staunch defender against the sexual harassment allegations that sank him. DeRosa continued in the vein of her predecessors – Larry Schwartz, Steve Cohen and Bill Mulrow – by serving as Cuomo's behind-the-scenes enforcer and, according to the state attorney general's report on the sexual harassment allegations, an enabler of a toxic workplace filled with fear and bullying.
At the beginning of the pandemic, DeRosa graced the cover of Harper's Bazaar and received positive profiles in papers like The New York Times. That coverage began to take a turn for the worse as questions over COVID-19 nursing home deaths and other scandals began to surface. Now, as both DeRosa and her boss exit, political observers may be left to wonder, what will her successor bring to the role?
As the state prepares for a new governor, here are five things to know about her new top aide.
She has a long background in politics
Persichilli Keogh got her start in labor, working for District Council 37, the union that represents many public employees in New York City, in the early '90s. After that, she served as chief of staff for then-New York City Council Member Sal Albanese, before going on to be the director of operations for the City Council and a special adviser to then-Council Speaker Peter Vallone Sr. From there, she went to work for then-U.S. Sen. Hillary Clinton for seven years as her director of state operations and senior adviser on local matters. The New York Times in 2007 described Persichilli Keogh as a "reliable organizational whiz and fixer-upper" in her role with Clinton. After leaving, Persichilli Keogh managed U.S. Sen. Kirsten Gillibrand's transition from the House of Representatives to the Senate. She then moved on to work – at the time somewhat controversially – on the campaign of then-New York City Mayor Michael Bloomberg, serving as a senior political adviser in charge of outreach to women.
The past decade has been spent in banking
Since 2010, Persichilli Keogh has been with JPMorgan Chase & Co., first joining the banking giant as managing director and head of state and local government relations. Most recently, she served as head of global philanthropy until July, a role in which she oversaw $2 billion in philanthropic investments. She and a fellow JPMorgan Chase leader co-wrote a Business Insider op-ed in 2017 about the gender wage gap and their companies actions to help close it, something of note given her role advising the state's first female governor.
Her husband is a lobbyist
Persichilli Keogh married Mike Keogh in 1999, who at the time worked for District Council 37. Now, he works for prominent Albany lobbying firm Bolton-St. Johns. He appears often on City & State's lists of political power players. Bolton-St. Johns is the same firm where DeRosa's father, Giorgio DeRosa, is a partner, so the familial connection to top gubernatorial staff will continue into the next administration. This is on top of potential ethical concerns about Kathy Hochul's husband, William Hochul, who works for the hospitality and gambling company Delaware North, which does business with the state.
She almost became a nurse
Rather than direct philanthropic funds to families hard hit by the pandemic, Persichilli Keogh almost had a very different role during the COVID-19 crisis. Like her mother, she originally wanted to be a nurse and got two years into a degree at Stony Brook University before coming to the realization she was too squeamish for the job. Instead, Persichilli Keogh headed to Columbia University to get a master's in social work.
She serves on a number of boards
Persichilli Keogh serves on the boards of Eleanor's Legacy, a group dedicated to helping get women elected to office. She is also a board member of the group iFoster, which provides support to children in foster care as well as caregivers. Persichilli Keogh's daughter, Jessica, is adopted. Persichilli Keogh also serves on the board Invisible Hands, a project dedicated to delivering food, medicine and other needs to communities in the New York City metro area and in Philadelphia during the pandemic.
Powered By
NEXT STORY: Cuomo's first go at a political comeback