New York City
DOC pushes improvement plan as Rikers gets worse
As the jail is set to close by 2027, efforts are underway to address living and working conditions at the struggling, understaffed facility.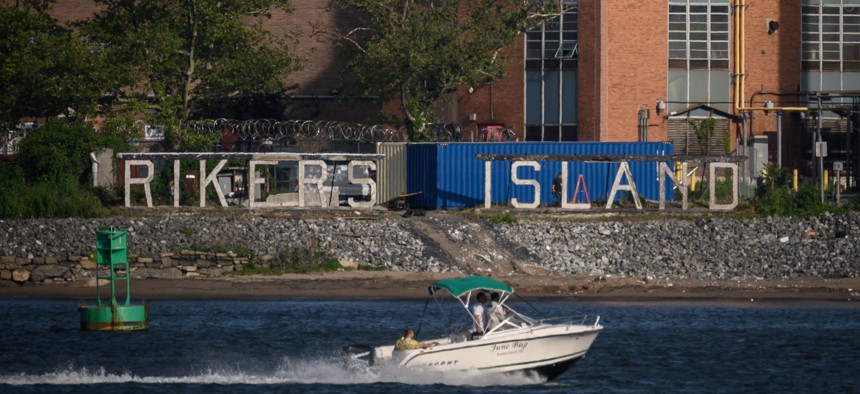 As plans are underway to close Rikers Island, current living and working conditions at the complex continue to quickly deteriorate.
In a report issued late last month, the court-appointed federal monitor overseeing Rikers  found "a steady increase in serious use of force incidents, a disturbing rise in the level of security lapses and unchecked breaches and failures of basic security protocols, and instances of inadequate supervision," the report said. Mayor Bill de Blasio responded to the findings, saying, "These are serious problems that need to be addressed." 
"The whole culture of the Department of Correction needs a lot of change," the mayor added.
Vincent Schiraldi, appointed as New York City Department of Correction Commissioner in May, has had his hands full taking on the job while a plan exists to shut down Rikers by 2027, replacing it with individual jails in Manhattan, Brooklyn, Queens and the Bronx. 
Schiraldi toured the department's facilities and rolled out a strategy for addressing the more immediate  concerns for both inmates and staff. 
Dubbed "#NewDayDOC," the effort focuses on fairness, wellness and safety issues.  The correction commissioner expressed optimism about closing Rikers on schedule, while hoping to improve the deteriorating conditions there. He also stressed to City & State that it will take a full commitment by the city and all of the department's stakeholders to achieve significant results. 
"It's challenging to make the Department of Correction a priority, because most people never come here. It's not like filling potholes; everybody wants you to fill the potholes on their block. The mayor has to altruistically care about it. Otherwise, Rikers Island continues to be neglected, which it has been for decades," Schiraldi said.
"We recently transmitted one of our jails to the Department of Citywide Administrative Services, so that's a first installment on getting off Rikers Island, Schiraldi said. "I actually talked to the DCAS commissioner, [Lisette Camilo], and told her she's going to own this place pretty soon, and I'm only too happy to give it to her because we really need to get off of this place and pour salt on the earth," he said. 
Rikers has been facing alarming staff shortages, maintaining about four correction officers for every three inmates, a decrease from the previous five correction officers for every three inmates in 2020. Understaffing has led to employees working triple shifts and increased the threat of injury to workers by inmates. Ongoing grievances led the union representing the complex's workers –  the Correction Officers' Benevolent Association, or COBA –  to sue the city in July over "inhumane conditions" within city jails. COBA has also held rallies calling for greater support of staff.
The union at the same time criticized the federal monitor's report for blaming absenteeism for causing worker shortages, failing to acknowledge the stress of working consecutive shifts and the threat of bodily harm to staff. 
Schiraldi expressed hope that #NewDayDOC will begin providing solutions to the current problems,  calling it a "comprehensive post-pandemic recovery plan" and the product of collaborative efforts between the DOC and various other local government bodies such as the Mayor's Office of Criminal Justice and the city Law Department. 
The #NewDayDOC  plan is divided into five aspects of improvement the department wants to achieve: better safety, an end to triple shifts, greater staff support, a realignment of discipline protocols and providing inmates with more activities and social engagement. Between the five parts of the plan are 21 action items, among them are providing free catered meals to staff, a plan for breaking up gangs formed on the inside, and increasing communications between inmates and their families. 
Despite the goals set out by #NewDayDOC, Benny Boscio Jr., president of COBA, wasn't convinced progress was on the way any time soon. "(Schiraldi and I have) met, but we haven't seen any substantial changes," Boscio said.
As the term-limited de Blasio readies to leave office at the end of this year, the question remains whether Schiraldi will stay on with the new administration, likely to be that of Democratic mayoral candidate Eric Adams. Schiraldi has expressed interest in staying on, but Boscio questions the likelihood of Rikers obtaining the support it needs under the next administration. 
"The only thing I'd like to add is that the next mayor, whoever that will be, has vowed to clean up the streets of New York. When they do clean up the city of New York, guess where everybody's coming? They'll be on Rikers Island," Boscio told City & State. "We don't have the resources we need now, and if those numbers increase, I don't know how we're going to be able to manage the inmate population."
Powered By
NEXT STORY: Will the blue-collar candidate be a pro-labor mayor?