Energy & Environment
Flash flooding highlights immediate dangers of climate change – again
Elected officials and activists say state and local governments need to do more now.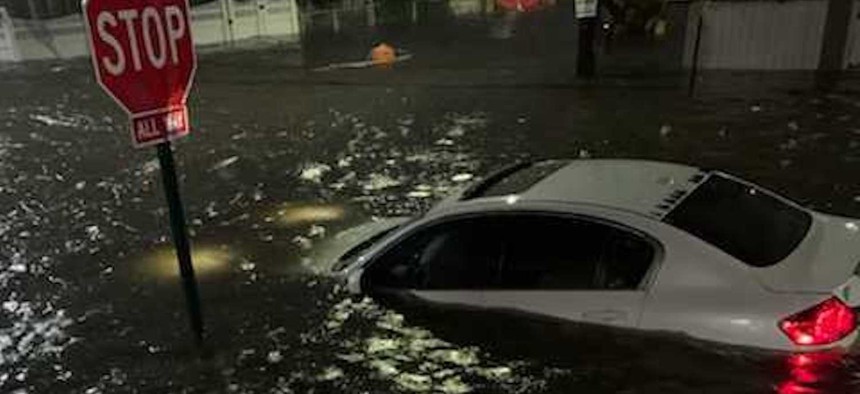 The remnants of Hurricane Ida resulted in the third extreme weather event to batter downstate this summer.
The subway and commuter rail systems ground to a halt overnight. At least a dozen New Yorkers lost their lives. Basements across the five boroughs remain full of water. It is all the latest example of how a metropolitan area largely built around the turn of the 20th Century is unprepared for existing 21st Century dangers. 
"People have been warning for decades about the effects of climate change and what it would do to our communities," Gov. Kathy Hochul said Thursday while surveying the damage on Long Island. "(Climate change) is not a future threat. It is a current situation and it is the status quo." 
Governors cannot control the weather – and neither can anyone else, but interviews with elected officials, activists and policy experts highlight how all levels of government could be doing a lot more to address climate change. All agree that it is not simply a matter of reducing greenhouse gas emissions over the long term. Immediate action could save lives and property whenever the next extreme weather event happens, whether it is record rain, snow, heat or anything else. 
Remember the tropical storm earlier in the summer? Remember that winter storm that shut down subways last winter – or that hurricane named Sandy? They all show how extreme weather is here to stay, according to the experts, so we better deal with its myriad effects sooner rather than later. "The future that's facing us requires an all-hands-on-deck approach from every level of government," Jessica Ottney Mahar, New York policy and strategy director for the Nature Conservancy, said in an interview. "Everyone needs to be thinking about what they can be doing."
Flash flooding from Ida is just one example of how far behind New York City in particular is in meeting the moment. "Our sewer system did not fail last night," Justin Brannan, who chairs the New York City Council Committee on Resiliency and Waterfronts, said in an interview Thursday afternoon. "Our sewer system worked exactly as it was designed to work. The problem is, they were designed 100 years ago, before we were having these once-in-a-lifetime storms every two weeks." Ida caused record rainfall in the five boroughs, but it was hardly the first example this summer of how vulnerable the city is to flooding. Tropical Storm Henri struck New York about a week ago. "Fording a river should not be part of the New York commute," Danny Pearlstein, a spokesperson for the transit advocacy group Riders Alliance, told The New York Times in July after another storm flooded the subway system. All of these events have demonstrated how important relatively small things like tree pruning can be in the fight against climate change. 
Climate change did not cause these storms per se, but it likely made them much worse than they otherwise might have been. The link between rising temperatures and extreme weather is indirect, but well established by scientific research. Put very simply, greenhouse gas emissions go in the air. This traps more sunlight, which heats up the oceans. An increase in water temperatures in turn then makes storms like Ida much worse. Correlation does not equal causation, but funny how record temperatures both in New York and globally have accompanied crazy storms year after year after year. Reducing greenhouse gas emissions over the upcoming decades could go a long way towards reducing future dangers, but experts say much of the damage is already here to stay. That hardly means though that nothing can be done about it in the short term. 
Some ideas from elected officials and activists who spoke with City & State include speedier cleaning of storm drains and the sewage system in general. New Yorkers could start putting their trash in containers to keep litter from clogging drains and tunnels once more. "Insanely stringent regulations around tree pruning" – as Brannan put it – could be simplified to allow private contractors to trim so-called "widowmakers" before they fall on people or their property. Building roofs could be painted white instead of black to reduce the absorption of sunlight that exacerbates extreme heat. Changes to insurance law could streamline the process for New Yorkers to get compensated for extreme weather events of all types. Experts have highlighted a litany of other ways that critical infrastructure like the subways can be better protected moving forward. The new governor could sign a number of bills, including one that aims to reduce state procurements of greenhouse-gas emitting concrete or another that could reduce gas emissions by making sure oil tanks are painted white. The state Climate Action Council could speed up its work to develop specific plans on reaching New York's climate goals. New York City government could certainly improve on how it responds to weather events to say the least, according to City Council members.
To be sure, while the past president suggested climate change was a hoax, city and state governments have taken action on climate in recent years. The City Council passed its own version of a Green New Deal in 2019. State lawmakers passed the nation-leading Climate Leadership and Community Protection Act that same year with the goal of reducing greenhouse gas emissions statewide by 85% (compared to 1990 levels) by 2050. President Joe Biden has announced $3.5 billion in new funding for resilience efforts after coming into office earlier this year. New York voters will even get a chance to enshrine their right to clean water and air into the state constitution this fall. But more action is needed, a growing number of elected officials say following flash flooding this week. "The climate crisis is not at our doorstep," said Brannan, who said he would conduct hearings in the near future on the city response to Ida. "It's not coming through our window. It's here sitting on our couch, you know, eating our food. We can't hide from it."
Despite some progress in recent years, climate change has undeniably taken a back seat to COVID-19 and the economy in recent years. The issue scarcely got a mention in the recent Democratic mayoral primary. Calls to action from the likes of Rep. Alexandria Ocasio-Cortez of the Bronx and Queens have often not been taken seriously by her political opponents or as just not important enough to rival other issues of the day. "It is the most immediate existential crisis that we're facing and it doesn't mean that there are other issues that aren't important, but also we have to recognize the intersection of those issues," Tiffany Cabán, a Democratic candidate for City Council in Queens, said in an interview. Environmentalists knocked Hochul for not naming climate change as a top priority when she came to office. Legislative leaders have faced criticism for not supporting ideas like a proposed carbon tax to pay for green energy and resiliency projects – or moving any other big ideas on climate since the Climate Leadership and Community Protection Act passed two years ago. Upcoming weeks will show whether any of this will change anytime soon before the next round of extreme weather hits New York. "There's a sense of complacency among some (legislators)," Assembly Member Robert Carroll of Brooklyn said in an interview. "It's only sexy to talk about this stuff when you know the subway looks like a tsunami." 
With additional reporting by Annie McDonough and Rebecca C. Lewis.