News & Politics
NYC progressives fundraise for India Walton
Three upcoming events aim to help the Buffalo Democratic mayoral candidate build up her warchest.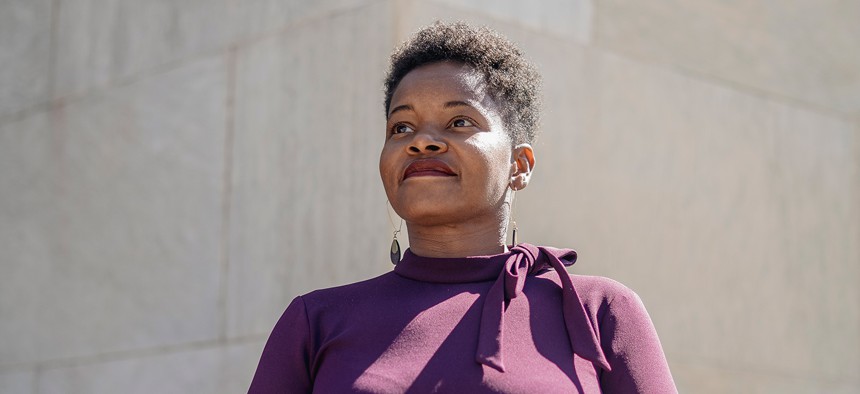 With Election Day less than six weeks away, New York City progressives are banding together to raise money for India Walton. 
The Buffalo Democratic mayoral candidate will likely be a winner on Election Day  after coming off a solid primary win against incumbent Bryon Brown, who unsuccessfully tried to get his name on an independent ballot line in November after losing two court decisions to get himself back in the running. 
Walton, having solidified her primary victory, has been seen as a product of a wider tide of democratic socialism that has been rising across the country, as progressives make political wins over establishment figures similar to Brown. And that's getting her attention from downstate supporters who now are stepping up to her raise money.
"I endorsed India in her primary, having met her when I ran for Lieutenant Governor in 2018…I'll stand with her when she's mayor to deliver the progressive change we need across this state –  from Brooklyn to Buffalo," said New York City Public Advocate Jumaane Williams in a statement. Williams is hosting a fundraiser Friday which will be one of three events being held in New York City in coming days to support Walton's campaign. The local Democratic Socialists of America branch will host a fundraiser on Saturday with state Sens. Jabari Brisport and Julia Salazar,  followed on Sunday by an event the New York Working Families Party is organizing with former gubernatorial candidate Cynthia Nixon and state Assemblyman Harvey Epstein. Walton is expected at all three fundraisers. 
Her team expressed the need for unity with progressives across the state to boost her standing in the mayoral race.
"The obscene amount of money Byron Brown has raised from billionaire real estate developers and Trump-supporting Republicans has gone to a) bogging us down in court over his violation of election laws and b) running vile, lie-filled attack ads against India non-stop. To counteract his well-financed smear campaign against the Democratic Party, we are going to raise money from everyday people with our Democratic allies across the state," spokesperson Jesse Myerson said in a statement. 
While Buffalo may not be geographically close to New York City, the enthusiasm for Walton's campaign downstate is strong, in part, due to the opportunity of using the high-profile race to make democratic socialism more palatable to less liberal, metropolitan areas. The recent controversy over her opponent Brown's eligibility to appear on ballots this November only galvanized New York City progressives further. 
"Once it seemed that the write-in challenge was serious, that was when we started talking with the New York City DSA electeds about the best way that we can support India. That's how we aligned on having the fundraiser … I think a big hope for us is that it will sort of combat this narrative in the state that all the progressive action is happening in New York City, and then upstate people don't care about things like better housing regulation and rent stabilization," said New York City DSA Treasurer Devin McManus.
Per latest campaign disclosure filings, Walton has about $147,000 in funds available, while Brown, who can still run as a write-in candidate, has $209,000. Walton's campaign stated that many of their donations are small, with the average donation amount being about $56. While Walton's campaign is largely devoid of corporate bankrolling, Brown's campaign appears to have received many large donations from various business and lobbying groups. 
It is difficult to tell which side shall end up with more support, and in turn funding, as the election draws closer. While Brown has raised more than Walton, the recent judicial ruling barring him from appearing on November's ballot has forced his team to start a "Write Down Byron Brown" campaign to get voters to support him through the write-in on the ballot. He has stated he will no longer pursue legal action to obtain a spot on the ballot. 
Walton, who after Gov. Kathy Hochul said she was not giving any local endorsements, has been harnessing support through a unified progressive coalition across the state.  
After the upcoming weekend of fundraising, New York City progressives said they will continue to support Walton, notably through phone banking sessions that the DSA is planning.
Powered By
NEXT STORY: State health commissioner to step down