Politics
State health commissioner to step down
Howard Zucker will remain in his role until a replacement is named, Gov. Kathy Hochul said Thursday.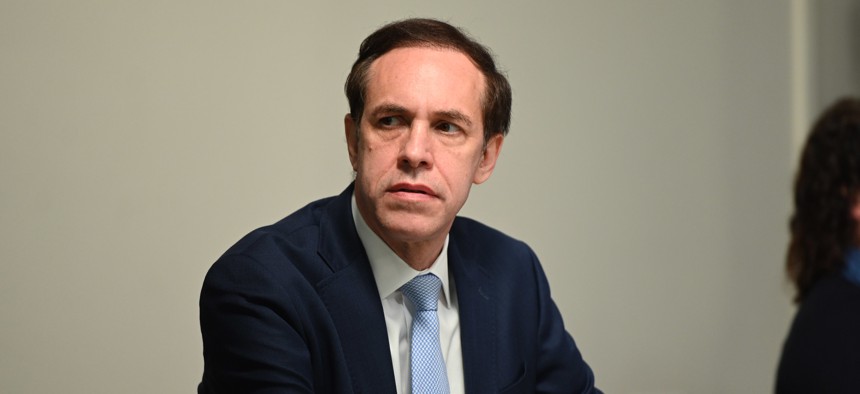 State Department of Health Commissioner Dr. Howard Zucker will resign, Gov. Kathy Hochul announced Thursday morning.
The embattled commissioner has been criticized for his handling of the coronavirus pandemic and alleged role in a cover-up of data showing the true COVID-19 death toll among nursing home residents. Hochul said he will remain in his current role until a replacement is named, which Hochul hinted might happen by the early October 45-day mark she has set for staffing up her new administration.
"He understands that in this time I've wanted to take the first 45 days to assemble a new team going forward," Hochul told reporters at a Manhattan press conference. "That process is ongoing, and he understands and he respects that and he also has an opportunity to move on to new ventures, and I appreciate his service." 
Zucker is one of several former advisers to ex-Gov. Andrew Cuomo to leave their positions after the former governor announced he would resign last month, including Department of Financial Services Superintendent Linda Lacewell and Secretary to the Governor Melissa DeRosa. He is vowing to remain involved in public health moving forward though he offered no specifics in a resignation letter provided to City & State. "It is in my DNA to always ascertain methods to improve the human condition and, unlike this RNA coronavirus, I do not see any mutations forthcoming on that front," he said in the letter. A spokesperson for the Department of Health did not directly respond to a request for comment about whether other officials at the department might also step down along with Zucker. "The Department thanks the Commissioner for his years of dedicated service and commitment to public health," a spokesperson said in a statement. 
There has been a lot of turnover at the department over the past year. As The New York Times reported, at least nine staff members had left by February because of reported meddling by the former governor into public health decision-making. The number two official at the department resigned earlier this month as Hochul continues overhauling an administration filled with officials who served under her predecessor. Zucker's fate had remained a matter of much speculation until Hochul announced his forthcoming resignation on Thursday.  
Zucker had roles at the World Health Organization and the federal Department of Health and Human Services before being appointed by Cuomo as acting commissioner in 2014 and to lead the department in 2015. His experience helped Cuomo announce a statewide fracking ban that year as well as confront a later outbreak of Ebola, which was the subject of a 2017 paper he published. His expertise in medicine and law – he has degrees in both – were widely recognized, though politics and controversy shadowed many of the decisions he would make during the coronavirus pandemic. 
A lot of the controversy surrounding Zucker concerned a March 2020 advisory from the department pushed nursing homes to accept discharged COVID-19 patients from hospitals. The exact effects of this directive are a matter of ongoing debate, but analysts say it likely contributed to high infection rates in facilities across the state. Zucker's later role in efforts by the Cuomo administration to downplay the COVID-19 death toll in nursing homes, including through the release of a DOH report on the matter that attributed cases at facilities to unwitting staffers and visitors, drew criticism. Calls for his resignation grew especially loud by early 2021 when the administration finally released the data on the true toll of COVID-19 on nursing home residents following a court order. Cuomo continued to support his embattled health commissioner, but his own resignation paved the way for Zucker to eventually do the same.
This post has been updated with details from Zucker's resignation letter.
Powered By
NEXT STORY: So, about that Cuomo impeachment report