This Week's Headline
Trouble at Rikers continues and Zucker resigns
Rounding up the week's political news.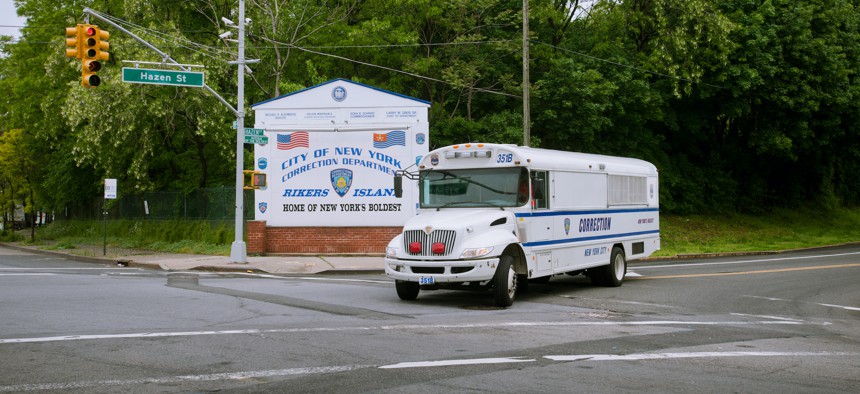 It was an impressive run, but like all good things, it had to come to an end. Barney the escaped bull in Suffolk county has finally been caught after two months on the lamb once escaping death. He fared pretty well, skillfully evading capture despite the best efforts of those hotly pursuing him. Now Barney gets to live the lush life of a sanctuary animal. But surely his rebellious spirit will never truly be tamed. Keep reading for the rest of this week's news.
Trouble at Rikers continues
The situation at the Rikers Island jail complex did not improve in the shorttime between lawmakers' high-profile visit on Sept. 13 and now. Since that visit occurred, two more people incarcerated in New York City jails have died, bringing the total death toll there to 12 for the year. This comes after Gov. Hochul signed the Less is More Act in response to the deteriorating situation at the Rikers jail complex and released nearly 200 people immediately who would have been eligible under the law which takes effect next year. Several members of Congress, including Rep. Alexandria Ocasio-Cortez, wrote a letter demanding that every person at Rikers be released immediately, a prospect that Mayor Bill de Blasio dismissed out of hand. Members of Congress later appealed to President Joe Biden to step in to help the troubled jail complex, while the federal monitor overseeing Rikers has asked for outside security assistance for the island.
State health commissioner resigns
After weeks of speculation about the fate of state Health Commissioner Howard Zucker – and amid calls for him to be fired – New York's top doctor offered up his letter of resignation to Gov. Kathy Hochul. It came not long before Hochul hit the 45-day mark of her time in office, a grace period she had given herself to set up her own administration and figure out what to do with holdovers from former Gov. Andrew Cuomo. Zucker faced intense scrutiny for his role in concealing data about COVID-19 deaths in nursing homes as the head of the state's Health Department and a close aide to Cuomo throughout the pandemic. Although Zucker said he welcomed a more transparent administration under Hochul after she took office, seeming to indicate that Cuomo made him an unwilling co-conspirator, that wasn't enough for him to remain. 
Vaccine mandate brings staffing problems
Monday brings the official start to a vaccine mandate for all health care workers in the state with no option for testing, and with it brings concerns over staffing levels as a significant portion remain unvaccinated. As of Sept. 22, 84% of hospital workers had gotten the shot, which means the state was poised to lose 16% of its hospital staff at a time when cases from the delta variant are creeping up. Long-term care workers had better numbers with a 90% vaccination rate, but that still leaves a not insignificant portion of the workforce that may soon be gone. Hochul said that she was working on a plan to address staff shortages in the event that those numbers don't improve, like bringing in foreign nurses to help fill the gaps. She said that she has been in conversations with the Department of State about getting temporary work visas to people for this purpose. A state court case about the mandate still has to be decided as well, which may offer a reprieve for health care workers refusing to get vaccinated for now. A state judge has extended a temporary restraining order on the state's ability to enforce the ban until Oct. 12.
Departmental charges for one officer involved in the death of Daniel Prude
Over a year and a half after Daniel Prude died at the hands of police in Rochester, only one of the seven officers involved in the incident is facing internal departmental charges. The Rochester Police Department did not specify what the charges against Mark Vaughn are, nor did it say what punishment he will face or whether he is still an officer on the force. None of the officers are facing criminal charges, a decision announced earlier this year.
New York City approves landmark protections for delivery workers
New York City is set to become the first city in the nation to set minimum protections for delivery workers after the City Council passed a package of bills to do just that. The legislation would ensure that delivery workers have access to bathrooms, mandate that they receive all the tips that they earn and set a minimum payment per delivery. De Blasio is expected to sign the measures into law, but it may face legal challenges from major players like DoorDash and Uber.