Interviews & Profiles
What Assembly Member Jessica González-Rojas saw at Rikers
Queens legislators are calling on New York City Mayor Bill de Blasio, Gov. Kathy Hochul and prosecutors to take immediate steps to address overcrowding on Rikers Island.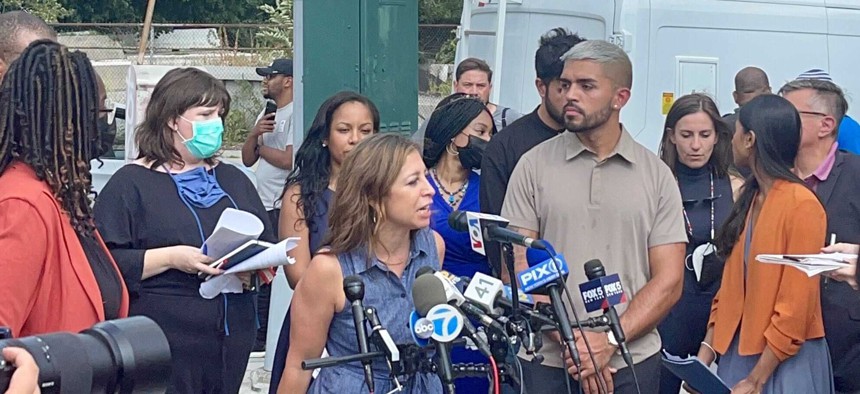 New York City Mayor Bill de Blasio is promising new actions to address alarming conditions at the jails on Rikers Island, following a visit by state legislators, who said people held there were being denied legal counsel, food and medical treatment.
The visit to a correctional facility was one of many this year by members of the state Senate and the Assembly who have the right under state law to visit correctional facilities across the state with no notice. This approach is part of a wider effort by left-leaning legislators to improve conditions by highlighting them and pushing other elected officials to take actions that incarcerate fewer people for nonviolent offenses like parole violations. 
Assembly Member Jessica González-Rojas of Queens is among the legislators who visited Rikers Monday before outlining specific actions that de Blasio, Gov. Kathy Hochul and district attorneys could take to improve conditions at the jails. City & State caught up with her Tuesday morning to hear more about her visit and what she thinks can be done to address the "inhumane" conditions she saw. This interview has been edited for length and clarity. 
What did you see during your visit?
We saw countless men being piled on top of each other, laying in their own urine and feces and people not getting the care that they needed. There was a transgender woman who was placed in a male facility and not getting her hormones or medical care. Countless people were missing out on their court dates because there was simply no one to drive them. These are people who are being detained pretrial, so it was horrific and inhumane. The absolutely worst moment was when I was talking to someone who was incarcerated, and their cellmate jumped up on the bars and attempted suicide. Everything honestly happened in slow motion for me. I called the corrections officers, and I was pulled away. It was traumatic.  
I just spoke to many dozens of people. I have nine pages of notes, I'll put it that way – of people's phone numbers to call found loved ones, parents of their children, mothers, it's, it's just gut-wrenching.
You've been to other correctional facilities in the state. How does Rikers compare?
I've been to Bedford Hills. I've been to Rikers, I've been to a juvenile detention center in the Bronx. And I have spent time at juvenile detention centers across the city in the past. I'm used to seeing these horrid conditions, but this was this was … it's almost indescribable, but I'd just have to say it's a crisis on our hands. To be honest, my heart goes out to all the workers, the health workers, the staff. 
What can elected officials do about this?
The mayor has a clause that he enacted during COVID to reduce the population that he can continue to enact in this crisis. Gov. Hochul has the (Less is More Act). She could sign it today. It was passed by both the Assembly and the Senate back in June, so there's absolutely no excuse. That would release people who are incarcerated on minor violations of their parole, things like lateness for a parole meeting or lateness for curfew. We need to press our prosecutors to stop asking for cash bail.
Legislators have the right to visit correctional facilities across the state. What problems did you have when you appeared at Rikers Monday?
The mayor's office tried to, quote-unquote, schedule a tour on another day. They ended up breaking us into groups. 
Editor's note: After this story was published, González-Rojas corrected the name of a parole bill she mentioned in the interview.
Powered By
NEXT STORY: Andrew Giuliani is banking on name recognition in a long shot run for governor