Labor
What will it take for Amazon workers to unionize?
The e-commerce behemoth is a formidable opponent to labor organizers, even in a union town like New York City.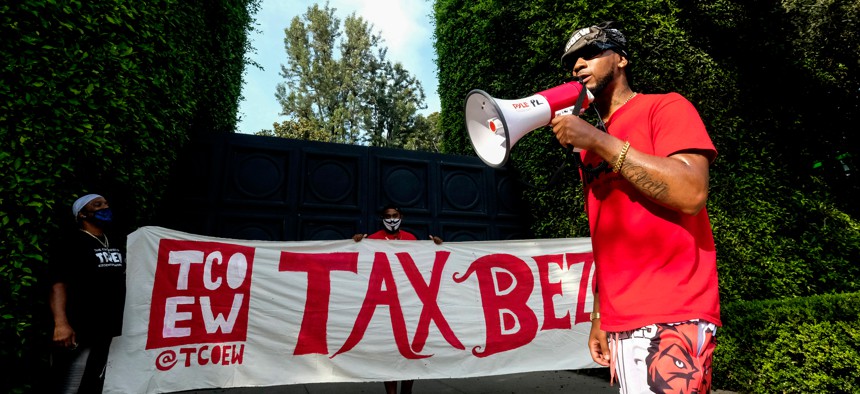 In 1999, 22 years before one of the richest men on the planet shot himself into suborbital space and thanked employees at his trillion-dollar company for funding the trip, a group of Seattle call center workers at that company tried to form a union. The workers were organizing over issues including low wages and job insecurity.
Amazon, the company that employed those call center workers, was not yet the retail and cloud computing giant that it is today. But one organizer on the scene in 1999 said that Jeff Bezos' behemoth company was already using a union-fighting playbook that it relies on to this day. "Management began one-on-one meetings with workers, putting a lot of pressure on them to dissuade them from joining the union," said Marcus Courtney, who was an organizer with the Washington Alliance of Technology Workers – a part of the Communications Workers of America – which was helping the call center workers organize. Amazon had an internal website for managers that laid out warning signs that workers were organizing and provided anti-union material to circulate. Courtney said the playbook was similar to what he saw Amazon use during a first-of-its-kind and ultimately unsuccessful union drive led by the Retail, Wholesale and Department Store Union at a warehouse in Bessemer, Alabama, earlier this year. "I mean, it was basically version 1.0," Courtney said.
That playbook – plus Amazon's virtually limitless resources – is what workers hoping to unionize face today. But even in the face of two decades of union resistance and the recent failure in Bessemer, Amazon employees and organizers in New York are already back to work, hoping that their efforts to form a union will succeed where others before them have sputtered and failed. That includes a worker-led union drive currently underway at Amazon's Staten Island facilities. The Teamsters have also set their sights on Amazon facilities nationwide. And while RWDSU declined to get specific on their organizing work, a spokesperson said the union is in contact with over 1,000 Amazon employees across the country, including in New York.
"Management began one-on-one meetings with workers, putting a lot of pressure on them, to dissuade them from joining the union,"
– Marcus Courtney, Seattle union organizer
RWDSU has tried to unionize Amazon workers in New York before. In the fall of 2018, when Amazon opened its massive JFK8 warehouse in Staten Island, the union started to hear from workers at the facility and began the early stages of organizing, according to Chelsea Connor, RWDSU's communications director. But then that November, New York leaders announced that Amazon would be building a new headquarters in Queens. The HQ2 debate brought an unprecedented level of attention to workers' issues in New York, but it also served to draw attention to the organizing work at JFK8 before the union was ready to take it public.
Neither that 2018 organizing work nor any other efforts across the country have come close to the union election that Bessemer saw earlier this year. "There's grassroots organizing going on at Amazon warehouses, and that has been going on for a long time," said Janice Fine, a professor at the Rutgers School of Management and Labor Relations. "The reason why it hasn't turned into a full-blown union organizing drive is because the overwhelming resources that Amazon has have made the organizations that are working with those workers reluctant to mount a campaign that they see as kind of a suicide mission, that they don't think is winnable."
Current and former workers at the Staten Island warehouses taking on that suicide mission are striking out on their own, without the direct involvement of established unions like RWDSU – or the legal, financial and political resources they carry. The Amazon Labor Union, or ALU, started by former JFK8 worker Chris Smalls this past spring, will attempt to file for a National Labor Relations Board election in the coming months, Smalls said. Derrick Palmer, a current JFK8 employee and Amazon Labor Union organizer, and Smalls both have experience going up against Amazon, having alleged unfair labor practices and unsafe conditions during the pandemic. Smalls was fired for violating quarantine rules last spring when he came to the warehouse to stage a walkout protesting unsafe pandemic working conditions. Smalls alleges that the real reason for his firing was retaliation for his protesting. In a suit filed earlier this year, state Attorney General Letitia James described Smalls' firing as "retaliatory action to silence workers' complaints." 
So far, organizers with the Amazon Labor Union say they've collected around 1,000 signatures of support, about halfway to the roughly 2,000 signatures they would need for an NLRB election. They aim to organize a total of around 7,000 workers, and need to show support from at least 30% of that group before moving forward with an NLRB election.
The overwhelming resources that Amazon has have made the organizations that are working with those workers reluctant to mount a campaign that they see as kind of a suicide mission.
– Janice Fine, a professor at the Rutgers School of Management and Labor Relations
While RWDSU has said that it supports the Amazon Labor Union and would even step in and support their effort later on, Amazon Labor Union organizers don't seem to want their help – at least not now. "Any other unionization effort at Amazon has been kind of a third party or already an established union. Them being on the outside makes a big difference," Palmer said. "I'm able to see exactly how Amazon is union busting, and I'm able to talk to workers that may feel discouraged and give them the facts so that they're able to at least have a fair judgment on whether or not they want to join."
Amazon denies allegations of union busting and maintains that it's open to workers organizing. "We respect our employees' right to join, form, or not to join a labor union without fear of reprisal, intimidation, or harassment," spokesperson Maria Boschetti wrote over email. "The fact is that Amazon already offers what unions are requesting: industry-leading pay, comprehensive benefits from the first day on the job, opportunities for career growth, all while working in a safe, modern and inclusive work environment." A National Labor Relations Board officer, however, found in a preliminary assessment that the company improperly influenced the union drive in Bessemer and recommended that workers there hold a new election.
But the Amazon Labor Union faces long odds. A GoFundMe for the union has so far raised roughly $19,000, and organizing remains a challenge in warehouses. Amazon Labor Union organizers have filed several unfair labor practices complaints so far this year. In one investigation, the National Labor Relations Board found that Amazon gave Staten Island workers the impression that they were being surveilled and illegally confiscated pro-union literature from a break room earlier this year.
Labor law itself poses a challenge to organizers. State Sen. Jessica Ramos, who chairs the Labor Committee, has introduced a bill that would prohibit the practice of so-called "captive audience meetings," which allows employers to require workers to attend meetings in which they can try to dissuade them from joining a union.
Ramos, who has an Amazon warehouse in her Queens district, was surprised to hear that the Amazon Labor Union is forging ahead without the involvement of RWDSU or another established union, which can offer institutional knowledge and resources. But state Sen. Diane Savino, whose district falls just outside Amazon's Staten Island facilities, said that a worker-led organizing effort has its advantages. "They seem to be organized around issues that they decided, as the people who work there, are important to them," Savino said of the Amazon Labor Union. "I think that that's far more compelling than an outside institution, whatever that union happens to be, coming in and trying to say, 'Join us and we'll make your lives better.'"
Those hoping to see Amazon warehouse workers organize for better rights and benefits need not pin all their hopes on the Amazon Labor Union. The Teamsters Local 317 has said it is preparing to organize employees at the new Amazon warehouse in Clay. The head of Local 317 did not return a request for comment, but their strategy will likely differ from the Amazon Labor Union's.
High turnover and a rapid pace of growth at Amazon warehouses means that it can be hard to build trust with workers, or what Fine, the Rutgers professor, called "deep, patient organizing." Smalls said he is at a tent outside the Staten Island warehouse every day, signing up workers, while Palmer spends most of his break time having ongoing conversations with workers about the benefits of union membership. "There's been times where I've talked to a few workers, and they told me, 'Oh, I'm not signing, I'm not signing. I don't want to, I don't believe in it,'" Palmer said. "And they'll have a bad day at work and they'll come directly to the tent after work and sign up."