Labor
Amazon workers file for a union election in New York
An independent movement born out of the online retailer's Staten Island warehouses took a first step in its bid to organize on Monday.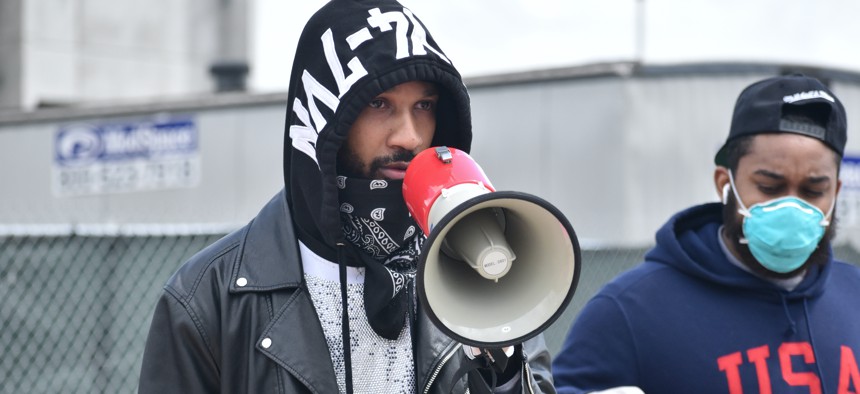 Six months after Amazon defeated a historic unionization bid by workers in Bessemer, Alabama, a group of workers from the internet giant's Staten Island warehouses is hoping they'll have more luck. The Amazon Labor Union filed for a union election with the National Labor Relations Board on Monday afternoon after announcing it had collected authorization cards from more than 2,000 workers. 
The Amazon Labor Union is a worker-led group, independent of established unions like the Retail, Wholesale and Department Store Union, which led the effort to unionize workers in Alabama. The ALU is led by Chris Smalls, an Amazon employee who was fired by the company during the COVID-19 pandemic after protesting health and safety conditions at Staten Island's massive JFK8 warehouse. The ALU is now asking for higher pay, job security, safer working conditions, and longer breaks, among other things. If the NLRB approves the ALU's petition, it would trigger a union election for JFK8 and three other facilities on Staten Island, employing about 7,000 people.
The move to petition for an NLRB election on Monday represents a major step for the Amazon Labor Union, and could end up making New York the scene of Amazon's next major labor battle. But the unionization effort in Alabama proved that workers face a daunting opponent in Amazon, even amid a wave of pro-union sentiment. Amazon has successfully beaten back other attempts to unionize workers across the country. Representatives for Amazon did not immediately respond to a request for comment on Monday.
Smalls, president of the ALU, knows what it's like to face off against Amazon. In March 2020, Smalls was fired from his job at the JFK8 warehouse for violating quarantine rules after showing up at the warehouse to stage a walkout over insufficient safety protocols at the facility during the pandemic. Smalls alleges, however, that he was fired not for violating quarantine rules, but in retaliation for protesting health and safety conditions in the first place. New York Attorney General Letitia James described Smalls' firing as "retaliatory" in a lawsuit filed earlier this year. 
Since organizing began on Staten Island, ALU organizers have filed several unfair labor practices complaints. In one instance, the NLRB found that Amazon gave workers the impression that they were being surveilled and illegally confiscated pro-union literature from a break room.
Despite no longer working for Amazon, Smalls has been organizing workers from outside the Staten Island facilities. This summer, he told City & State that he spends every day outside the warehouse, signing up workers as they arrive at and leave work. Derrick Palmer, an ALU organizer and a current Amazon employee, has focused on organizing workers during his breaks. 
As an independent group, the ALU doesn't have the name recognition, institutional experience or financial resources of a major established union like the RWDSU or the Teamsters. But ALU organizers say that their worker-led foundation is their strength. "Any other unionization effort at Amazon has been kind of a third party or already an established union. Them being on the outside makes a big difference," Palmer told City & State in August. "I'm able to see exactly how Amazon is union busting, and I'm able to talk to workers that may feel discouraged and give them the facts so that they're able to at least have a fair judgment on whether or not they want to join." 
State Sen. Diane Savino, who represents Staten Island and formerly chaired the state Senate Committee on Labor, also saw ALU's independence as a strength. "They seem to be organized around issues that they decided, as the people who work there, are important to them," Savino told City & State in August. "I think that that's far more compelling than an outside institution, whatever that union happens to be, coming in and trying to say, 'Join us and we'll make your lives better.'"